Kelly Brewster Died In The Manchester Attack While Protecting Her Niece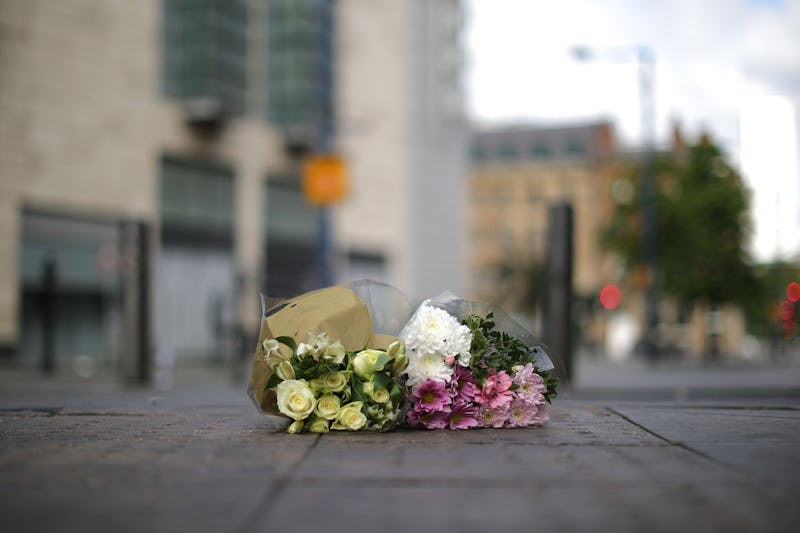 Christopher Furlong/Getty Images News/Getty Images
The suicide bombing at an Ariana Grande concert in Manchester, England on Monday evening has claimed the lives of 22 individuals so far, and the name of yet another victim has been released. 32-year-old Kelly Brewster died in the Manchester bombing, the Daily Mail reported on Tuesday evening. She had attended the concert with her sister and niece, and was allegedly attempting to shield her 11-year-old niece from the blast.
Brewster, an office worker from Sheffield, England, had been separated from her family after the explosion, and repeated attempts to locate her were unsuccessful. While family members hoped Brewster was one of the many individuals being treated for injuries at hospitals in the area, it was confirmed to the Daily Mail late Tuesday evening that she had died in the incident. Even more devastating, Brewster had paid a deposit on a house with her boyfriend just the day before the incident.
Brewster's sister, Claire, broke her jaw in the attack, and her niece, Hollie, broke both of her legs. But according to friends and family members, their injuries could have been much worse if it hadn't been for Brewster.
"[Brewster] ran to shield Hollie from the blast as best she could. She threw herself in front of her," a friend said.
Brewster had been missing for 24 hours before being confirmed as one of the incident's 22 casualties. Family members circulated photos of her on social media on Monday hoping for tips from someone who had seen her, and her boyfriend, Ian Winslow, reportedly stayed up all night hoping for good news before posting news of her death on social media on Tuesday.
Brewster is the fourth confirmed victim of the bombing, in addition to 26-year-old John Atkinson, 18-year-old Georgiana Callander, and eight-year-old Saffie-Rose Roussos. The names of the 18 other victims have not yet been announced.
The incident occured at the conclusion of an Ariana Grande concert when a suicide bomber detonated a nail bomb near one of the venue's exits as concert-goers were leaving the show. The bomber has been identified as 22-year-old Salman Abedi, and ISIS has claimed responsibility for the attack.
This attack and its casualties are devastating, and Brewter's life will be mourned by people across the world who simply can't understand how someone could commit such a callous assault on innocent lives. But in moments like this, even the smallest symbols of love and courage should be appreciated, and Brewster's commitment to protecting her family is truly worth remembering.