Meghan Markle's Maid Of Honor Could Be Any One Of These Famous Friends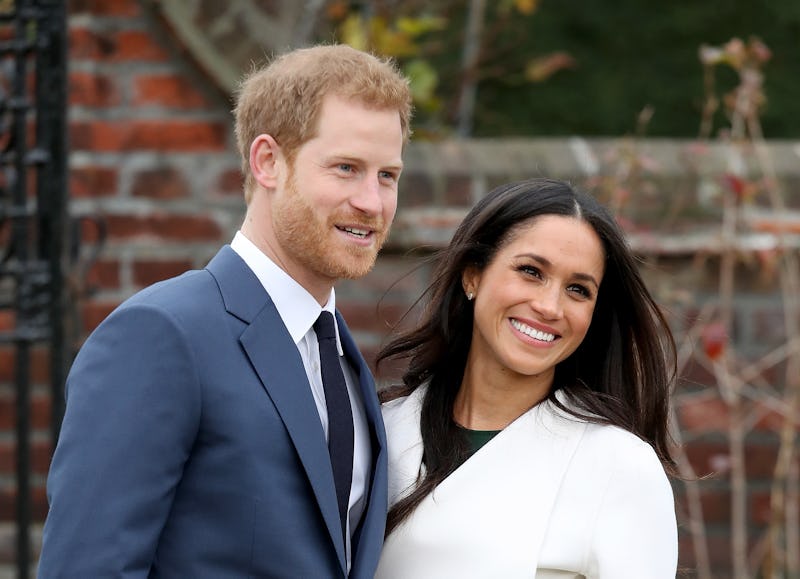 Chris Jackson/Getty Images Entertainment/Getty Images
If you're suddenly getting wedding fever, you're not alone. The Meghan Markle Prince Harry engagement might be one of the happiest celebrity moments of 2017. But there's still so much to delve into, such as who Markle's maid of honor might be. If you assume that the actor would choose her best friend to take the role, then the maid of honor might be a man. According to The Sun, Markle's "closest friend in the world" is Soho House director Markus Anderson, who reportedly introduced the happy couple to each other (which would make it doubly appropriate if he acted as such a significant part of the celebrations). The 40-year-old is based in Toronto, just as Markle once was, and, according to The Sun, they've been friends for years.
However, The Telegraph begs to differ, arguing that Markle's best friend is none other than "fashion power player" Jessica Mulroney, who works as a stylist for Sophie Gregoire-Trudeau, the Canadian prime minister's wife. According to The Telegraph, she is also based in Toronto, and Mulroney and Markle's friendship is partly based on their shared love for yoga. The same paper reported Mulroney styled Gregoire-Trudeau for the Duke and Duchess of Cambridge's visit to Canada.
As such, it would be incredibly useful to have the stylist on board to make sure all the bridesmaids look suitable for a royal wedding in spring 2018, when the pair are set to get married.
According to The Express, Markle also has at least one prominent British friend — Millie Mackintosh, who appeared on the posh British reality show Made In Chelsea. The Express alluded to an Instagram post that suggested the pair had gone traveling together for a whole month and cites a Women's Health interview in which the actor talked about wanting to go to a workout with "my friend Millie Mackintosh." Given the fact that the reality star is already based on British soil, maybe she would be a smart choice for the leader of the bridesmaids.
But if we're discussing famous potential maids of honor, then one name ranks at the top of the list: Serena Williams. According to E!, the pair first met in February 2014 at a flag football game at DIRECTV's Celebrity Beach Bowl and the actor wrote on her lifestyle website The Tig about her friendship with the tennis star,
"We hit it off immediately, taking pictures, laughing through the flag football game we were both playing in, and chatting not about tennis or acting, but about all the good old fashioned girly stuff."
According to E!, she's described the newly wed as one of her "closest friends," and, in a later post on The Tig, she wrote that Williams "quickly became a confidante I would text when I was traveling, the friend I would rally around for her tennis matches, and the down to earth chick I was able to grab lunch with just a couple weeks ago in Toronto." Since according to The Sun, Williams got married in November 2017, presumably she'd have the requisite experience to be a seriously accomplished maid of honor.
One final potential contender for the role is another high-flying woman: Priyanka Chopra, a fellow actor who the 36-yea-rold regularly posts selfies with. According to Elle, the pair met at the annual ELLE Women in Television dinner, when the Indian actor was there to present the Leadership Award to activist Ria Sharma and Chopra told the magazine, "'We bonded as actors. We just became friends, like two girls would."
She's a stalwart defender of her friend. After the American actor landed the cover of Vanity Fair, Chopra criticized the magazine for focusing too heavily on Markle's love life. According to Elle, she said, "It would have been nice to write about her not just her boyfriend. I'm just saying. I mean, she's an actor, she's an activist, she's a philanthropist. I mean, she does so much more." If Markle wants a woman who's got her back no matter what, presumably Chopra would be a great choice.
Given the sheer number of high-powered friends in Markle's life, one thing's for sure — the man/maid of honor is going to be incredible. The best part of all? Since according to the royal press release, Markle and Prince Harry's wedding is set for Spring 2018, we're not going to have to wait too long to find out who the lucky friend will be.