Trump Reportedly Has A New Game Plan For Funding That Border Wall Of His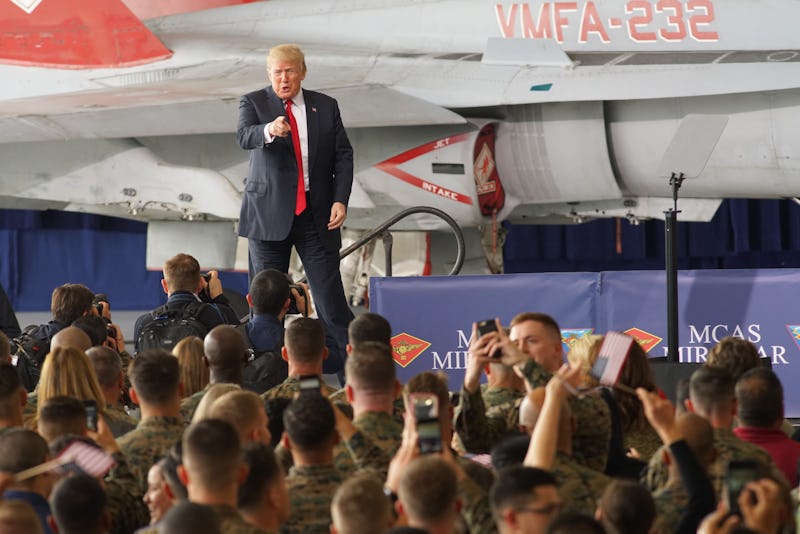 Sandy Huffaker/Getty Images News/Getty Images
Building a border wall between Mexico and the United States was a hallmark of Donald Trump's presidential campaign — as was requiring Mexico to pay for its construction. Most recently, though, The Washington Post reported that Trump supposedly wants the military to fund the wall. Needless to say, the resistance from both Mexico and Congress to pay up might've finally triggered a change of plans.
When asked at a press briefing on Tuesday about the possibility of the military funding the wall, Press Secretary Sarah Huckabee Sanders provided few details. "I can't get into the specifics of that at this point, but I can tell you that the continuation of building the wall is ongoing, and we're going to continue moving forward in that process," she said.
As the Post noted, Trump reportedly told Speaker of the House Paul Ryan that he believes the military should pay for the wall during a meeting last Wednesday. Moreover, the Post reported that the president suggested to Secretary of Defense Jim Mattis that the military could fund the construction of the wall because of "'national security' risk."
Trump's reported comments about the military potentially financing the wall come after months of failed attempts to secure adequate funding for the project. Mexico has repeatedly said that it will not pay for a border wall, despite Trump's insistence.
Indeed, in January of this year, the Mexican Counsel General reiterated in no uncertain terms that it would not be providing any funds for the construction of the wall, saying:
As the Mexican government has stated repeatedly, our country will not pay in any way or under any circumstances for a wall or physical barrier built on U.S. territory along the Mexican border. This statement is not part of a Mexican negotiating strategy, but rather a principle of national sovereignty and dignity.
Congress has also been reluctant to allocate significant funding to the project. Indeed, the $1.3 trillion spending bill it passed on March 22 only provided $1.6 billion for border security, which includes surveillance systems, levees, and fencing, among other measures. Trump had hoped to secure $25 billion for its construction.
Thus, as the Post reported, Trump has now reportedly set his sights on the military to fund the project. According to the paper, Trump also commented to senior aides last week that he believes the Department of Defense would be able to pay for the wall because it received a very substantial amount of money in the most recent spending bill — around $700 billion.
The outlet further revealed that evidence of Trump's reported support for the option of the American military financing the wall was available on Twitter last week. On March 25, Trump wrote:
Because of the $700 & $716 Billion Dollars gotten to rebuild our Military, many jobs are created and our Military is again rich. Building a great Border Wall, with drugs (poison) and enemy combatants pouring into our Country, is all about National Defense. Build WALL through M!
According to the Post, "M" stands for "military."
According to the Associated Press, re-allocation of federal budget funds — such as retooling Pentagon funds for wall construction — would require congressional approval; ABC News further confirmed this requirement. A Senate Appropriations Committee aide revealed to ABC News that there's really no way to allow the Department of Defense to reallocate funds to the wall without securing approval from Congress first.
It is unlikely that Trump will have the votes required in Congress to achieve this feat anyway. As The Washington Post reported, many congressional Republicans would likely not be receptive to the idea of moving money away from defense weaponry and toward border wall construction. Meanwhile, congressional Democrats have also publicly expressed discontent with the notion. Indeed, Rep. Tim Walz of Minnesota did not mince words on Twitter when conveying his thoughts on the issue, saying:
I thought President Trump's military parade idea was the stupidest thing I've ever heard. I was wrong. Taking money we could use to give our warriors better pay in order to build his ridiculous wall is way stupider.
Overall, while Trump's reportedly turning to the military for wall funding after facing resistance from Congress and from Mexico, he ultimately still needs congressional approval to pursue this option. Thus, the prospects for a Pentagon-funded border wall appear unlikely, despite Trump's reported hope for financial support.