Holly's Replacement On 'This Morning' Already Has A LOT Of Experience On The Show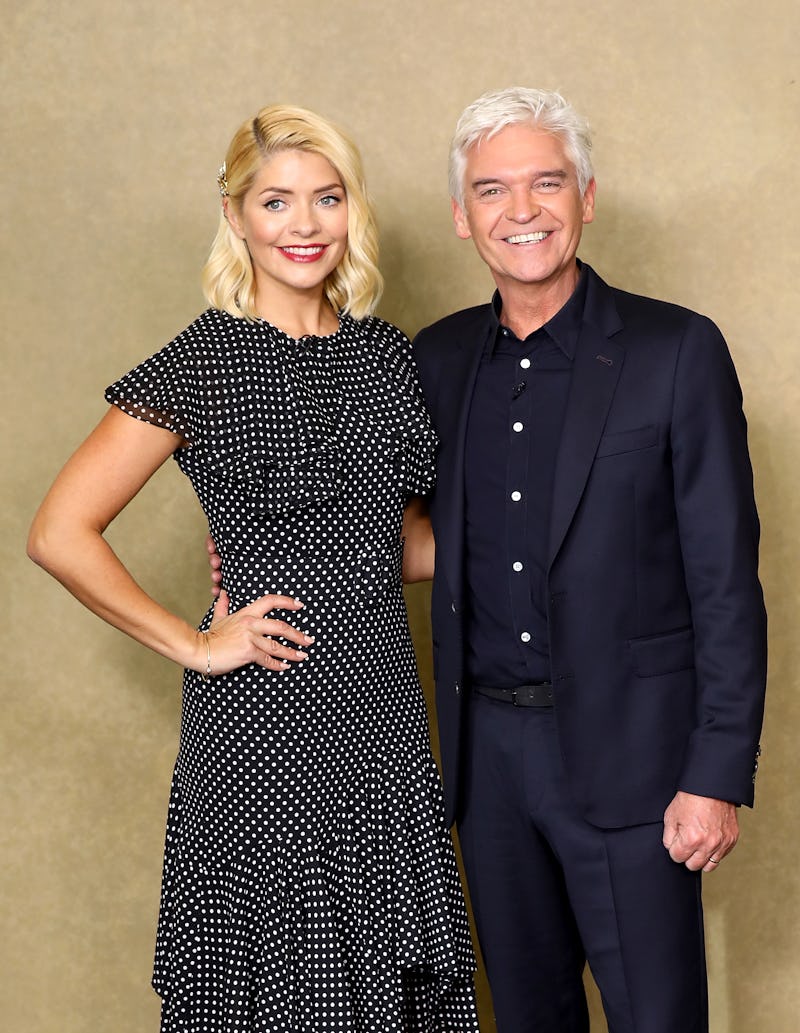 Tim P. Whitby/Getty Images Entertainment/Getty Images
Whilst ITV are still yet to release the launch date for Season 18 of I'm A Celebrity, Get Me Out Of Here if past seasons are anything to go by, it is fast upon us. Declan Donnelly will return to the jungle and in the absence of Ant McPartlin, this season he will be joined by This Morning's Holly Willoughby. However, there has been one question on fans lips for weeks. Who will replace Holly Willoughby on This Morning? She can't leave Phillip Schofield to man the This Morning ship alone. And she hasn't as the person keeping her space on the sofa warm has been announced.
On Tuesday 16 Oct. it was announced that whilst Willoughby is participating in all of the madness down under Rochelle Humes will step into her role and present This Morning alongside Schofield. She'll be taking on one of the hottest presenting spots on breakfast TV, but Humes seemed ready for the challenge. Speaking to Willoughby and Schofield when they revealed she would be joining the team she said, "I will, I'll take good care of you, I promise. I'm excited that I can tell people now. There were rumours at the weekend and I didn't reply to any of my friends. Sorry! I'm doing it! Yeah, I'm excited!"
This isn't the first time Humes has appeared on the This Morning sofa. Quite the contrary, she is a bit of a regular on the show. In August 2013 Humes was appointed as one of the guest presenters alongside her husband, Marvin Humes. Whilst she no longer presents on the show with him she has continued alongside other co-presenters and has featured in numerous fashion segments.
Joking with Willoughby that she is just keeping her seat warm, Humes said, "I'll make sure I don't do anything naughty and there's something to come back to."
I can't wait to see Humes and Schofield in action together, it is a massive promotion for her and she so deserves it. And as it turns out, Schofield is pretty happy about the appointment too. Speaking on This Morning he said, "I'm really looking forward to it, it will be really fabulous. We'll have a great time."
Just to give Humes a taste of what to expect in the coming months as she works alongside Schofield, he managed to fit in one little practical joke before Willoughby flied off to Australia. In Banksy style, the camera switched to Willoughby's picture on the wall as it was being shredded in its frame.
I can't wait to watch Humes in action on This Morning alongside Schofield. Willioughby has announced that she will be leaving This Morning on Thursday 18 October for the school holidays and will fly out to start filming down under after that.
With Willoughby starting I'm A Celebrity, Get Me Out Of Here and Humes taking her place on the This Morning sofa there is a lot of change in TV land. There is definitely going to be lots of laughs and I couldn't be happier for Humes.