The 'Queer Eye' Reboot's Food Expert Has A Personal Connection To The Original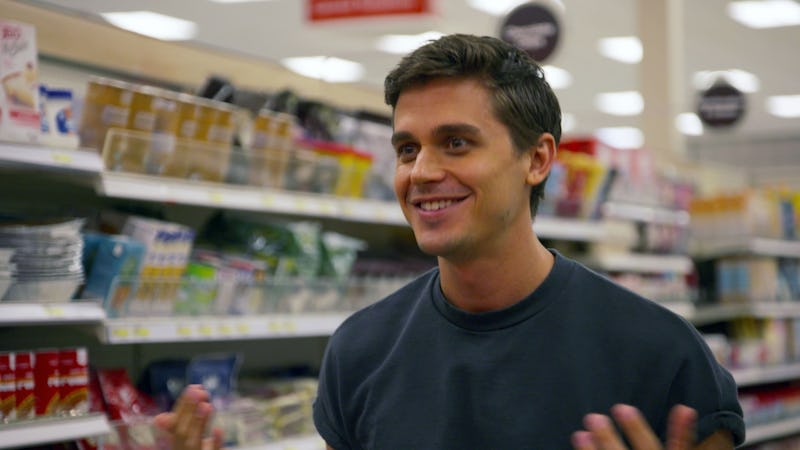 Courtesy of Netflix
Back in 2003, a revolutionary show made its mark and changed reality TV for the better. The show was Queer Eye For The Straight Guy and it focused around five gay men who were dispatched by Bravo to makeover guys in need of one. Now, over a decade later, Netflix is airing a reboot with five new men and a shorter name. Antoni Porowski is the food expert on the Queer Eye reboot, and he actually has a pretty direct connection to the original show.
Queer Eye For The Straight Guy was a hit in its first run. The show was nominated twice for Outstanding Reality Program at the Emmys and won the award in 2004. It arguably shifted reality television with its success, and certainly helped the Bravo network become what it is today. The network went from being known for Inside the Actor's Studio, to churning out lifestyle-based reality series like Project Runway, Top Chef, and Interior Therapy With Jeff Lewis, just to name a few.
Porowski is a part of the reboot's all new cast, also comprised of Tan France, who's in charge of fashion; Karamo Brown, who focuses on culture; Jonathan Van Ness, the grooming specialist; and Bobby Berk as the design expert. The new Fab Five are headlining eight new episodes in Season 1 of the Netflix Original.
It turns out, Porowski is linked to the original show. According to an interview with GrubStreet, he's close friends with Ted Allen, the original food and wine connoisseur from the first Queer Eye. Not only that, but he was actually Allen's personal chef for a bit too. They lived in the same neighborhood at the time, and Porowski, who already loved to cook, was encouraged by his friends to become more public with his cooking expertise. And what better person to help him do that than Allen, who went onto host shows like Chopped, Iron Chef America, and Top Chef?
In the same interview, Porowski said that food has always had a special place in his life, in an almost sacred capacity. One of the people who pushed him to face his fears and go out for the show (and try to cook with a more professional outlook) was his boyfriend Joey Krietemeyer.
In a video on the official Queer Eye Twitter account, Porowski says he's a romantic who loves the idea of bringing two people together. And while this show isn't really a matchmaking show, it is one about self-care and bettering one's self to have a fuller life. These five men are going to help men to dress better, feel better, and hopefully live better lives, which in turn may lead to a relationship down the line.
This isn't the first time the food expert has been on screen, however. Porowski has acted in TVs and movies before, with a role in The Pretenders, Love Elliott, and an episode of The Blacklist. Though, he definitely finds his gig on Queer Eye to be a bit more nerve-wracking since he's portraying himself. "Maybe it's a heightened version of myself, maybe I'm a little louder on the show than I am in real life, but essentially I'm asked to be myself," he told GrubStreet. "That part was really intimidating."
In trailer for Queer Eye, France says, "The original show was fighting for tolerance. Our fight is for acceptance." There's more LGBTQ visibility on television, and Pew reports that the proportion of people who approve of gay marriage has grown steadily since 2001. That being said, there's still ignorance of as well as hatred for the queer community, along with many misconceptions. The show is opening up dialogue and the path for enthusiastic acceptance, and part of that is being as present as possible for the subject. "As much as I wanted to show off my skills and what I know about food," Porowski told GrubStreet, "it's about showing up for that person and figuring out what their needs are."