Donatella Versace Has Kept Her Brother's Memory Alive In The Best Way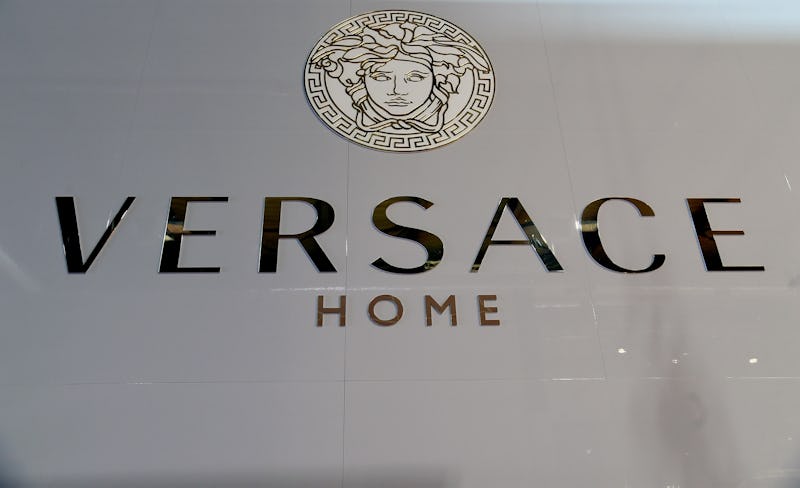 Pier Marco Tacca/Getty Images Entertainment/Getty Images
Versace is a fashion brand that is synonymous with luxury and beauty. While a lot of fashion houses can rise and then fall just as quickly while trying to keep up with their own hype, Versace has evolved with the changing time while still staying true to a signature aesthetic for decades. It's particularly impressive considering that the brand — and the family — lost founder Gianni Versace when he was murdered in 1997. His death is the focus of FX's The Assassination of Gianni Versace: American Crime Story (associate producers: Linda Favila, Meredith Meade), but his brand is given attention as well. This begs the question: Who's in charge of Versace now in 2018?
In a word: Donatella. Per an article from The Guardian, Donatella is Gianni's baby sister and was his muse. But, while he grew the fashion brand from the ground up, on July 15, 1997 he was tragically killed at the gates of his Miami home by a man named Andrew Cunanan. According to People, Cunanan didn't appear to have any connection or relationship to Gianni whatsoever. Before shooting the famed designer twice in the back of his head outside of his home, it was speculated that Cunanan had allegedly killed four other people and was possibly targeting gay men. The motive for Versace's murder remains unknown to this day since Cunanan committed suicide before being apprehended, per TIME.
Immediately following Gianni's murder, the question arose of what would happen to the Versace fashion house. According to The Guardian, Donatella was thrust into her brother's seat and tasked to keep the Versace brand alive and thriving. Now, at this time she had lost her beloved older brother, whom she was extremely close to, in a tragic and profoundly shocking way. On top of that, she was now the head of one of the biggest fashion houses. It was an amazing amount of pressure put on her.
Understandably, it wasn't almost smooth sailing. As The Guardian article reported, less than three months after losing her brother, Donatella had her first fashion show as a designer and broke down in tears when she took to the runway. In 2004, she checked into rehab for a cocaine addiction, according to another Guardian article. She told the outlet in 2017, "Any addiction I have had, when I have ended it, I have done it just like that. I don't look back."
Donatella has come a long way since she broke down in tears at her first fashion show. In the past 20 years she's helped Versace stay on top of the fashion world while staying true to its brand. Running the company helped her come into her own, as she told The Guardian, "I had been listening to everyone else, and then I realized, who was the person my brother listened to? Me. I worked with him every day. I was much more than a muse. It was a dialogue between us. We discussed everything."
Now, in January of 2018, Donatella just showed her menswear collection in Milan Fashion Week where she also showcased a collaboration with rapper, 2 Chainz for a signature line of sneakers. At the end of 2017, she was awarded the Fashion Icon of the Year Award at the British Fashion Council's Fashion Awards.
Along with keeping the brand fresh and relevant, she is also trying to turn Versace into a environmentally sustainable operation, according to Vogue. She told the outlet:
"We need to respect our planet and we need to do it now or it will be too late. It's not only the way we produce the clothes, the materials we use, or how we use them, it's also a new culture inside Versace, a culture that puts people and their well-being in the center."
Though losing her brother was a tragic, unimaginable experience for Donatella, she's honored his memory in the best way — by keeping his life's work and name thriving for the last two decades.
If you or someone you know are experiencing suicidal thoughts, call 911, or call the National Suicide Prevention Hotline at 1-800-273-8255.