This 'Flash' Meta Could Bring The Team Closer To The Thinker's True Identity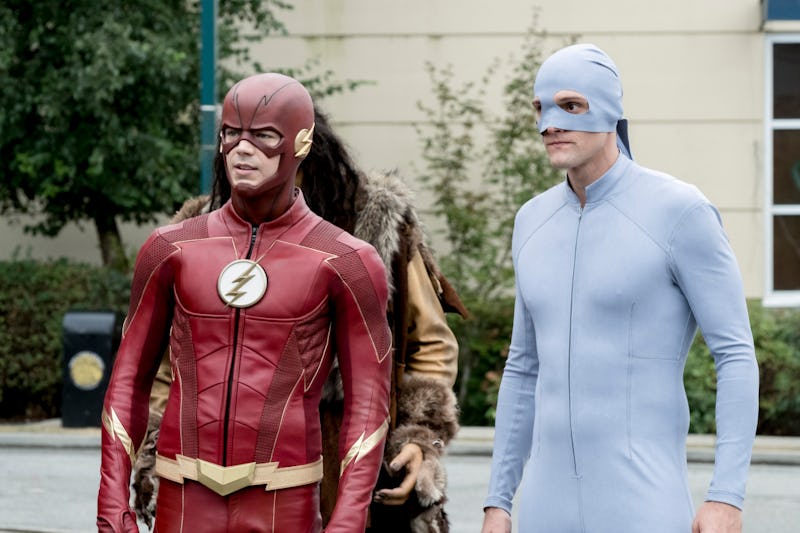 Katie Yu/The CW
A bus full of metahumans was created on The Flash, and each new episode of Season 4 seems to introduce one of the passengers. Another one of these people will make her metahuman introduction in the Nov. 14 episode, "When Harry Met Harry." So, who is Mina Chayton on The Flash? Along with her fellow passengers, Barry accidentally turned her into a metahuman — this one with a special relationship to inanimate objects.
During the "Luck be A Lady" episode, a flashback to the creation of bus metahumans included a glimpse of some of the future faces fans might see, and Mina was one of them. Some metahumans on The Flash are based in the comics, but it doesn't appear that this particular character, played by Chelsea Lutz (Scandal), is. Fortunately, an episode synopsis from the CW gives insight into her unique powers. It reads:
"When collectors of Native American artifacts are attacked by a meta named Mina Chayton who can bring inanimate objects to life, Barry turns to a surprising ally for help."
A photo from the episode shows Barry and Joe West inspecting a statue of what appears to be a lion. According to the synopsis, Mina's powers could turn that lion to life. This could lead to a colorful battle between Mina and the new Team Flash. And while Mina will provide the team with challenges, the overall season arc is becoming more interesting than each individual battle.
In addition to Mina, the episode will introduce The Elongated Man, Ralph Dibney, as a more permanent member of the S.T.A.R. Labs team. Dibney may or may not be the surprising ally the synopsis refers to. Mina will most likely be one of Ralph's early tests — he already faced Breacher last week. While Mina should be an interesting metahuman for the crew to face, this shift in the team will also have some focus. Executive Producer Andrew Kreisberg spoke to Variety about how Dibney will affect the team dynamic. He said:
"We wanted to bring somebody in and really have them feel like something new and something different and something you haven't seen a lot on television. The one thing we didn't have on this show – because everyone is so likable – is we didn't have a jerk...We didn't have somebody who was sort of a louse and crude and liked to drink... We thought it would be interesting if he had a bit murkier backstory."
Meanwhile, the Thinker is still tracking the bus metahumans that he set up Barry to create. And he'll most likely be tracking Mina as well. Team Flash will certainly find a way to take this week's meta down down, but how does she fit into the Thinker's masterplan, whatever that may be? The Thinker is already keeping an eye on Kilg%re, Hazard, and The Weeper, and Team Flash still doesn't know who he is or what he desires.
Inantimate objects on The Flash are about to get a whole lot more dangerous but Team Flash is stronger — and more populated — than ever. Eventually, the Thinker's plan will be revealed, and Mina Chayton may be the meta to bring the S.T.A.R. Labs crew closer to answers.
Note: On Nov. 10, Variety reported that producer Andrew Kreisberg had been suspended after several allegations of sexual harassment and "inappropriate physical contact" by employees and former employees. In a Warner Bros. statement, the company claimed they were in the process of investigating these claims. Greg Berlanti and Sarah Schechter, heads of Berlanti Productions, released a statement saying that the production company that manages Kreisberg's series were fully cooperating with the investigation. Variety also reported that Kreisberg "strongly denies all allegations" made by the 19 sources mentioned in the article.