Rachel's Mom Isn't Cutting 'The Bachelorette' Contestants Any Slack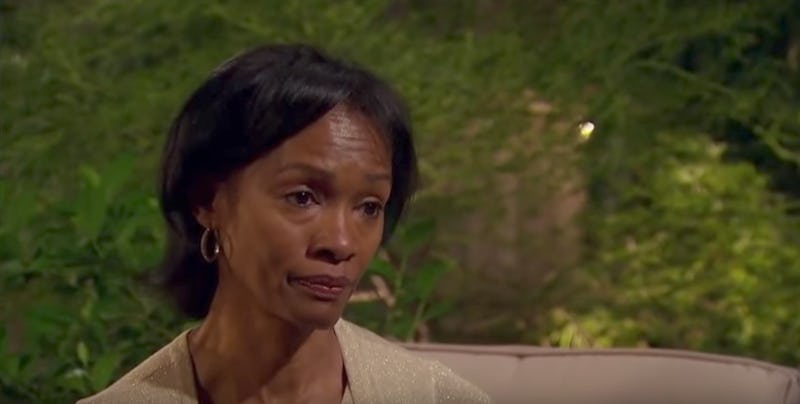 ABC
Rachel Lindsay has been crushing it on The Bachelorette and we're about to re-meet the people who helped raise her to have that amazing confidence. Rachel's family is going to take center stage on The Bachelorette on Monday night as the remaining three men say hello to their potential future in-laws. Bachelor Nation has met Rachel's family before, on Nick Viall's season of The Bachelor. But, since it's been awhile, it's time for a family refresher. So, who is Rachel Lindsay's mother? The Bachelorette's mom helped raise the woman we all know and love today.
The opinion of a family member can be really important on a show like The Bachelorette. Often contestants get swept up in the whirlwind of the show, falling "in love" on helicopters while traveling the world. A family visit can be grounding, especially if the family is willing to ask tough, realistic questions. Kathy Lindsay proved herself on Nick's season as someone who is willing to bring up some of the more difficult, but important concerns. When Rachel brought Nick home, Kathy directly and honestly brought up the realities of interracial dating, looking to gain Nick's thoughts on that.
Now Kathy is about to make a comeback on The Bachelorette — and fans like myself can't wait.
The promo for next episode shows Rachel's final men meeting her family. In the preview clip, Kathy appears to be telling finalist Bryan Abasolo, "You have to understand, you are living in a bubble." This snippet from the family visit aligns with Kathy's narrative in the past: Honesty in the face of a show that tends to live in wonderland. Kathy, both on Nick's season and in this promo, is gentle but blunt.
Kathy is not unrealistically harsh, but she also doesn't want her daughter to get carried away in magic of the show, forgetting that the real world brings its own complications. This understandable approach is not far from what we've seen from Rachel herself, a Bachelorette that is hopeful but also grounded in reality. Rachel seems to get much of her way of thinking from her mother.
Kathy, like Rachel, is a hardworking, intelligent, career-focused woman. She spent 15 years as a computer programmer, 19 years as a computer teacher, and now works for Mary Kay as a beauty consultant according to her LinkedIn page. Rachel is one of the few Bachelorettes to immediately return to work, resuming her job as a civil defense litigation attorney. It's possible that Rachel's career focus and commitment is another quality she gets from her mother's long and focused job success. While Kathy and Rachel will both be shining on national television on Monday night, they both also have rich lives off camera.
I'm excited to see Kathy take center stage again. I hope she challenges the men, helps Rachel to think critically, and is the voice of reason that every daughter needs. As much as Chris Harrison tries to get Rachel to think critically, I feel like her mom will have the most success. Here's to hoping Kathy pushes Rachel in the right direction, whatever that may be.