'Dare To Live's Star Will Make You Want To Chase Your Dreams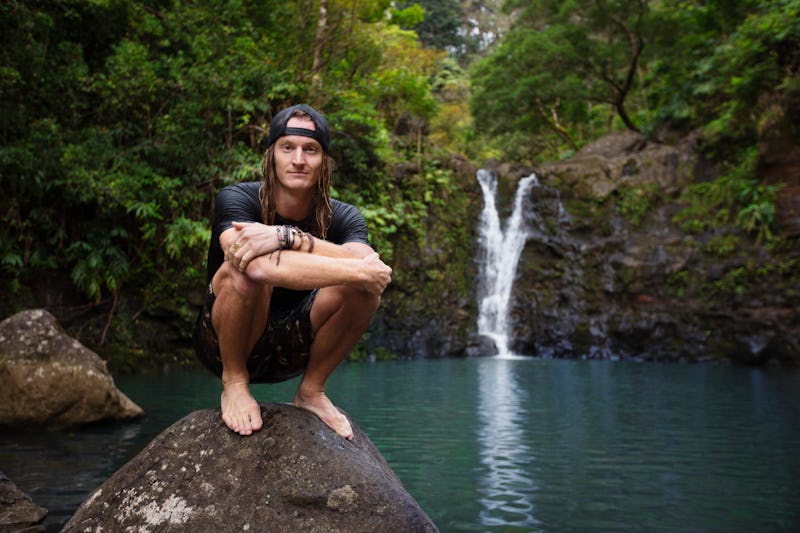 MTV
When it comes to reality show programming, MTV has always lived on the cutting edge of ridiculousness. Back in the '00s when Survivor and American Idol were just getting off the ground, Johnny Knoxville and his buddies had made a career running around around like idiots, and performing dangerous stunts on Jackass. But you know what Jackass was missing? Inspirational life messages, high-quality video, and famous musicians. Luckily, MTV's newest series Dare To Live , premiering August 29, will have all of that and then some. So who is Rory Kramer, the star of Dare To Live?
This is how Kramer introduces himself at the start of the very first Dare To Live, which is already available to watch on the MTV website:
"Who am I? I've been trying to figure that out for the longest time. I'm someone who was lost in life, who struggles with depression, and realized I needed to change my life. So I quit my job to pursue making videos and now I'm free. I'm a professional life liver. I'm a son, brother, uncle, and a friend. I'm out of control. I'm the guy from the Avicii video. I'm someone who can eat an ice cream cone in eight seconds. I'm doing what I love, traveling the world, capturing moments for some of the dopest musicians. But the best part? I'm gonna take them on these crazy adventures wherever we are. "
Of course, that's not a whole lot to go on, unless you're a fan of Avicii — then you probably do remember him from the music video for "The Nights," which is comprised entirely of Kramer's videos and currently has over 291 million YouTube views.
Although "The Nights" was his breakout success, Kramer has been making videos for YouTube for at least seven years, and seems to have been a huge MTV fan from a very early age. The oldest video on his YouTube channel is from ten years ago and called "CKY Jackass like video"; the second-oldest features his surprisingly solid impersonation of Rob Drydek from Rob Dyrdek's Fantasy Factory and other reality shows. In 2011, he also starred alongside The Hills star Audrina Patridge in a YOBI.tv miniseries known as Dream Maker — although good luck finding it online now.
Now, his his personal YouTube page has 67,898 subscribers and over 3 million views, and over on Instagram he's got 390,000 followers. He's also turned that video-making passion into a career; on hs website he notes that he's worked with 3Lau, Kanye West, Drake, and other musicians as a videographer. He's even directed a number of music videos, including Tori Kelly's "Should've Been Us", Justin Bieber's "I'll Show You", and a number of lyric music videos for The Chainsmokers, including "Don't Let Me Down" below:
It seems like a reality show on MTV that combines his love of adventure and his love of music is probably exactly what Rory Kramer should be doing with his life. Here's to hoping Dare To Live exceeds all his expectations, as well as those of the fans watching when the show premieres on Aug. 29.