Why 'Queer Eye's New Style Expert NEVER Expected To Star On A Makeover Series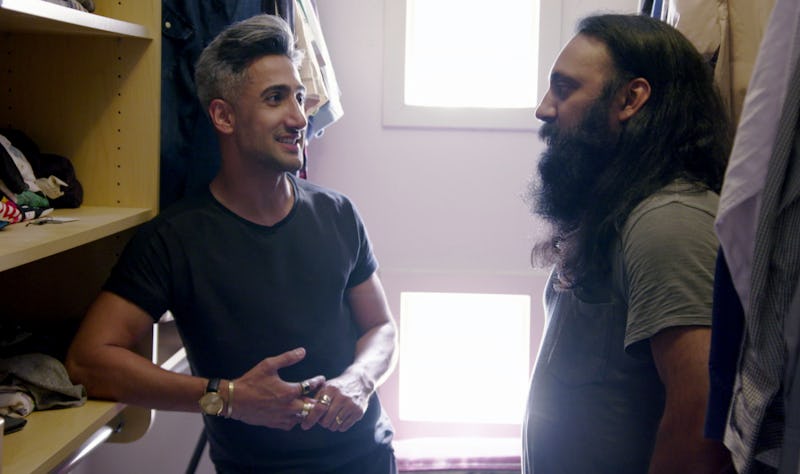 Courtesy of Netflix
If you haven't seen the new season of Queer Eye, you're truly missing out — just like the original, it is a feel-good delight, and it leaves the viewer feeling lighter, happier, more hopeful. This remake, though, is a little slicker. A little more 2018. It's probably the production values and the HDTV, but that's what happens when you have that Netflix money behind it! Never has dismantling toxic masculinity been more beautiful. And the slickest of the new Queer Eye Fab Five is Tan France, stylist extraordinaire.
The premise of Queer Eye is the same as the old show: five gay men take one man (not always straight, however — a change from the old show) and do a full reconstruction of their life. The makeoverees get better clothes, better food, a better haircut, and a better living room, but without losing the essence of themselves. It's them, but better. Turned up to 11. There are always tears, too. A lot of the exterior change leads to interior evolution, and it's beautiful to watch. France is responsible solely for the wardrobe changes - he looks through the subject's wardrobe, and, in true What Not To Wear fashion, keeps the good stuff (there is usually not much good stuff), gets rid of the bad stuff, and teaches his student how to dress well. Because when you look good, you automatically feel good.
The England-born France is a bit of a mystery — there's not a lot of information about him online. According to The Knot, France is based in Salt Lake City, where he lives with his husband of 10 years, Rob, who is an illustrator. (You can see his work on his Instagram.)
France is half-Pakistani, and he's a fashion expert. Queer Eye is definitely the most high-profile project he's ever done. So just a normal guy working in clothes for a living, who ended up getting the biggest break of his career. Of landing Queer Eye, France told Entertainment Tonight, "For me, it kind of just came out of nowhere. feel like it was a lottery. I got super lucky. I am very, very grateful."
It's interesting that France seems to light up on screen in the first season of the reboot series, because, as he admits, he didn't really love being in front of a camera. "The first day I cried because it was so terrifying for me, because I was the kind of guy that didn't really like to get his photo taken," he said to ET. "I thought that they weren't going to cast me because I made it very clear to the person that told me I got this job, 'You are out of your mind. Do not give me this job. I get uncomfortable getting my photo taken.' I went to the audition because I thought I would make some gay friends. I never thought that I would get a job."
As for his everyday life, a look through France's Instagram shows the kind of life that I believe I should be living. Cute pups, exotic locales, a brand-new home, and very, very good fashion sense. He even just met Bon Jovi. Be still my tri-state area heart.
The best part about France, though, is that he so clearly cares about the men that he's making over on the show. Looking good is akin to feeling good, and it's that return of self-confidence that inspires the struggling men on Queer Eye to snap out of their ruts and make some big changes. The show's new style expert restores the mojo of these men, and it sure seems like he's happy to do it.