The 'Queer Eye' Creator Is Already Thinking About Season 2 On Netflix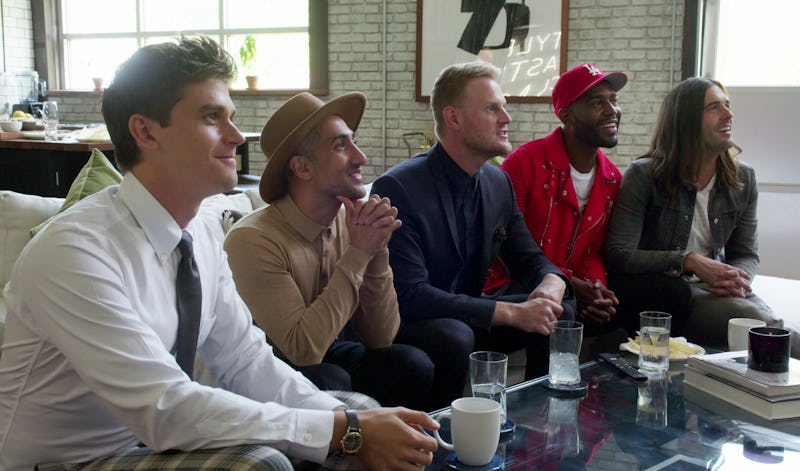 Netflix
The show Queer Eye For The Straight Guy (later changed to just Queer Eye) ran for five seasons on Bravo in the 2000s. Netflix's revival of the reality series premiered on Feb. 7, and people can't stop talking about oit. So, will Queer Eye return for Season 2? Unlike the original series, Netflix gave viewers the ability to stream all of Season 1 at once. And with only eight episodes and no commercials, it was absurdly easy to consume the lessons that Bobby Berk, Karamo Brown, Tan France, Antoni Porowski, and Jonathan Van Ness gave to their "heroes." If you're already craving more makeovers from the reboot, the fate of Queer Eye is currently up in the air. But channel the Fab Five's lessons in confidence by believing that Netflix will renew the reboot.
David Collins created the original Queer Eye and he's also the person behind the reboot, which helps explain how the new version felt so familiar despite the updates. As the Logo site NewNowNext.com noted, the series was a pop culture phenomenon when it first premiered in 2003 with Ted Allen, Kyan Douglas, Thom Filicia, Carson Kressley, and Jai Rodriguez. It eventually lost some of its popularity, but Bravo still kept Queer Eye around for 100 episodes as TV Series Finale reported. An astounding 55 episodes of those 100 aired within just the first two seasons with the subsequent seasons decreasing in episode counts.
Yet, Season 1 of Netflix's Queer Eye only had a measly eight episodes versus Season 1 of Bravo's Queer Eye which had 25. So would it really be fair for the reboot not to come back for more episodes? If things are supposed to "keep getting better" like the theme song says, then fans deserve more.
Netflix hasn't announced yet whether the streaming site will renew the series, but thankfully, Collins indicated he is already thinking about a Season 2 in an interview with IndieWire. After all, he brought Queer Eye back 15 years after it first premiered, so there's no way he's finished with his show now. And the new Fab Five was also open to more episodes, per the IndieWire interview.
The one change that Collins and the cast said they all would want to make for a Season 2 was the location. The original Queer Eye took place in New York City, but the reboot relocated to Atlanta, Georgia. That allows the series to focus on how the Fab Five interacts and bonds with people who live in a traditionally more conservative state. That seems to be something that still interests Collins, but he mentioned relocating to the Midwest for a Season 2.
"I'm from Cincinnati, Ohio, born and raised," Collins told IndieWire. "I would like to go the tristate region, Ohio, Indiana, and Kentucky, because you can base in Cincinnati and go across the bridge to Kentucky and go up the interstate to Indiana. The corn-fed midwestern folk are where I'm from — and I love actually being from Ohio, it's a great place to be from." And while the Queer Eye guys loved the people they met in Atlanta, they didn't love the Georgian heat in the summer. So food expert Antoni said they'd like "a slightly colder climate" wherever they end up. After all, it's hard to be doing inside and out makeovers when you're sweating like an extra on The Walking Dead.
But no matter where they could end up filming for a potential Season 2, the group wants to keep helping people with different backgrounds. "I'd just like to see us continuing to expand on the diversity of it," design expert Bobby said to IndieWire. "Helping different types of people from every walks of life, from every ethnicity, from every gender. Just keep expanding on showing the world, and the differences in people that actually make them the same."
As A.V. Club noted, Netflix doesn't often release its viewing ratings, so there's no definite way to know how many people have watched Season 1 of the reboot. But critics love it since Queer Eye holds a 100 percent on Rotten Tomatoes. And what's not to love when the entire point of Queer Eye is to show how empathy and understanding can improve lives. So with the U.S. currently so divided politically, Netflix should recognize that eight isn't enough and that the world could use a little more Queer Eye.