This 'Pirates 5' Character Is Hard To Forget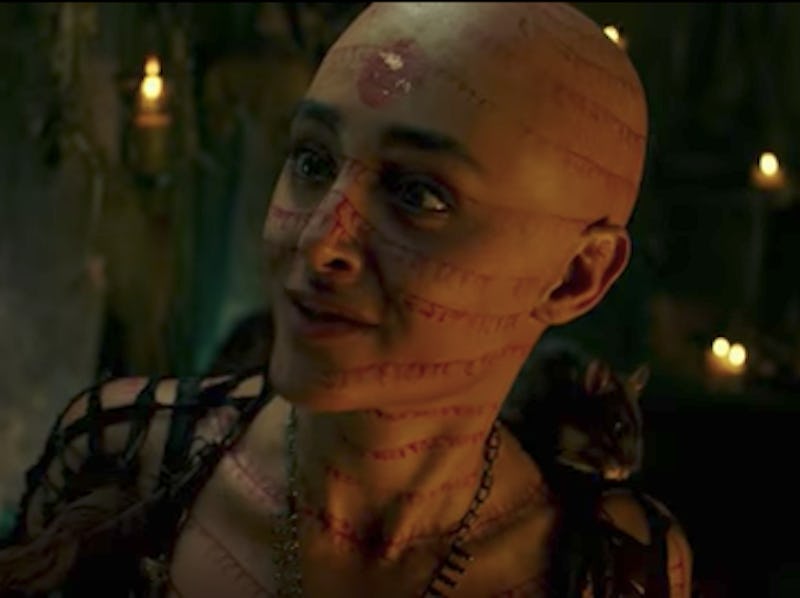 Walt Disney Pictures
Walt Disney's newest Pirates of the Caribbean film, Pirates of the Caribbean: Dead Men Tell No Tales, is notable largely for its inclusion of original franchise stars Orlando Bloom and Keira Knightley after a 10-year absence. But the film should also be getting attention for some of its colorful new characters, most notably a mysterious character who steals every scene she's in. Just who is the bald woman in Pirates 5, and what is her purpose?
The character's name is Shansa, and she is portrayed by Iranian-born actor Golshifteh Farahani. Shansa is a sea-witch, and her memorable appearance is complete with a completely shaved head, strange bands of red tattoos all over, metal teeth, and what looks like a giant thumbprint on her forehead. In other words, she looks totally bonkers even compared to all the ghost characters in the film, and you certainly won't forget seeing her.
She has been described by Farahani as "both good and bad," and she has a role to play in the film's central quest of finding the Trident of Poseidon. She is also an ally of Captain Barbossa, which shouldn't be too surprising since, if you recall, the undead scallywag does keep some strange company. In Pirates of the Caribbean: Dead Man's Chest, it was another oddly dressed witch with terrible teeth — Naomie Harris' Calypso — who brought the deceased pirate back into the land of the living.
As for Farahani herself, who is completely unrecognizable in the role, she has been making a name for herself lately here in the United States. She previously appeared opposite Adam Driver in the 2016 indie darling Paterson, and also portrayed Nefertari in Ridley Scott's 2014 Biblical epic, Exodus: Gods and Kings. She also made headlines earlier this year when she spoke out against President Donald Trump's Muslim ban, telling The Hollywood Reporter in February that she might lose a role in an American movie she was slated to appear in because her place of birth was preventing her from traveling to the States.
Farahani's star is certainly on the rise, and her eccentric turn in the newest Pirates movie will definitely aid in her ascent. She's maybe the most unique and exciting part of a unique and exciting movie, which already has some fans hoping for a sea witch spinoff franchise.