Who's The Town Troubadour On 'Gilmore Girls'? Grant-Lee Phillips Always Knew What To Sing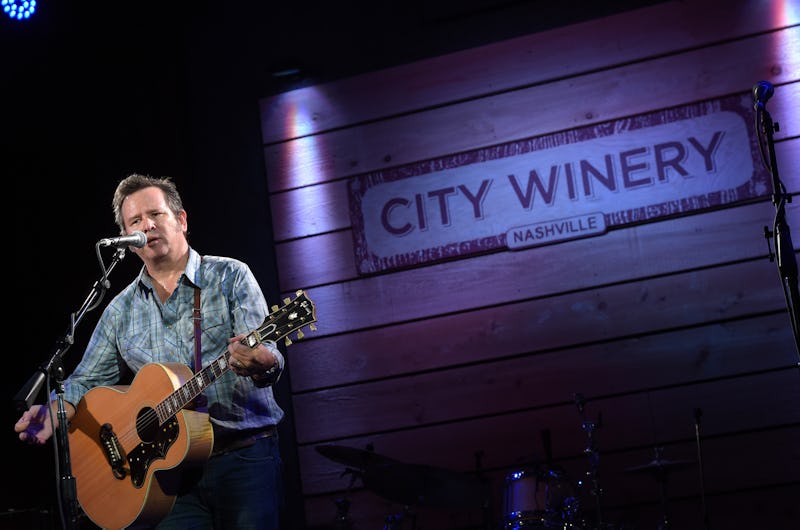 Rick Diamond/Getty Images Entertainment/Getty Images
The Gilmore Girls revival, Gilmore Girls: A Year in the Life is upon us, and by now, you've surely heard that in addition to main characters like Rory, Lorelai, and Emily Gilmore, supporting characters, from Stars Hollow denizens to Life and Death Brigade members will be back to give you a much-needed jolt of nostalgia when the real-life future might not look so bright. Among those returning for the revival is a character who was not known by his name but by his occupation: the Town Troubadour, who was played by singer-songwriter Grant-Lee Phillips. But since he was such a part of the Stars Hollow scene, you might need a refresher on who the Gilmore Girls' Town Troubadour is.
Even if you're not sure who the Town Troubadour is, it's pretty easy to figure it out. He's a musician usually clad in a brown blazer and thick, black glasses who could be seen playing an acoustic guitar and singing into a gold microphone held by a harmonica holder around his neck. The Town Troubadour made brief appearances throughout the original run of the series but was mainly featured in Season 1. He could always be found crooning outside, usually while standing on the sidewalk or leaning on a lamppost or a tree.
Instead of providing just an aural transition in between scenes, as Sam Phillips' sweet-sounding score famous for its "la-la-las" backed by an acoustic guitar did in the original series and will continue to do in the revival, the Town Troubadour provided both a musical and a physical interlude. As the camera focused on the Town Troubadour for a few seconds right before we saw a major character like Lorelai (Lauren Graham) or Rory (Alexis Bledel) walk past him, he would sing and strum along to songs like the Beach Boys' "Be True to Your School," Wham!'s "Wake Me Up Before You Go-Go," and Paul Simon's "Me and Julio Down by the Schoolyard." The Town Troubadour could also be heard singing songs from '90s rock band Grant Lee Buffalo, of which Phillips served as the lead singer.
The Town Troubadour was so much a part of the atmosphere of Stars Hollow, he didn't have much of a backstory of his own — or at least one that was made known to the Gilmore Girls audience. However, he did have one memorable plotline in which he faced off with a second Town Troubadour (Dave "Gruber" Allen) who was encroaching on his musical duties in the Season 1 finale "Love, Daisies and Troubadours."
In the episode, the Town Troubadour brought the issue up at a town meeting where we learned all about his "mystique" and that he doesn't accept tips. Town Selectman Taylor Doose (Michael Winters) settled the dispute and named him the official Town Troubadour after an impassioned speech from Rory (Alexis Bledel) about how music allows you to express how you feel when you can't do so through words, which really had to do with how she wished she could communicate her love to Dean. But Taylor mostly came to the resolution because he wanted to move on. By the end of the episode, both troubadours came to their own reconciliation as well as they jammed out on the street together, proving that Stars Hollow was big enough for the two of them.
Phillips has been confirmed to reprise his role as Town Troubadour in Gilmore Girls: A Year in the Life, according to Entertainment Weekly. Since appearing in the original series, Phillips has continued to release music in real life. His most recent album, The Narrows, came out earlier this year. However, he told Salon in February that he was "excited" to be returning to Stars Hollow. "After a good solid run of, what, six or seven seasons being a character on the show, I think it's incredible that they're bringing it back in this capacity," he said.
During that interview, Phillips also spoke about the positive impact that playing the Town Troubadour has had on his career. "It's wild. When I first started appearing on that show, I couldn't really get a sense of how it would impact my notoriety, my profile. But what I have experienced is there's a younger crowd especially—and this exists all over the world where I tour—they have discovered me through the 'Gilmore Girls.' They show up to my gig in Hamburg with their 'Gilmore' DVDs. I think it's quite amazing," he explained. "I'm very grateful for 'Gilmore Girls,' and the fact it's turned on a whole new generation to my stuff."
I imagine Phillips will have even more fans after the Gilmore Girls revival debuts.