'La La Land' Could Break A Golden Globes Record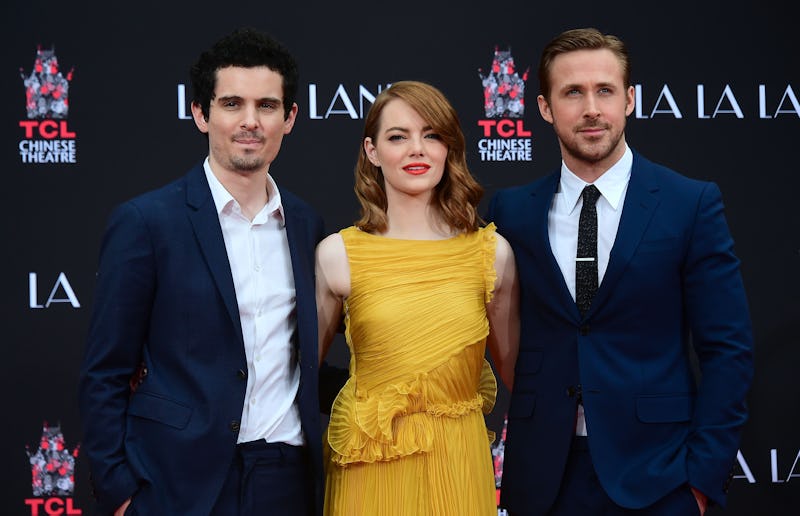 FREDERIC J. BROWN/AFP/Getty Images
If, like me, you're continually fascinated by the ages of Golden Globe Award winners, then the fact that Damien Chazelle is nominated for La La Land at age 31 will be impressive. But will he be the youngest director to win a Golden Globe if he snatches that award at the 2017 show? In addition to breaking the record, looking back at the history of past winners, he would also share great company among the directorial genius of other individuals of a relatively similar age.
But first, it's worth noting that La La Land has seven Golden Globe nominations this year, making it the leading movie nominee. With that in mind, Chazelle is also hotly tipped as being the top contender for Best Director, despite being up against such amazing and critically acclaimed talent as Barry Jenkins for Moonlight, and Kenneth Lonergan for Manchester By The Sea.
It seems likely, then, that Chazelle could definitely be 2017's Golden Globe winner for Best Director. And, if that does become the case, then he will also become the youngest director to win the award.
There are, however, four notable Best Director winners who won the award at a similarly young age. Their proclivity for greatness at a stage in life when most directors are known for experimenting with style, or simply refining their talent and niche, is reflected in the movies they won the award for. As such, if Chazelle were to win, it'd be easy to parallel his career with that of any one of these auteurs, and that's quite the accomplishment in itself.
Currently, the youngest Best Director winner of the Golden Globes is Francis Ford Coppola, who was only 33 when he won for The Godfather in 1972. Which, as anyone who has obsessed over the finite details of that movie can attest to, is seriously impressive.
It was also the movie that officially launched Coppola's career, and, to this day he remains a Hollywood superpower — not just as a director, but also as a producer and writer.
The next youngest director to have won the accolade was Sam Mendes at 34 years old for the movie American Beauty in 1999. Though Mendes' career isn't quite as comparable to that of Coppola's (but, then again, whose is), he has managed to direct some truly iconic movies such as Road To Perdition and Revolutionary Road.
However, it's the next director who truly shares some significant parallels to Chazelle's directorial style and significance. In 1967, Mike Nichols won the award aged 36, for his movie The Graduate, and, though it's also worth noting that William Friedkin was also 36 when he won for The French Connection, Nichols' unique sense of acerbic, cinematic energy is something also distinctive in Chazelle's work and worth acknowledging.
It could be argued, after all, that the youthful restlessness captured in The Graduate is similar to the one that pivots Chazelle's Whiplash and La La Land. All three of these movies focus on young characters at extreme turning points in their lives, and portray the moments within which they either push forward or remain hopelessly and precariously trapped.
I'd also argue that these are stories which require a youthful, observational, and skilled eye with which to carefully communicate those qualities to the screen. And, like Nichols, Chazelle has exactly that.
We'll have to wait and see whether those qualities will lead to Chazelle officially becoming the youngest Best Director winner at the Golden Globes on Jan. 8. But, if he does win, then it will be an accolade more than well deserved.