'30 Rock' May Be Leaving Netflix & Screaming "Blerg!" Is A Totally Acceptable Reaction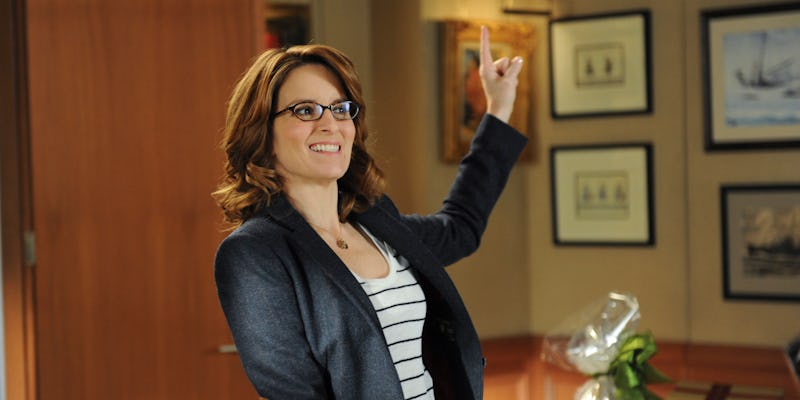 NBC Universal
You're probably going to have to figure out a different way to see Liz Lemon from now on, because one of your favorite shows won't be on Netflix much longer. And yes, you're likely wondering why 30 Rock is leaving Netflix in October, as your heart breaks in the process. The streaming service confirmed the news to Bustle, so it's only a matter of time before Lemon is out. And observant fans were actually the first to this sad discovery — they tweeted that while streaming 30 Rock, they got banners letting them know that all seven seasons of the sitcom will be gone on Oct. 1.
No surprise, Tina Fey fans aren't too happy with this news. "Ugh not to be one of those people who indignantly tweet at #brands but @netflix," Ryan McPhee, the managing news editor at Playbill, tweeted. "I will cancel my membership when you remove 30 Rock."
Getting rid of one's subscription was a common theme in the recent tweets about 30 Rock. "Hey @netflix all the original content in the world won't keep me from canceling if you take off 30 Rock," another person wrote. While someone else tweeted, "Hey @netflix, don't underestimate the rioting & chaos that would follow your decision to end 30 Rock in October."
But before you go deleting your Netflix account, you should know there is still a chance that 30 Rock could be spared.
Proving not all hope is lost, the website Netflix Life reported that Netflix could work on a deal with NBC to keep 30 Rock from leaving. With so many impassioned fans swearing they'll delete their accounts, it might be enough to get Netflix to try to keep it. Netflix Life reported that according to a Netflix representative, "it's not confirmed or official" that 30 Rock is leaving, "but it's likely that the non-FOX shows with an expiration date in October are likely to be renewed." Maybe they already know how much the show is worth to them — especially since 30 Rock isn't streaming for free anywhere else. (You can buy episodes off the show on Amazon, which could get pricey if you want to have all 138 at your disposal.)
Recently Netflix has experienced its fair share of losses. The company has started canceling some its own original programming — R.I.P Sense8, The Get Down, Girlboss, and Gypsy. Don't be too sad, though, Netfix plans to release 1,000 hours of original content this year. Plus, they're constantly swapping out titles and replacing them with new material on a monthly basis.
But Netflix also broke ties with some big name studios recently. Earlier this year, Fox made an exclusive deal with Hulu to stream its shows. The move wasn't all that surprising since 20th Century Fox's parent company, 21st Century Fox, is a major investor in Hulu. But what this really means is your favorite Fox series are going to keep disappearing from your Netflix queue.
Already, Bob's Burgers, American Dad, The X-Files, and Buffy The Vampire Slayer have been completely wiped from Netflix in the Hulu switch. The first four seasons of Futurama have also been removed, while other Fox shows are slated to leave by the end of this year.
If that wasn't bad enough, back in August Disney announced it's ditching Netflix to start its own streaming service. So you'll be saying aloha to Moana and other Disney films by the end of 2018. The Disney streaming platform launches in 2019 and will feature Disney and Pixar movies, along with a selection of Disney Channel TV programs, some of which will be original streaming content.
While the news that 30 Rock is leaving Netflix might make you want to pull a Liz Lemon and shout "blerg" at the top of your lungs, you still have a few more weeks to enjoy the show's many jokes. So grab your night cheese and your slanket, because you've got some streaming to do.
Editor's Note: This story has been updated from the original version to include that Netflix confirmed 30 Rock is leaving.