Why Amelia Won't Die On 'Grey's Anatomy,' Despite Her Scary Diagnosis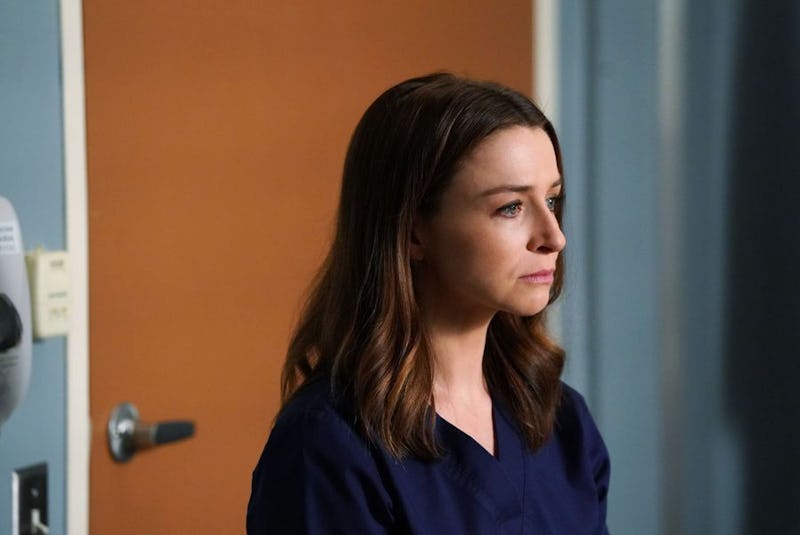 Mitch Haaseth/ABC
Even after 13 seasons, Grey's Anatomy still finds ways to shock fans, and the Season 14 premiere accomplished exactly that. Amelia Shepherd discovered that she has a brain tumor, leaving viewers wonder what that means for her future on the show. But even though it seems like she could be making her grand exit, there are several reasons why Amelia won't die on Grey's Anatomy — even though the show has a long standing pattern of killing off fan-favorite characters.
Seeing Amelia's brain scan reveal a giant tumor after she decided to participate in a study about the female orgasm was just about the last thing fans saw coming. The entire preceding episode (and the one before it) had been so light-hearted that seeing her receive that news was like a punch in the gut... and it was so typical of Grey's and Shonda Rhimes' style. How heartbreakingly ironic would it be if Amelia's tumor is so bad that she dies because the only surgeon who could save her is her brother, Derek, who just so happens to be dead himself? Obviously, she can't operate on herself.
But even though it would be the absolute height of drama for that to happen, here's why it's (probably) not.
There's No Evidence That Caterina Scorsone Wants To Leave
Usually, before a main character has left Grey's, there's at least a little buzz that they're ready to make their exit from Grey Sloan Memorial Hospital, like the ones about Patrick Dempsey that made headlines before his tragic death in Season 11. For Caterina Scorsone, that's not happening (at least not yet), and it definitely seems like she's happy with her job.
In fact, according to her Twitter, Scorsone seems to love answering fan questions and is always talking about how much she loves her costars, so unless there's something she's not telling us, it doesn't look like she wants to go anywhere in the near future.
Her Diagnosis Is More About What Happens Next In Her Marriage
After Thursday night's episode, Grey's executive producer Krista Vernoff spoke with TVLine and revealed that the story around Amelia's tumor is going to be largely involved with her marriage... and mentioned nothing about saying goodbye to the character herself. Vernoff said:
"You can look forward to the [story delving into the] complexity of what it is to have a marriage in crisis and then find out there's this illness, and then potentially know that the illness caused the crisis. Does that allow you to come back from the crisis?"
That sounds far more interesting than watching her die tragically, doesn't it? This Owen stuff has needed to come to a head for a long time, and this is a really interesting way to do it.
She's The Last Remaining Shepherd — Kind Of
Amelia can't die, simply because she's the last Shepherd in Seattle... besides Derek and Meredith's kids, of course. And Meredith, but let's face it — she will always be Grey. Having Amelia around is kind of, sort of like having a piece of Derek, too... and after how traumatically he died, it's not fair to put the fans through that again. Or poor Meredith, who somehow continues to live despite the fact that basically everyone who's ever been important to her has died.
It's Just Way Too Predictable
Seeing Amelia's tumor on that scan, it was super easy to immediately think, "Well, bye, girl." If Grey's really wants to keep fans on their toes, that's not the route that this storyline will take. Everyone dies on this show, right? So let's see what happens when Amelia wins the battle instead.
At this point, Amelia's fate is totally up in the air, but it seems there's a good chance that she will survive this. And, it'll be interesting to see where this goes from here. Rhimes, don't hurt us again.