Gus & Hector Have Bad Blood On 'Better Call Saul'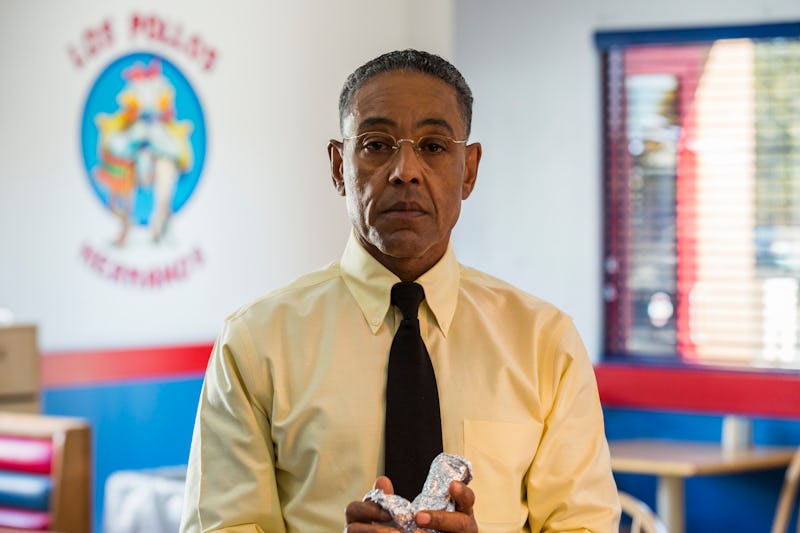 Michele K. Short/AMC/Sony Pictures Television
If you love the hate-fueled history between Gustavo Fring and Hector Salamanca, then Better Call Saul may be proving to be even more delightful than usual for you in Season 3. Breaking Bad fans know that the fates of these drug kingpins are intertwined, but the backstory of Gus and Hector's feud on Better Call Saul is giving even more insight into their relationship. Although flashbacks in Breaking Bad already explained the deep resentment that Gus and Hector harbored for one another before their deaths at the assisted living facility Casa Tranquila, Better Call Saul is tying more into the drug story line of its parent series by focusing on Gus exacting revenge on Hector. And it will make you want to watch Breaking Bad all over again.
The May 1 episode of Better Call Saul, "Sabrosito," starts appropriately at Don Eladio's pool where the bad blood between Hector and Gus began. In the Season 4 episode of Breaking Bad, "Hermanos," a flashback from the '80s showed that Hector had killed Gus' partner Max by the pool. (That pool is also where Gus poisoned Eladio and the rest of his crew in another Season 4 episode of Breaking Bad.) In the Better Call Saul flashback, Gus has the upper hand as his Los Pollos Hermanos front is thriving. Thanks to Gus' success and professionalism, he makes Hector look bad in front of Eladio without even being there. It was almost enough to make me feel sorry for Hector — almost.
Later, Hector shows up at one of Gus' restaurants and makes a scene to demand that Gus use his Los Pollos Hermanos trucks to carry Hector's drugs over the Mexican border. While it seems that Gus may be forced to carry out Hector's plan, Hector's failings were orchestrated by Gus in the first place since Mike set up Hector's drivers to be caught by the border patrol. So despite his protests, Gus is most likely luring Hector into an elaborate trap since he has been seeking to avenge Max's murder for decades.
Of course, Hector will inevitably have the last laugh when he kills both Gus and himself, but for now, Better Call Saul is showing Hector's downfall at the hands of Gus. That means the series should presumably show how Hector ends up partially paralyzed. Although Breaking Bad insinuated it was a stroke, the circumstances surrounding his future state of health are mysterious and could be potentially tied to an altercation involving Gus or Mike. Because while Mike isn't working for Gus right now, he will be soon. And by becoming Gus' employee, Mike will continue to make life difficult for the cutthroat Hector at the behest of his new boss.