Why This T-Shirt Has Trump Supporters Calling For A Walmart Boycott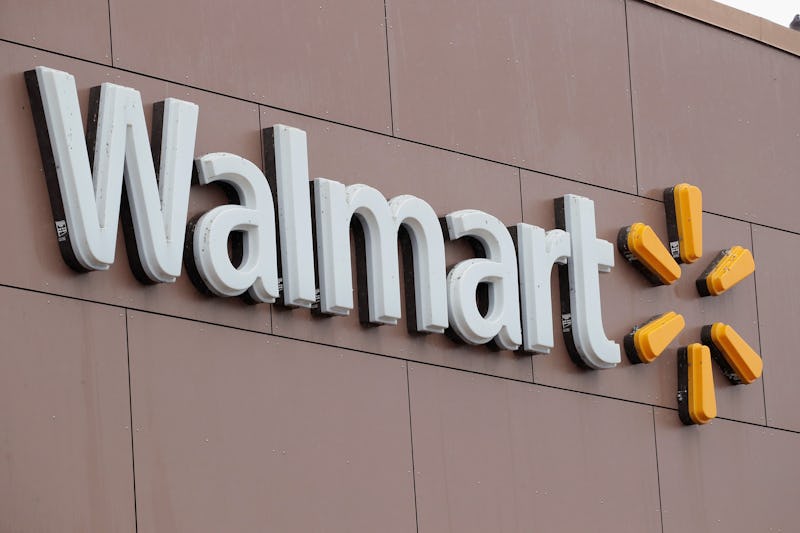 Scott Olson/Getty Images News/Getty Images
The incensed Americans protesting corporations spans both sides of the aisle. On Monday, Trump supporters began to boycott Walmart for an anti-Trump shirt that was listed on the retail chain's website. At one point the corresponding hashtag #BoycottWalmart was even trending on Twitter.
The trending topic was started primarily by Ryan Fournier, the chairman of the group Students for Trump. He was one of the first to post something on Twitter, and his tweet has been retweeted more than 7,000 times and liked more than 9,000.
Fournier wrote, "@walmart why are you selling Impeach 45 baby clothes on your website????? What kind of message are you trying to send?" He posted it with a link to the Walmart listing for the item, which was sold and shipped by the company Old Glory — not Walmart. It just hosted the listing.
That link to the item is no longer live and leads to a page reading "Sorry... The page you are looking for could not be found. Go to Walmart.com." Bustle reached out to Walmart for comment.
Other accounts on Twitter expressed similar outrage. Some were even responding to official Walmart posts. "The shirts saying impeach 45 that your selling is a disgrace," wrote user @Richard32669638. "Sam Walton was a true American Hero. He Loved this country and served it. You are destroying it. Your selling America out for a few left wing communist thugs. You have brought shame to the Walton name."
Still more wrote back criticizing the boycott. "I find it hilarious that Trump Supporters are calling for a boycott of Walmart over the fact they sell 'Impeach45' t-shirts, yet they are perfectly fine with Walmart selling 'Hillary for Prison' T-Shirts. It's called Freedom of Speech! Don't #BoycottWalmart," wrote Ed Krassenstein.
Another pointed out what he saw as hypocrisy. "It makes ZERO sense for Trump-lovers to boycott Walmart for selling 'Impeach45' apparel when they also sell 'Make America Great Again' items — which to the overwhelming majority of Americans is akin to selling hats and T-shirts emblazoned with a Nazi swastika," the user @activist360 wrote.
And a third who criticized the boycott pointed out that so many online marketplaces sell things critical of the president, there wouldn't be anywhere left to shop if boycotts like this sprung up. "Right now #boycottwalmart is trending because a third-party vendor on Walmart's website was selling "Impeach45" apparel. So now Trump supports won't shop at Walmart, Target, or Amazon. Soon they'll be bartering a sheep for a pair of shoes," James Kosur wrote.
The retailer has come under fire before for products sold online. In November, the site pulled a t-shirt from its site that said on the front, "Rope. Tree. Journalist. Some assembly required."
That came down after an organization called Radio Television Digital News Association complained, writing a letter to the retailer. Dan Shelley, executive director of the group wrote why in a letter at the time:
It is our belief that at the least, T-shirts or any other items bearing such words simply inflame the passions of those who either don't like, or don't understand, the news media. At worst, they openly encourage violence targeting journalists. We believe they are particularly inflammatory within the context of today's vitriolic political and ideological environment.
Walmart does also sell pro-Trump items. A search for "MAGA" on the site returns a number of Trump hats, mugs, and other items.
This time, groups from the left — at least some of them — were more pleasantly surprised by the item up for sale. The Democratic Coalition posted about the shirt on their social media, too. "LOL, wow @Walmart," the organization posted Tuesday, "not expected from you, but everyone needs one of these jerseys ASAP!"