Protesters Descend On Stonewall To Resist Trump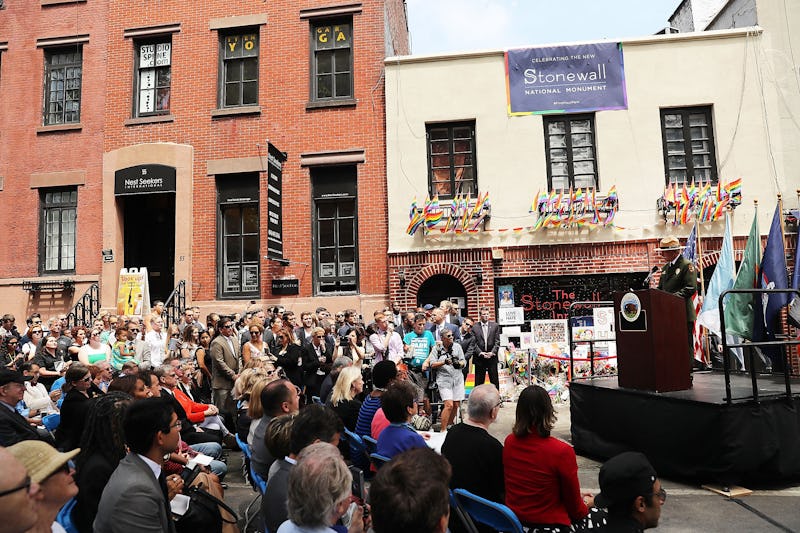 Spencer Platt/Getty Images News/Getty Images
If there's been any single constant throughout the first two weeks of the Donald Trump administration, it's been the tremendous energy the American left has shown for protest and dissent. From the massive success of the Women's March on Washington to the airport protests against the administration's Muslim ban, to demonstrations in cities and towns throughout America, progressives have been teeming with political resistance. And that continued this weekend. If you're wondering why people are protesting at Stonewall, it's because Trump is galvanizing countless corners of the activist left.
According to NBC New York, the big solidarity gathering was organized by the Lambda Independent Democrats, a Democratic LGBT organization, and the call to action has drawn out thousands of people to the historical Stonewall inn.
There's more than one cause at play ― to protest the presence of decidedly anti-LGBT figures within the Trump administration, like Vice President Mike Pence and HUD nominee Ben Carson to name a couple, and to stand up for the undocumented immigrants and refugees who the administration has targeted. Here's the description from the protest's official Facebook page.
Join us in front of the Stonewall Inn as we stand in solidarity with every immigrant, asylum seeker, refugee and every person impacted by Donald Trump's illegal, immoral, unconstitutional and un-American executive orders. We will also speak out against Trump's selection of the most anti-LGBT nominees and appointees in modern history.
The impact of Trump's executive order blocking immigrants and refugees from seven majority Muslim nations (six of them temporarily, and Syria indefinitely, although he could later change the terms however he sees fit) has already been felt around the world. It led leading German magazine Der Spiegel to offer up a pretty grim cover this week ― a cartoon Trump holding up a bloody blade in one hand, and the severed head of Lady Liberty in the other. It was not subtle.
According to reports from the protest, thousands of people have choked up the streets surrounding the Stonewall inn, an iconic and revered location in the history of the American LGBTQ rights movement. The site of high-profile riots against discrimination and police oppression that launched the gay liberation movement in 1969, Stonewall was finally named a national monument by former president Barack Obama last year.
While no specific actions has been taken against the American LGBTQ community by the Trump administration yet ― except, of course, against LGBTQ Muslims, undocumented immigrants, and all the others harmed by his policies by way of intersecting identities ― it's been rumored for more than a week that Trump is considering signing an executive order on religious freedom, one which would enable widespread anti-LGBTQ discrimination throughout the country. As of now, the administration has reportedly decided not to move forward with the order, but after all, it's only two weeks in.