Heather Heyer's Family Asked Mourners To Do This One Thing For Their Daughter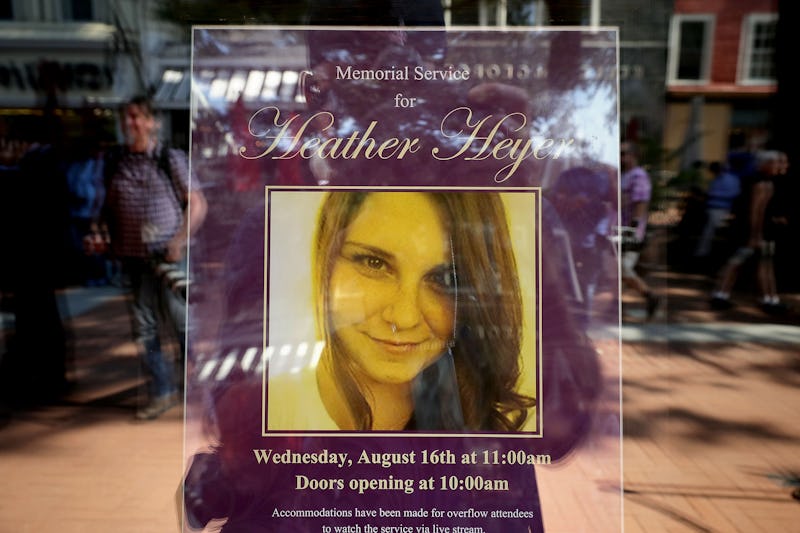 Chip Somodevilla/Getty Images News/Getty Images
The single civilian victim of the Charlottesville protests this past weekend will be laid to rest Wednesday morning, and thousands of people are expected to attend her memorial service just a few blocks from where she died. The 32-year-old woman, who friends and family described as passionate about social justice, quickly became a symbol of hope and resistance for these dark times, and at her memorial service in Charlottesville on Wednesday, her family had a single request for mourners. People are wearing purple to Heather Heyer's memorial service at her family's bequest in honor of the fallen young woman, and it's the very least that she deserves.
Heyer's family issued a press release throughTthe Paramount Theater, where the memorial is being held, honoring their loved one and organizing the tribute for her. "[Heyer] was an outspoken, outgoing, determined and passionate individual and had a special regard for social injustices and especially those concerning race relations," the family said in the press release.
They also asked those attending the memorial service to "wear something purple." Heyer's mother Susan Bro told The Washington Post in a tearful interview over the weekend that purple was her daughter's favorite color. She even named her Chihuahua Violet because of her love of purple, so it's fitting that Heyer got an all-purple tribute at her memorial service.
Heyer died Saturday while attending counter-protests for a white supremacist rally near the University of Virginia campus. A white supremacist protesters drove his car through a crowd of counter-protesters, killing Heyer and injuring over a dozen others. In tribute to her death, Heyer has quickly become a symbol for the liberal "resistance" — signs bearing her face and name have been seen at anti-white supremacy and anti-Trump rallies across the country since the weekend.
But those tributes are somewhat incomplete, as they only honor the way that she died and not the life that she lived. Wearing purple is a simple but powerful way to remember Heyer's full humanity, by appreciating the little things she loved as well as the things she fought for.
Heyer's death is nothing less than a tragedy, but her family and the people across the country who share her ideals have made sure that it won't be forgotten. If possible, honor her memory today or this week by both wearing purple and participating in activism — Heyer deserves to have changed the world for the better, but she also deserves to be remembered as more than just a martyr.