These Are The (Likely) Reasons Trump & Putin Are Meeting In Helsinki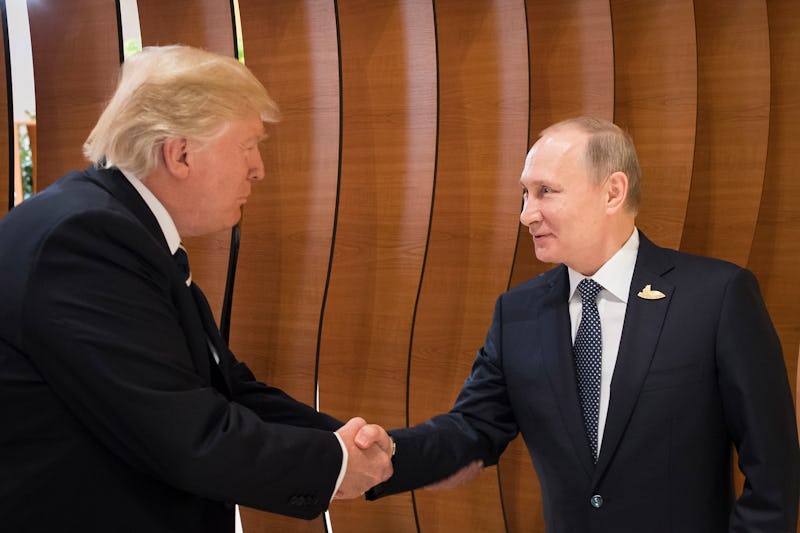 Handout/Getty Images News/Getty Images
President Trump's mid-July trip to Europe will see him head north to Finland for the final three days. According to recent reports, for their first official summit, Trump and Putin will meet in Helsinki — a city with a more than a bit of history for both the United States and Russia.
One immediate and quite unique perk for Putin would be Helsinki's timely proximity. As Annie Karni and Andrew Restuccia pointed out at Politico, Putin can meet Trump in the neighboring country and still be back in Russia for the final World Cup game.
But the city's history and current diplomatic posture are the bigger reasons Helsinki will host Trump and Putin. Finland's president, Sauli Niintso, congratulated Putin after his 2018 election win, a move which provoked international criticism. (Some opposition monitors said Putin's haul of more than 75 percent of ballots involved foul play.) Another Western world leader who broke protocol and congratulated Putin? That would be Trump.
But Finland hasn't just courted Putin's good will — it also has strong ties with the United States, and a history of providing a neutral ground for U.S.-Russia interaction. It was there that President Gerald Ford signed the Helsinki Accords in 1975, and there too that President George H.W. Bush met then-U.S.S.R. leader Mikhail Gorbachev in 1990, shortly before the communist regime fell apart completely.
Recently, the United States has spoken in glowing terms about its relationship with Finland. During a November visit with Niinisto, Secretary of Defense Jim Mattis declared, "Relations between Finland and the United States have never been stronger." Mattis commended the "deepening bilateral and NATO defense partnership with Finland" — a telling comment given that Finland is not an official NATO (North Atlantic Treaty Organization) member.
But Finland also boasts a currently solid status with Russia. Markku Kangaspuro, a Russian expert working at the University of Helsinki, told the BBC that there's a reason Russia hasn't meddled in their elections like they've done in other European countries. "Russia probably doesn't have any serious need or reason to try to interfere in our politics because our relations are as good as they can be in this situation," Kangaspuro said.
Finland hasn't always maintained such a détente with its powerful neighbor. Sharing a border that stretches 830 miles, the two countries have often been at odds — and at war. They've fought on multiple occasions over the past 200-plus years, most recently during the "Winter War" of World War Two.
The Finnish people are happy with their current situation. According to a 2017 poll, a clear majority of Finns opposed outright NATO membership. Of those surveyed, 51 percent said they'd prefer to remain out of the alliance. That is likely due to a presumption that such a move would aggravate Russia — perhaps to the point of aggression.
It's an assessment based firmly in reality. In 2015, following its invasion of Ukraine and subsequent announcement that it would annex Crimea, Russia faced international condemnation but few real consequences. As a result, Finland — along with fellow Nordic countries Sweden, Denmark, Norway, and Iceland — appeared to be preparing for possible Russian aggression. Defense ministers from all five nations wrote a joint statement at the time that read: "Russia's leaders have shown that they are prepared to make practical and effective use of military means in order to reach their political goals, even when this involves violating principles of international law."
But since 2015, tensions seem to have cooled. And with Helsinki agreed to by Putin as a meeting place, it seems Russia — as well the United States — is comfortable with a Finland-based summit.