Kim & Kanye Are Skipping The VMAS (Again) For The Best Reason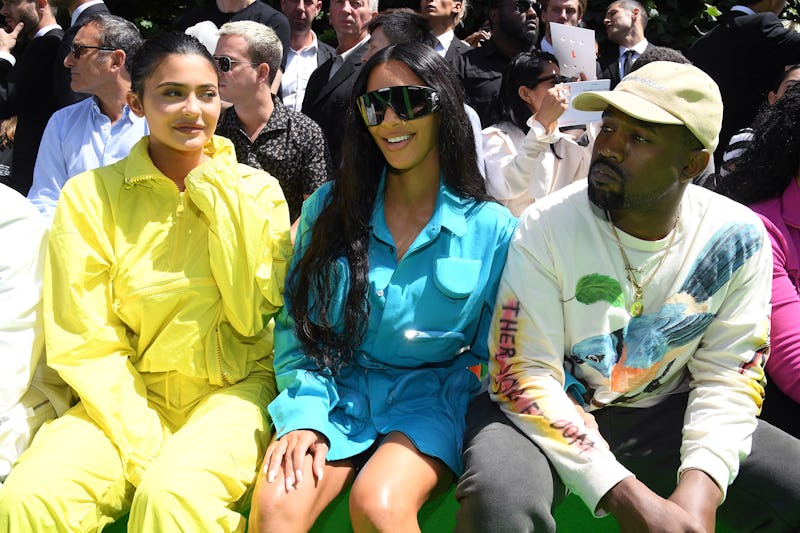 Pascal Le Segretain/Getty Images Entertainment/Getty Images
The VMAs tend to be way more about the star power and red carpet than the awards themselves. However, it seems like this year they will be missing an important pair. Why aren't Kim Kardashian and Kanye West at the 2018 VMAs? The two skipped last year as well, but potentially for a different reason.
It doesn't look like the power couple is attending, though no announcement was made either way leading up to the big event. So, why the no show? For one thing, West is not nominated this year, has not been announced as a presenter, and is not set to perform — though that doesn't stop other high-profile artists such as himself from attending. The Carters, also known as JAY-Z and Beyonce, are nominated for eight awards. It would not be out of the question for Kim and Kanye to show up and support them or other artists. In his career, West has won five VMA trophies and has been nominated 33 additional times. His VIP status is irrefutable. However, maybe he and Kim had other plans in mind.
According to Kanye's Twitter, he was on vacation earlier this week, and it appears the vacation extended through the weekend. Looking further to Kim's Instagram stories on Aug. 15, it looks like the family is in the Bahamas — a favorite spot, it seems. There may or may not have been a Miami hang after that, according to social media. Plus, the new season of Keeping Up With The Kardashians starts filming this week. Honestly, a vacation is exactly what they need. Take a break, Kanye.
While Kim has been seen at the Met Gala and the MTV Movie Awards, her husband has been keeping a slightly lower profile as of late. This has been a big year for Kanye in the news, and not always in a good way. After dealings with President Trump and the strange track "Lift Yourself," public opinion about Kanye has been skeptical, and in the process changing for many. In a recent interview with Jimmy Kimmel, West talked about his bipolar disorder and the need to open up conversations about mental health. Part of that, however large or small, is recognizing the need for self-care. Kanye West has such an eventful history with the MTV Video Music Awards that the temptation to skip it and go relax on the beach, especially after a year like this, makes a lot of sense.
However, there is also the fact that MTV's promos for the VMAs have been using "Lift Yourself" to represent the year in video music. That's the afore-mentioned Kanye song from earlier in the year that is... mostly nonsense words, to put it lightly. Are they planning to acknowledge it in the show? Is the baffling track the reason that West does not want to attend? Does he not want to be roasted? That's a stretch. He is an adult man, after all. But all in all it seems like music has not been Kanye's primary focus in 2018 — which is fine! Surely he and Kim will be back at the VMAs some day.