Kanye Opened Up About Why We Need To Have Honest Conversations About Mental Health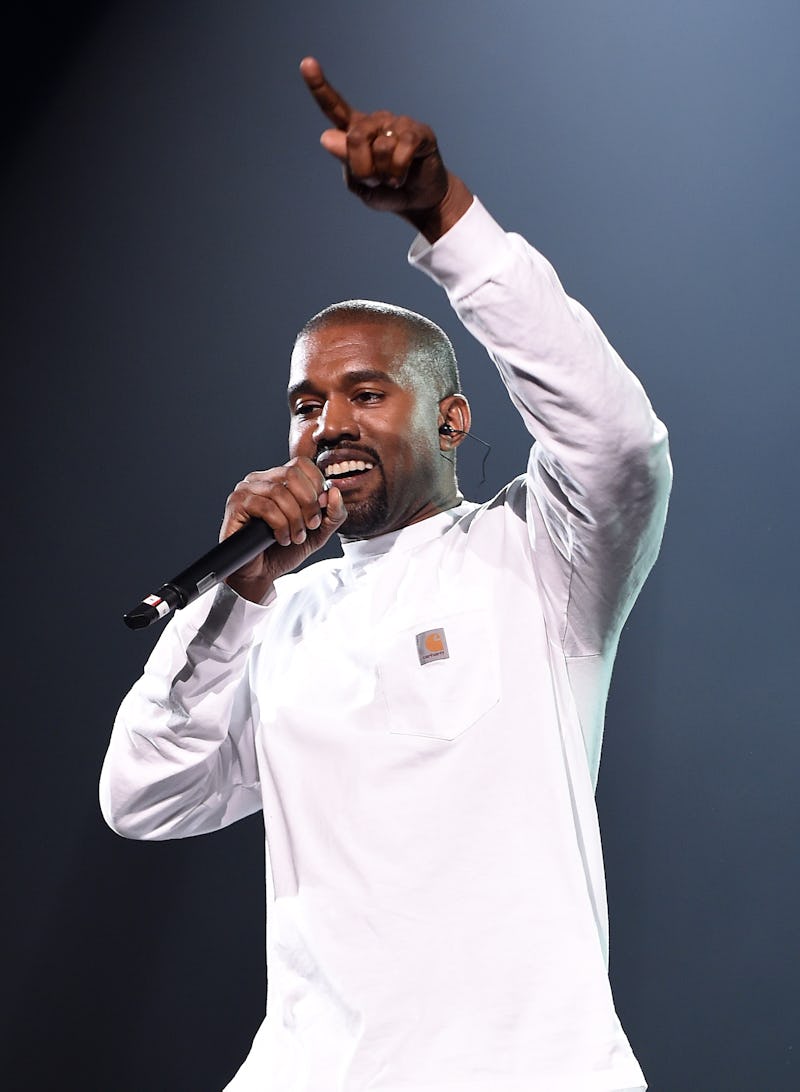 Dimitrios Kambouris/Getty Images Entertainment/Getty Images
If you know Kanye West at all, you'd know that he isn't afraid to say what he thinks. During his recent appearance on Jimmy Kimmel Live on Aug. 9, he did say exactly what was on his mind. In particular, Kanye West opened up about his bipolar disorder, as E! News reported. He also made an incredibly important point about mental health awareness in general.
West told host Jimmy Kimmel that he learned to accept his bipolar disorder, since it is part of his identity. He also believes it's important to be open about mental health so that others feel comfortable enough to do so as well.
"I think it's important for us to have open conversations about mental health — especially with me being black," he said. "Because we never had therapists in the black community."
The "Famous" rapper pointed out the positive side in his diagnosis, explaining, "And there's times where at least I'm happy that I know. Like even like for this interview, I knew I wanted to stay in a calm state." He continued to say that one of his main lessons he'd like to pass on to others is: "People need to be able to express themselves without fear or judgement." What better way to do that than having such open and honest discussions, such as this one between West and Kimmel? You can see their conversation for yourself at the 19:16 mark in the video below.
This isn't the first time West has discussed the need for greater mental health awareness. In an interview with Charlamagne tha God in April, the rapper discussed how necessary it is to eliminate the stigma around mental health, particularly in regard to the media's portrayal of it. "And then they'll take something I say that's absolutely inspired, but if they put it... something inspired in the wrong context will come off as," he began, "I don't want to say crazy, because I also want to change the stigma of crazy. I want to change the stigma of mental health."
After his own high-profile battle with mental illness, in which he was reportedly admitted to the hospital in November 2016 for a "psychiatric emergency," per The New York Times, he's been especially honest about his own struggles. This was incredibly evident with the release of his latest album, YE, which contained cover art that read, "I hate being Bi-Polar it's awesome." He similarly referenced his mental health in the song, "Yikes," in which he called his bipolar disorder his "superpower." It was interesting to see him so openly discuss his issues, although the "superpower" label did leave fans divided over its message.
Besides his comments on mental health, there were some other parts of West's Kimmel interview that weren't necessarily as positive. The other big topic at hand concerned President Donald Trump and the rapper's vocal support of him. West explained, "It took me a year and a half to have the confidence to stand up and put on the hat. No matter what the consequences were." Indeed, he did get backlash for his positive Trump comments, according to Billboard. But it doesn't appear as though that's fazed him.
During the interview, he also said, "If I'm afraid to be me, I'm no longer 'Ye. That's what makes 'Ye."
It's incredibly clear that whether it's a discussion about mental illness or politics, he always is going to speak his mind.