'Ben Is Back' Star Lucas Hedges Has Mastered How To Work With Your Dad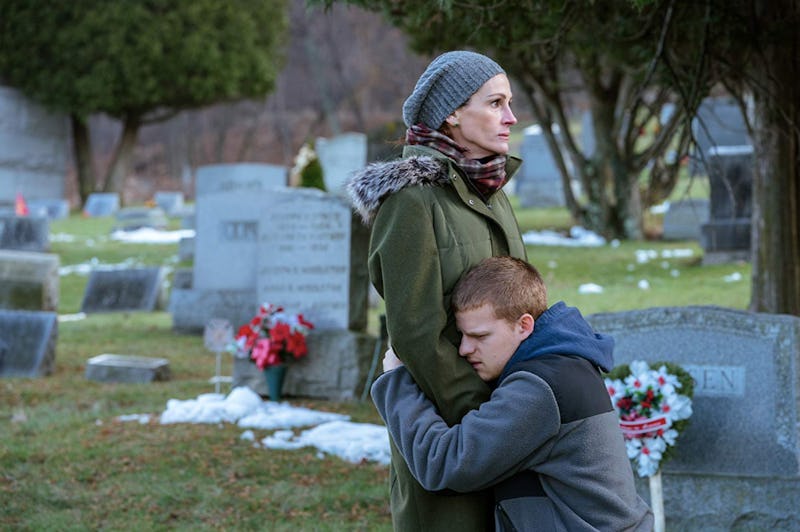 Roadside Attractions
Lucas Hedges has become one of the most prolific young actors in Hollywood, appearing in numerous dramas in the past year: Lady Bird, Boy Erased, Mid90s, Three Billboard Outside Ebbing Missouri…chances are that even if you don't recognize his name, you'd know his face. But Ben Is Back, out Dec. 7, is one of his most powerful roles yet. In the film, Hedges plays 19-year-old ex-addict Ben, who returns home for Christmas. Julia Roberts is his mom Holly, who does everything in her power to make sure her son stays drug-free and safe. But part of what makes Hedges' role so special is that it feels full-circle: it reunites him on-set with his dad, writer-director Peter Hedges, who gave him his first film role back in 2007 in Dan In Real Life.
To Hedges, this unexpected father-son project took on a great deal of significance. "It ended up being really powerful and meaningful to get to make a movie with him that is about a subject matter that is very personal to our family," explains the actor as we chat at the Crosby Street Hotel in New York City. "At one point it stopped feeling like we were doing something as a [director and actor]... It felt like we were doing something for our family, as a father and son, and yet at the same time I feel like I needed to forget he was my dad in order to do a movie. So it was sort of contradictory at times."
Hedges tells me he has family members on his father's side who have struggled with addiction, making this an intimate story for the father-son duo to tell. But besides drawing from his family's own experience, Hedges prepared for his role by attending Alcoholics Anonymous and Narcotics Anonymous meetings, connecting with others who share similar stories to the experience Ben goes through in the film.
"[I] spoke to a lot of people who had similar stories to Ben, and it just felt like the more research I did, the more I felt like, 'Okay, this is a really important story that I have to tell,'" recalls the actor. "The immediacy of it being real to my family made it that much more important to me."
In order to create a more formal atmosphere, Hedges would refer to his dad as "Peter" during the making of the film, marking a distinction between work and their family life. And the father-son duo had to navigate how to make sure Hedges would feel comfortable on set, while also having the same experience as any other actor would've had.
"My dad sort of thinks everything I do is great, because he's my dad. So to some extent I discredit his opinion," notes the actor. "But when it came to making this movie, I feel like he did a good job of disconnecting from that support system to be able to say, 'OK, this needs to be like this for it to work, and this needs to be like that,' so that it wasn't just like, "Everything you do is amazing' ... I felt like he was direct and honest, which was valuable."
But when Peter Hedges wrote the film, he hadn't pictured having his son in it — at least, not initially, according to an interview with The New York Times. Early on in his career, Hedges decided he didn't want to appear in any of his dad's movies. Instead, he wanted to focus on growing as an actor on his own, working alongside well-known filmmakers Greta Gerwig (Lady Bird), Wes Anderson (Moonrise Kingdom), and Martin McDonagh (Three Billboards Outside Ebbing, Missouri). But reading the Ben Is Back script changed his mind.
"I love my dad's work, and I feel like I just couldn't imagine wanting to be in that environment with him," notes the actor. "I'm already uncomfortable when I watch the monitors. When I read the script I thought it was so f*cking beautiful. And I felt like it would be a big mistake to miss the opportunity."
But besides becoming enamored with the script, it also helped that his co-star Julia Roberts specifically requested to work alongside him. "That was very flattering, very flattering, and definitely helped me want to do it more," says Hedges. "It's really weird being appreciated and wanted by somebody who I grew up watching, it's a very bizarre feeling. But it felt very validating and exciting."
In the film, their chemistry as mother-son is palpable. Roberts' intense, heartbreaking scenes with Hedges make the story feel so believable, as Holly grapples with not being able to control Ben's impulses that put him at risk of relapsing. Besides being seasoned pros, part of what made their dynamic onscreen so seamless was their bond off-set. Roberts developed a motherly bond with Hedges, even having Thanksgiving dinner with him. "It felt less like it was a relationship on screen, despite the fact that we're obviously being filmed, and it's scripted ... It felt more like we were just hanging out together," notes Hedges. "It didn't feel as much like we were making a movie when it was just the two of us."
One of the most touching moments in the film is the ending, showing how strong Ben and Holly's bond is. And Hedges knew how powerful that scene would be from the beginning, crediting it as one of the main reasons why he decided to play Ben. "The ending is one of the things that drew me most to the part," recalls the actor. "It was a straight shot to the end, and I didn't relax until I finished the script. And even then, I don't know, I had to take a moment, because it kind of blew my mind. And I'm very hard to please and I have high standards, so I was really impressed that my dad delivered that."
Ben Is Back will make you experience intense emotions, as you follow both Holly and Ben's struggles. Hedges acknowledges that many of his recent roles have been emotionally intense, with many fans going as far as joking that if they see Hedges is in a film, they know they're going to cry. But there's a powerful reason why Hedges feels so connected to these intense characters, though he's also ready for a change. "I think I need to choose lighter films. I really do. And I think what's exciting about doing these really dark movies is that it helps me immediately face the really dark aspects of my life," explains Hedges.
But rather than having these roles take an emotional toll on him, Hedges sees them in a positive light. "I don't see it as taking a toll as much as relieving and releasing something. It's therapy, it's really therapeutic for me," he says.
Hedges might not have initially intended to star in Ben Is Back, but this father and son collaboration created one of his most powerful performances to date.