Why Bethenny Should Give Ramona One More Chance On 'RHONY'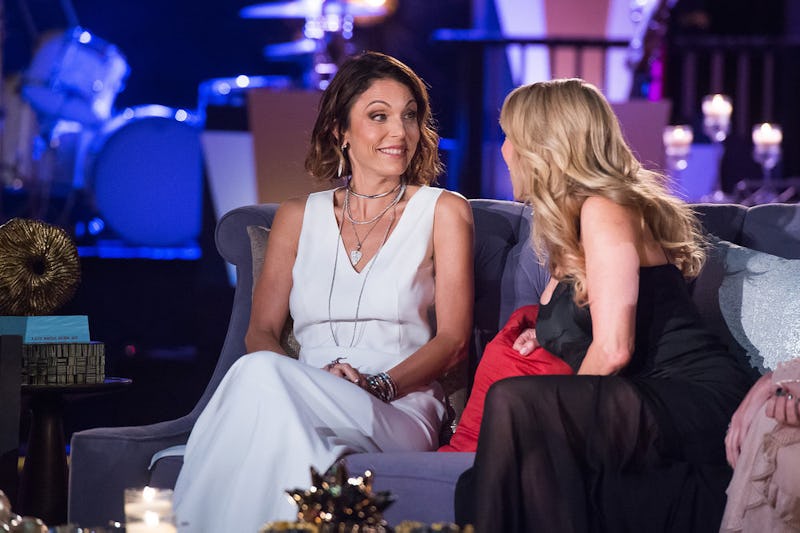 Charles Sykes/Bravo
As two OG cast members on Real Housewives of New York City, I figured that Bethenny Frankel and Ramona Singer would be inclined to stick together. Then again, this is Real Housewives and the cast relationships are always changing. Now, it seems like Ramona and her infamous "Singer Stinger" have gone too far, but I think Bethenny should still give Ramona one more chance.
Listen, I get it. Ramona definitely crossed a line when she brought up Bethenny's topless scene in a movie from way back when and decided to connect it to her six-year-old daughter. On top of that, she did so in a group setting and it was in front of the RHONY cameras.
Ramona insists that she was coming from a place of concern in every episode that has followed, but if that's the case, then her words definitely came out wrong. I totally understand why Bethenny wants nothing to do with her, but here's the thing: She doesn't really have a choice in the matter. After all, they are both cast members on the same reality TV show and they didn't even film this season's reunion episodes yet, so at the very least they will need to talk there.
If this was real life and I was actually friends with Bethenny (which I wish I was), I would advise her to delete Ramona on everything and never talk to her again, but there are layers to this situation and I believe that Bethenny needs to give her just one more chance. Hear me out on this one.
1. She Is Her Costar
As long as Bethenny and Ramona stay on this show, they have to interact at some point. Wouldn't it just be easier to be on somewhat good terms?
2. She Doesn't Have To Talk About Her Personal Life
I live for Bethenny, but she really does keep a lot of her personal life hidden from the show, unlike her costars. If she interacts with Ramona it can distract the viewers from the fact that she's not sharing much else. If she doesn't, then maybe she will have to talk about her personal life for a story line and we all know Bethenny isn't about that life.
3. She Is Used To Ramona's Antics
What was she expecting from Ramona? An articulately conveyed considerate concern? Yeah, right. This is how Ramona is. It's not an excuse for her antics, but there really is no point in expecting her to not just say what first pops into her head, so Bethenny should just not waste her time getting upset.
4. She Will Feel Better Not Holding A Grudge
It feels so much better to not have a feud with someone. Squashing a beef really does lift a weight off your shoulders. From running a million businesses to being a mom to navigating the dating world, Bethenny already has enough to deal with. Why not just get rid of the Ramona drama?
5. She & Ramona Are Friends (On Some Level)
Obviously things are not great between these two at this point in the season, but they are OG cast members. Ramona went to Bethenny's wedding. They have fun together. There is some semblance of friendship there. Hopefully, it's enjoyable enough to resuscitate.
6. She Might Gain Some Insight
Obviously, Ramona came off very poorly during that conversation in the Hamptons, but she might have some valuable insight to share with Bethenny when it comes to raising a daughter as a reality TV star.
Should Bethenny and Ramona be best friends? Obviously not, but Bethenny should at least give her one more chance, not necessarily because Ramona is so deserving, but just because it would be easier for Bethenny.