Here's Why 'Big Little Lies' Really Shouldn't Have A Season 2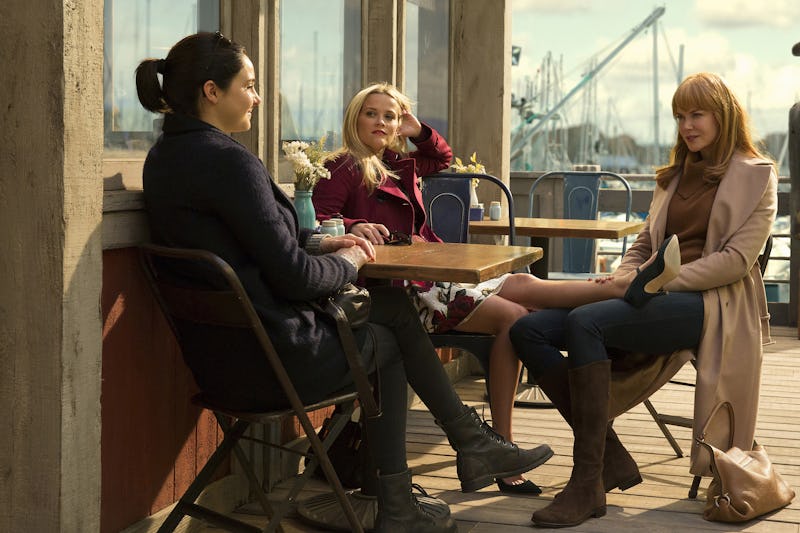 Hilary Bronwyn Gayle/HBO
In the three months since Big Little Lies aired its Season 1 finale, there's been rampant discussion about whether or not the show deserves a second season. Stars such as Reese Witherspoon and Nicole Kidman have openly supported the idea; director Jean-Marc Vallée has vocally opposed it. So, with the debate stoked yet again by the show's 16 Emmy nominations, here's your definitive answer: Big Little Lies Season 2 shouldn't happen.
Now, that's not to say the first season wasn't exceptional. Based on Liane Moriarty's novel of the same name, the miniseries toed the line between splashy melodrama and real world truths, weaving a propulsive and visually striking story that was both nuanced and complex. But that stubborn little "mini" that precedes its descriptor brings to mind a well-worn adage: Sometimes it's best to leave well enough alone.
Ushering in the era of prestige television has opened the door to more complicated formats. Producers like John Ridley (American Crime) and Ryan Murphy (American Horror Story) have turned anthologies into an art form, while limited series like The Night Manger and 11.22.63 have increasingly flooded the small screen.
There are many a more traditional show that have started out strong only to stumble in their second outings — Heroes, True Detective, UnREAL — and pulling off another go-round with a project that hasn't mapped out some semblance of a long-term end goal (or, in Big Little Lies case, has already reached one) is even more of a gamble.
Yes, there are shows like Big Little Lies that will continue on even after their source material runs dry — The Handmaid's Tale is a standout example — but the difference is that they were designed with more story in mind. Big Little Lies wasn't.
When Witherspoon addressed a potential Season 2 on The Ellen DeGeneres Show in May, she said she'd been talking with Moriarty about new ideas for the narrative. But the problem there is that they're responding to demand, not inspiration. And more often than not, those concepts wind up feeling forced.
This is something Kidman acknowledged in a new interview with Entertainment Weekly. When asked how the recent Emmy noms affect the likelihood of a second season, she said,
"It inches us closer. But so much of it is trying to stay true to the characters and their voices. If we can do it, then it will be done. I believe their stories warrant it and I don't want to abandon them. We don't want to sell them short, either."
As it stands, Big Little Lies is a compelling, magnetic watch, but part of its magic was that it kept itself contained and left you wanting more. There's a frustrating brilliance to an open-ended story — it sticks with you, gnaws at your imagination — that's how it keeps you hooked. And if Big Little Lies already pulled that off with such poise, why ruin a good thing?