Why Body Positive Yoga Instructors Are SO Important — And So Hard To Find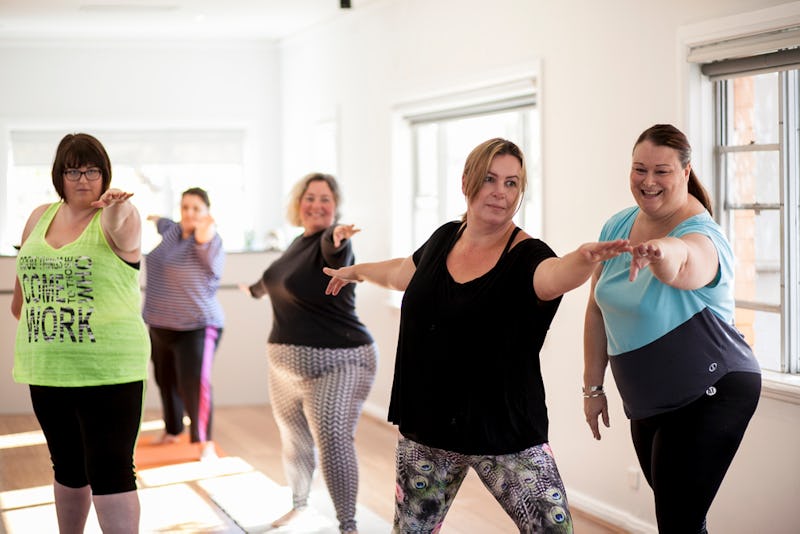 Courtesy of Sarah Harry
After my college graduation, I starting hopping from one yoga studio to another in the hopes of finding one that would stick. I'd been practicing yoga on and off for 10 years, and wanted to find a new, welcoming yoga studio with an emphasis on inversions. But instead of helping me find my flow, I found my yoga practice disappointing. Despite the calming scents and ambient lighting, my classes were often taught by and filled with women who didn't look like me. At a size eight, I was often the largest woman in the room. The average American woman is supposedly a size 16, yet I rarely saw body diversity reflected in many of my classes.
Yoga is inherently an inclusive practice: Anyone can apply its guiding principals — humility, self-acceptance, awareness of breath, to name a few — to their form of exercise, whether it's gentle stretching or more intense movement. But without an intentional emphasis on body positivity and body diversity, the yoga world is failing potential practitioners.
Jordan Pelavin, a 26-year-old freelance photographer and graphic designer, tells Bustle she's tried a few dozen studios and has been told to leave some of them.
"Instructors have often seen me walk in to classes and immediately come over to warn me that I won't be able to do their class without seeing me move at all," she says. "I am better at yoga then a lot of girls in those classes, but the moment I step in the door the teacher assumes I'm not. Even if it's out of concern, it's still concern based on their own perceptions of fatness. That definitely doesn't happen to people who don't look like me," she says.
Because of experiences at yoga studios that "left [her] in tears more than once," Pelavin practices yoga at home. "I wish the [yoga] community would like me back, or even just tolerate me," Pelavin says. "But I'm also really grateful for what my own personal solo practice has brought me in terms of wellness."
For Tamara Wong-Azaiez, a 24-year-old international graduate student, taking a class with "an instructor who doesn't look like a lingerie model" is a pivotal experience. "I think yoga is relaxing and most people, if they practice enough, can achieve whatever their body will allow," she says. But, she says, Western beauty ideals can "hinder a lot of women from wanting to go back to certain places due to fears of being judged. In the U.S., I think there is this huge notion of what you look like when exercising due to this new culture of fitness and healthy living," she says.
Part of the process of making yoga spaces intentionally inclusive includes how these studios market to potential clients — an important and often-overlooked step in a commitment to body positivity. "It's vital to show women in bigger bodies on websites as it shows the diversity of women who can and do practice yoga, and that we don't exclude anyone," Sarah Harry, a Melbourne, Australia-based yoga teacher and co-director of Body Positive Australia, tells Bustle. "This is in stark contrast to the marketing of many 'mainstream' yoga studios who only show one kind of body, [which is] not representative of all the people who practice yoga."
Sarah Levey, the co-founder of Y7, says she started her hip-hop-inspired yoga studio chain because she wanted to fight that stereotype. At Y7, yogis are encouraged to focus on what happens on their own mats — three of the nine flows practiced each class are purposefully designed to practiced at the yogi's own pace, with whatever modifications or changes they want or need. "No one cares if you fall," Levey says.
Y7's space is engineered to be physically inclusive, with its do-you ethos. But some note that the traditional yoga studio model, with $20+ drop-in classes, scheduled around a 9-5 workday, isn't always accessible to low-income people or people with childcare responsibilities, among others.
Caitlyn Corradino, founder of F.I.T. 4 All, tries to address both cost and body positivity with her free workshops, which are held at community centers, schools, and non-profit organizations in New York City where anyone who wants to participate is welcome. "Studios are lovely and important, but it's really great to show people that yoga can be practiced anywhere by meeting them where they are at," Corradino tells Bustle.
Harry says it can be difficult, though, for women with different body shapes to find classes that feel welcoming. She recommends looking for a "curvy class" in a nearby city or town through social media, or straight up calling a studio and asking "if they include all kinds of bodies, abilities, races, and ages." (Though she acknowledges that they may well just say yes, even if the instructor acts differently when you're in the room.)
More inclusive yoga classes will, without a doubt, enrich everyone's yoga practice. But it takes an intentional focus to break down these barriers in a a fitness world that has for so long centered one idea of what a "yoga girl" looks like. The reality is that every body is a yoga body — the yoga world just needs to catch up.