Cardi B Won't Call Herself A Feminist, But She Just Proved She Is One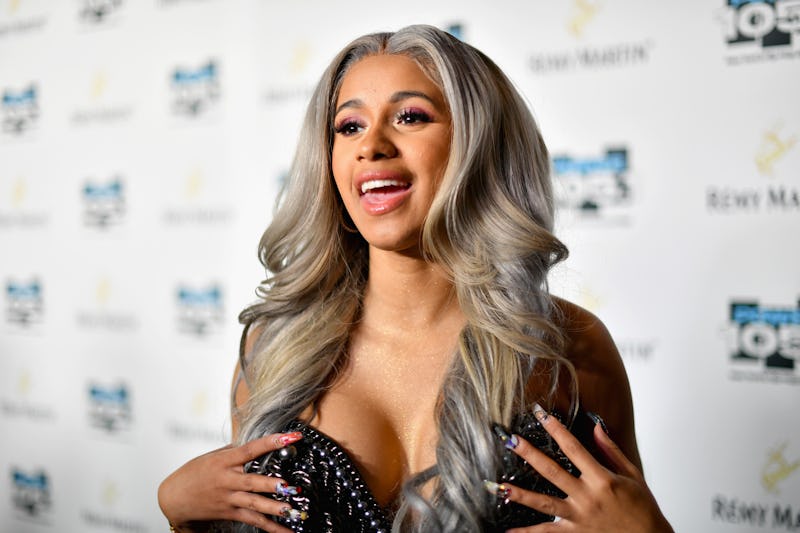 Dia Dipasupil/Getty Images Entertainment/Getty Images
There are some artists out there who try to steer clear on taking a stand on anything that isn't music. But Cardi B's thoughts on feminism will convince you once and for all that she is not one of those artists, in case there was any lingering doubt. The 25-year-old has had a non-traditional journey to the top, to say the least, and those experiences have helped her put a spin on gender equality that's all her own. It's expletive-packed, full of braggadocio, and, on the surface, rejects the term "feminist." And it's very clear that Cardi B is actually rejecting a certain and problematic kind of feminism.
The Instagram star-turned-reality star-turned-rapper sat down with The Cut for a wide-ranging conversation that was published on Sunday. The profile covers her career, her hustle, her relationship, her past, and, yes — her feminism. When the interviewer asks if Cardi B considers herself a feminist, the "Bodak Yellow" singer responds with, "You know what? I'm not even gonna consider myself nothing." But don't read that as a dismissal of the topic or a fear of diving in, because she had a lot more to say:
"Here's the thing that b*tches got me f*cked up when it comes to that word. People think that being a feminist is a b*tch that, like, went to school. They wear skirts all the way to their motherf*cking ankles like a godd*mn First Lady. That's not being a feminist. Being a feminist is being equal to do what a man do. N*ggas hustle, and I hustle n*ggas."
It's interesting that she says she's not ready to be labeled a feminist, because Cardi B's definition is one of the most straight-forward definitions of feminism: "Being a feminist is being equal to do what a man do." End of story. And that's what makes it clear that her problem is not so much with the label as it is with the concept of white feminism.
The feminism movement has long struggled with inclusivity and placing enough emphasis on intersectionality. Often, the cause has disproportionally benefited middle class, cisgendered, heterosexual white women, while women of color, LGBTQ+ folks, impoverished and disabled folks are asked to step back and wait their turn — leading to this brand of feminism being identified as "white feminism." And this exclusion happens on all levels of our society.
For example, an article from The Atlantic published Monday highlights a 1998 op-ed written by Gloria Steinem in defense of Bill Clinton. In it, the feminist icon denounces the multiple women claiming sexual assault against the future President; she dismisses female voices because they don't fit within her idea of feminism.
And it's a similar scenario in the entertainment world. When the album that swept the 2017 Grammys was Adele's 25 instead of Beyonce's Lemonade, many were shocked by what they perceived to be a snub. But New York Times writer Myles E. Johnson was not surprised, writing:
"If you are a black person who does not try to be palatable for a white audience, but instead focuses on your own culture and experience, this is seen as a transgressive act. If you are a woman who does not try to make work that is appealing to a male audience, this is also seen as a transgressive act."
It's one thing to be a feminist and to create feminist art, but, if you're a person of color on top of that, it makes the institution that much harder to crack into. Feminism is a strong enough platform that it can withstand some criticism from within; if it isn't accepting of every woman, then it isn't truly feminism. And if Cardi B has felt excluded or passed over by the feminist movement in the past, that's the responsibility of the movement, not of the individual.
Challenges to a movement help it to grow and expand. Take, for example, the 2017 Women's March on Washington. When its creators faced backlash on a perceived lack of inclusivity, Linda Sarsour says she and her fellow co-founders welcomed the criticism, because it prompted a new dialogue:
"We wanted to talk about race because we think the reason why we're in this situation is because you can't talk about reproductive rights or reproductive justice without talking about race. You can't talk about equal pay without talking about race."
So, yes, it certainly sounds like Cardi B may have gotten the message in the past that feminism wasn't for her — at least white feminism. But the positive side of that is that she's embraced the definition, if not the word itself. You don't have to be a paragon of feminism; you can just be a real-ass person living feminism, and Cardi B is the definition of that.