A Feminist 'Clueless' Comic Book Is Coming Out This Year & We're Totally Buggin'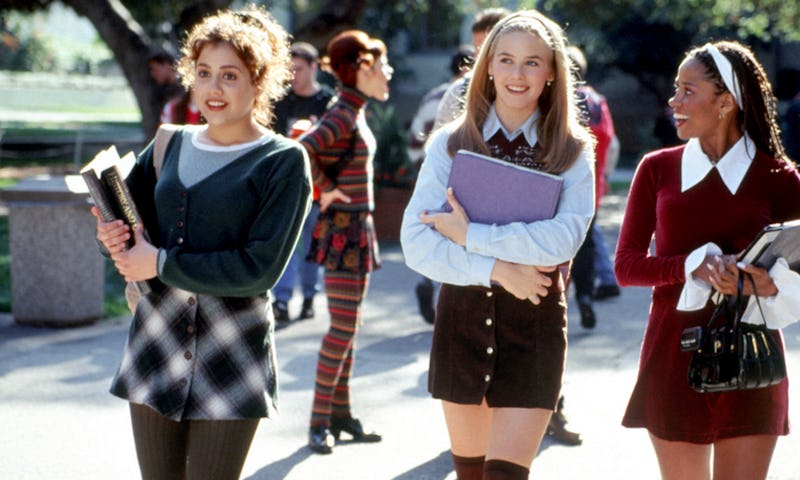 Paramount Pictures
It's a really great time to be a fan of Clueless. It was just announced last week that Paramount Pictures' '90s classic film is getting an official remake and the Broadway musical based on the original movie is set to debut next month. But you don't have to wait (literally) years to see the remake come to life and you definitely don't have to drop insane amounts of cash to hop on a plane to NYC to see the musical just to get your next Clueless fix. Comic book company BOOM! Studios is about to release a new Clueless comic book, and Bustle has your exclusive first look at Clueless: One Last Summer.
As a follow up to the 2017's Clueless: Senior Year, the new book reunites the writing duo of Buffy the Vampire Slayer's Amber Benson and author Sarah Kuhn along with Adventure Time artist Siobhan Keenan for an even more feminist and inclusive story based on all your favorite Clueless characters. In the new book, available in comic book stores Nov. 28 and in bookstores on Dec. 4, Cher, Dionne, and Tai attempt to make the most of their final summer vacation before they all head off to college and the world of adulthood. But when life threatens to topple their elaborate plans, they'll be challenged to stay true to their best selves and their best friends amidst the chaos.
When Kuhn and Benson created the first Clueless comic, they had no idea they'd ever get to jump back into the world of Cher and her BFFs. So when they got the chance to revisit all their favorite characters, Kuhn knew exactly what she wanted to bring to the story. "I wanted to write a story about Summer, who's the one Asian American girl in the movie played by Nicole Bilderback, and give her her own story," Kuhn tells Bustle. "I wanted to do, like, the secret world of Summer. And I didn't think I thought that would ever come to pass, but then we were like, 'Well why not? Let's just make our fantasies come true!'"
As an Asian American woman herself, Kuhn knew how important expanding the diversity of the popular franchise would be to readers. But as a Japanese American, she knew she needed help in making Summer's Korean American experience authentic on the page. "Our friend Julia Cho is an awesome actress and producer and she's Korean," Kuhn says. "I asked her questions about the experience of like different generations because we have Summer's Auntie in the book. I know a lot about Asian Aunties, but I wanted to know more about like things that are specific to Korean American Aunties."
Benson also praises original film star Bilderback who was a constant source for them as they expanded Summer's world on the page. "And then we asked her to write the introduction for this book, and she said yes," Amber Benson says. "That was really cool."
Even though Bilderback didn't have much screen time in the original film, Benson recognized just how much of a presence she made on the movie and in the fandom. "She's made such an impact, so much so that Jenny Han, when she was writing something recently about To All the Boys I've Loved Before, she mentioned Summer and Nicole in one of her articles," Benson says.
While Benson, Kuhn and Keenan didn't plan for One Last Summer to debut in such a Clueless boom, they all agree that right now is the perfect time to immerse in the world of Clueless friendships.
"We're living in a world right now that needs more stories about women, about diversity, about the fact that this country is built on the fact that we're all from different places," Benson says. "So to tell this story where women are the central characters, they're powerful, they're strong, they're vulnerable, they're real, we just need more of those stories and Clueless fits into that framework really well."
"We're living in a world right now that needs more stories about women, about diversity, about the fact that this country is built on the fact that we're all from different places."
Having an all-female creative team was especially helpful in bringing out the best work in everyone. "The more we have of that, the better," Benson adds. "So much of what is happening now is we're seeing women coming together to support each other and we wanted to highlight that. That's very important to us."
For Kuhn, highlighting the friendships between Cher, Dionne and Tai was her favorite part of creating this book. "Showing them supporting each other is always an important choice, but it is especially important right now," she says. "We really wanted to focus on the dynamic between Cher and Tai and Dionne and to give all of them a voice. Cher obviously has the most dominant voice in the movie but we wanted all of them to have a voice, all of them to have a story and have those stories be about all of them supporting each other. And then we brought in Summer and made her more of a prominent character."
And getting to write all the characters speaking in typical '90s teen girl voices, from all the "likes" to "as ifs," was surprisingly cathartic for Kuhn. "I think the constant critique of how women speak is just straight up sexist, all of that stuff about vocal fry or saying like too much," she says. "In particular some men still see [Cher] as kind of a bubble head and we were always very quick to remind them like, watch the movie. She is very smart. She's very strategic. She always has a plan. She comes up with that whole plan to basically explain to her teacher why she should get a better grade."
"I think the constant critique of how women speak is just straight up sexist..."
Kuhn and Benson know that people underestimate Cher and other women like her. "I'm always interested in exploring that as well and how society underestimates women or underestimates certain people because of the way they look or the way they talk," Kuhn adds. "So we really wanted to lean into that speech because it is such an important part of the original Clueless, that very distinctive '90s LA girl language and that's such an important part of the character and is ultimately part of her strength and part of her individuality and part of her uniqueness. That was very important for us to maintain and highlight."
And since the news about the upcoming Clueless remake was a surprise to Benson and Kuhn as well as fans, Benson is excited to see how the mythology all comes together. "I'm curious to see what happens and to see how what we've done dovetails into that, if it does at all," she says. "I don't know, it'll be interesting to see just how they do it." While it will be years until we all see that come to pass, at least we can totally get our next Clueless fix next month when Clueless: One Last Summer hits stores. In the meantime, check out the exclusive first look at the comic below:
Clueless: One Last Summer is available in comic book stores Nov. 28 and in bookstores on Dec. 4.