You Missed These Major Signs That Arie Was Gonna Shock Us With His 'Bachelor' Decision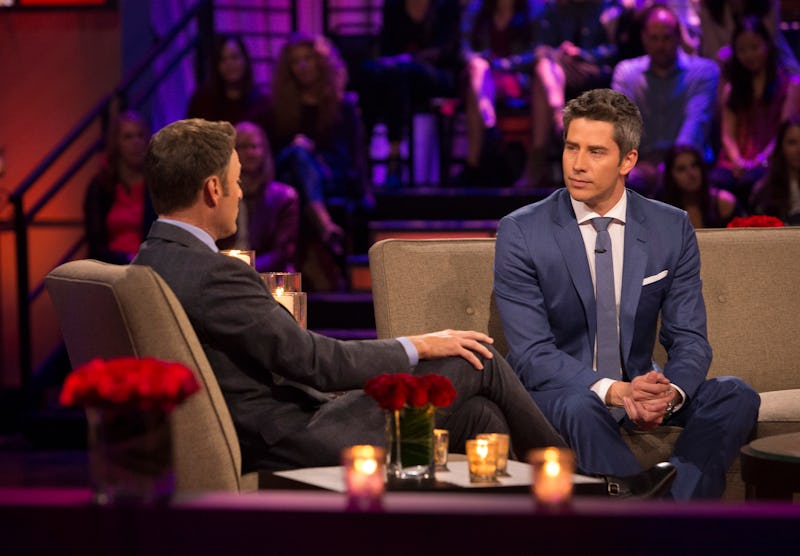 Paul Hebert/ABC
Well, Chris Harrison finally got it right — Arie's season of The Bachelor was absolutely one of the most dramatic seasons ever! Though, when you say something like that every single season, you're bound to be right eventually. Arie proposed to Becca at the end of the season, and everyone laughed and danced and sang (well, everyone except Lauren), and it was good. It was good, until it wasn't. Arie dumped Becca and went back to Lauren. But, looking back, there were some clues Arie would change his mind on The Bachelor.
It's strange that Arie would be wishy-washy in his final decision-making, because he was pretty steadfast in everything else during his season. He liked who he liked, and he was able to cut the women that he thought wouldn't be able to be his wife. Arie and Chelsea were swimming along fine enough, and she got the boot with no warning. Bye, girl! And even though Bekah assured Arie that she could be a part of his future, Arie sent Bekah home, partly because he thought her 22-year-old self was too young to commit to the life that he's currently leading in Scottsdale, Arizona. She couldn't convince him. But now, Arie has blown it all to bits. He's broken Becca's heart and earned himself plenty of ire from fans.
These "what-do-I-do" cracks began to show in the penultimate episode of the season, when Arie told both Becca and Lauren that he was in love with them. Arie should have spoken to Ben Higgins before he season started, because he can be the one to say how stupid it is to tell both women on the show "I love you." It's like Arie wasn't sure who he would choose, so he wanted to say it to both women to cover his indecision. And speaking of indecision, there were a few hints that Arie would change his mind.
Meeting The Parents
Lauren and Becca both met Arie's family, and when Arie asked his parents for their opinions, they both agreed that Becca was a better woman for Arie's future and for his life. Arie didn't look thrilled with this, and he seemed disappointed that his parents didn't choose Lauren, too.
The Final Dates
At the end of his Macchu Picchu date, Arie basically said that his feelings were changing. "Lauren's found her way into my heart. I feel like I've fallen in love with her more and more every time I hang out with her," Arie said. "When I'm with Lauren, there's this unexplainable feeling that I have. Lauren's amazing." He said that he sees a more tangible future as their relationship progresses, and that doesn't bode very well for Becca now, does it? He said "I love you so much" like three times to Lauren.
Pre-Proposal
Arie hemmed and hawed in his before-the-proposal monologue, saying that both women think that they're in a good place with him, and that's his fault because he said "I love you" to both women. Arie also said, "I am typically a pretty decisive person, but this has been pretty hard for me," which is code for "I have no idea what the hell I'm doing but I'm going to wing it and see what happens."
Post-Proposal
Arie admitted that, after he proposed to Becca, he would spend time with his fiancée but still be thinking of Lauren. It's something that Becca knew about, but she had to just deal with it. "With Becca, I feel an immense amount of guilt. It's not fair for her to be in a relationship where someone is half in. I told Becca that I would choose her everyday," Arie said later in an interview. "I know I made that commitment, and it kills me that I'm going back on that, but I have to follow my heart... I've decided to call off the engagement and break up with Becca." And then he broke up with her and she had no idea. Ugh. Arie, you suck.
Granted, if a man proposed to me and then ultimately decided that he didn't want to marry me, I would be happy that we ended things before the wedding. A breakup is hard, but divorce is even harder. That said, what Arie didn't have to do is invite Becca on a date and then film himself breaking up with her. He did say it had to do with Lauren and that he wanted to get back together with Lauren, and he talked about how conflicted he was. Dude, what? Word of advice — never rob a bank with Arie Luyendyk, Jr., because he will say he's conflicted, give up halfway through, and opt for a life of really boring crime.
In the end, Arie understands that following his heart is not going to win him many fans. "I know people are going to be hard on [me]," he told People. "I made a mistake. And I'm prepared for the backlash. But all I can say is I had to follow my heart." Arie did follow his heart, but there were signs he'd changed his mind earlier than he probably thought.