Why This Contestant's 'Bachelorette' Departure Was Actually A Huge Relief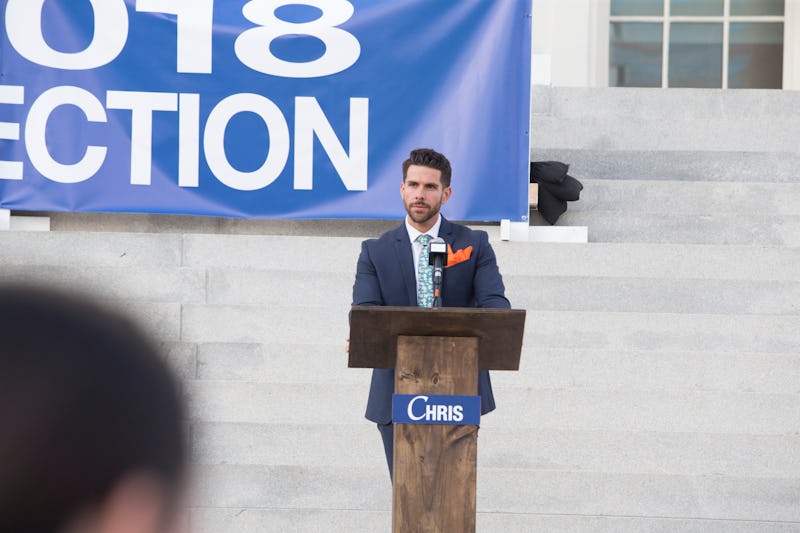 Paul Hebert/ABC
Last week, fans were surprised when Becca didn't send Chris home on The Bachelorette after he stole extra time from the other guys to prove himself to her, but unfortunately, that rose didn't get him very far. On Monday night, Chris made his official exit from the show, and obviously, he wasn't very happy about it. But why did Becca send Chris home on The Bachelorette?
Like we saw last week, Chris' temper was definitely beginning to become an issue, and this week that only got worse. He got into a major smackdown with Lincoln during the debate group date, and then when Becca confronted him about other guys saying that they felt physically threatened by what Chris might be capable of, it seemed to set him off even more. After all of this went down, Chris decided it might be a good idea to go visit Becca at her hotel room and talk things out — but was it really his best plan?
When he confronted Becca, he laid it all out there; he even admitted that he could see himself marrying her one day. But Becca couldn't see why he would feel that way — especially since just last week, he was questioning her feelings for him because he didn't have 100 percent of her attention. At that point, his fate was basically sealed.
Even as their conversation began, it was easy to see it was the beginning of the end. After Chris put all his feelings out there, Becca had her turn to speak, and it sounded like her mind was more than made up. She began hinting at the fact that she didn't truly see a future with him, which makes sense — finding out from the other men that someone is physically threatening to them is definitely a red flag. And since fans were rooting for her to get rid of Chris since last week, it was honestly about time that she got real with him. Who wants to see her end up with someone like that?
Chris tried to argue his case, but honestly, it was just too late, and she ended up sending him home right then and there.
"Again, if I'm being honest, my relationships — I'm picking them apart, and there are some really solid, strong relationships, and I don't think that we're there and at this point, I don't think that we'll get there," she told him. "And it's not fair to drag you through an entire rose ceremony tomorrow. At this point, I know that it's not going to work out."
If you've been paying attention to Chris' behavior, you probably weren't surprised at all that he didn't take his dismissal well, which only served to cement Becca's decision as the best possible thing she could have done in that situation. And once Chris was gone, she explained how she was feeling even further.
Becca said:
"I am so disappointed in what just happened. I mean, with Chris, for the longest time, I felt good with him, and I thought that we were moving forward. But I think Chris is just a very angry person. He has proved that he's not for me. He's not somebody that I want to spend my life with, who I would want as my partner, who I would want to raise children with. He's not the guy I want in my life ever."
If Becca feels that way about Chris — and judging by what we've seen from him all season, she's certainly justified in that — it sounds like she definitely made the right choice by sending him home. Chris might be bummed about it, but Becca's clearly not the right woman for him... and he's not the right man for her. Better luck next time, dude.