Colin Firth's Decision To Become An Italian Citizen Was Made For A Surprising Reason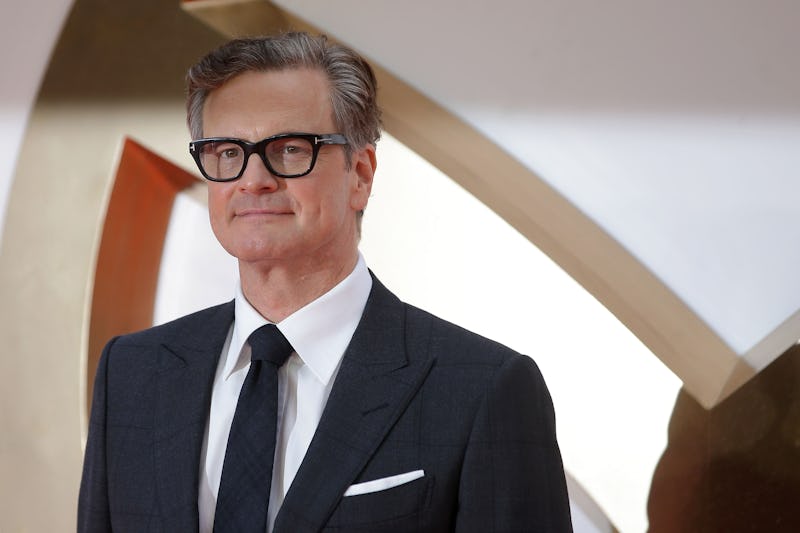 DANIEL LEAL-OLIVAS/AFP/Getty Images
Mr. Darcy is now an Italian citizen, but the development isn't as shocking as it appears to be at first glance. Why did Colin Firth become an Italian citizen? The answer is love. The acclaimed British actor is married to Italian writer and film producer Livia Giuggioli, and according to a statement shared by Digital Spy, Firth chose to become a dual citizen so he would have the same passports as his wife and sons, Luca, 16, and Matteo, 13. Firth also revealed that Giuggioli is applying for a British passport (the couple's sons have been dual citizens since birth). Since they are married, the process for applying for citizenship in each other's countries is simplified.
Firth has been outspoken about his disapproval of Brexit, and while his statement insists that becoming an Italian citizen was a family matter, it seems that the reality of Brexit influenced the timing. With Great Britain poised to leave the European Union, the ability for its citizens to move freely throughout countries in Europe is in question. Having dual citizenship should, in theory, make it easier for Firth and Giuggioli to travel between the two countries they call home.
According to Digital Spy, Firth said in a statement,
"Our children have been dual citizens since the beginning. We never really thought much about our different passports. But now, with some of the uncertainty around, we thought it sensible that we should all get the same. Livia is applying for a British passport."
Since he married Giuggioli in 1997, Firth has become fluent in Italian and professed his love for his wife's country. "I married into Italy (and anyone will tell you when you marry an Italian you don't just marry one person; you marry a family and perhaps an entire country…)," Firth's statement continued. "Like almost everybody I have a passionate love of Italy and joining my wife and kids in being dual citizens will be a huge privilege."
According to The Guardian, Firth and Giuggioli have a home in Italy, but they primarily live in England. Firth is widely considered to be one of the quintessential British actors thanks his roles in Pride & Prejudice, Love Actually, and The King's Speech. He seemed to be well aware of his reputation when he revealed that his application for dual citizenship had been approved. Firth assured his fans,
"I will always be extremely British (you only have to look at or listen to me). Britain is our home and we love it here. Despite the enticements of my profession to relocate to more remunerative climes, I've always chosen to base my career out of the UK and pay my taxes here. That hasn't changed."
For Firth, this move truly does seem to be one made in the best interest of his family. The actor's disdain for Brexit is well-documented, and as someone who is married to an Italian citizen, it's not surprising that he has such strong feelings on the subject. Brexit could have a direct impact on his family, which makes Firth's choice to take action now practical and necessary.
Brexit is sure to have similar effects on families across the European Union, especially those who live in Great Britain, but are originally from other countries in the EU. According to The Independent, a survey conducted by CS Global Partners found that an estimated 58 percent of people in the UK would like to apply for dual citizenship due to Brexit. The desire for security in these uncertain times is strong, and Firth and Giuggioli are simply doing whatever it takes to preserve stability for their two-country family in the face of change.