'Vanderpump Rules' Faith Explains Why She Recorded Jax When They Hooked Up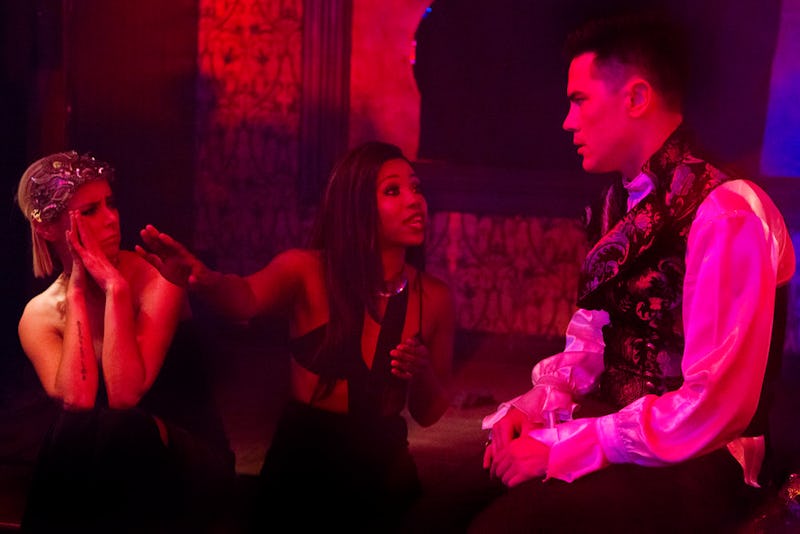 Isabella Vosmikova/Bravo
After learning that Jax Taylor cheated on Brittany Cartwright with Faith Stowers in Vanderpump Rules Season 6, fans probably didn't think it could get any worse. However, they were proven wrong when Lala Kent showed up to Jax and Brittany's housewarming party with an audio recording of Jax and Faith's conversation right after they slept together. So, why did Faith record Jax when they hooked up? Faith tells Bustle that the recording happened completely by accident — and that she never meant for it to get out.
"That actually wasn't anything that was meant to happen," Faith says over the phone. She further explains that she was using her iPhone's Voice Memo app while she was writing music for her new songs, but she was interrupted by Jax knocking on her door. This is also when they had sex for the first and only time — despite rumors that Ariana told Brittany in one episode, Faith maintains she and Jax slept together only once.
"So, I'm writing music, I'm writing music, and I'm in my space," Faith says, "I want to say it was the middle of the afternoon, like 2:30. And when I stopped writing, I had the pen on the notepad and the phone on the bed. So when I went to the door to come get [Jax] and walked him to the house and went to my room, it wasn't like, 'Hey, this is my room. This is the living room.' It was kind of like, 'Damn, girl, you look great', and [we] went straight into it."
In Season 6, Episode 6, Lala played an audio recording she obtained from James Kennedy (he admitted he stole it from Faith's phone) for Brittany and Ariana Madix. According to the cast members who listened to it, Jax was heard saying that he never wants to get married, that he doesn't want kids, and that he hasn't had sex with Brittany in months. Obviously, this caused even more drama within the group and between Jax and Brittany.
But despite how it may look, Faith says she never had any bad intentions with the recording. "It wasn't like I had time to stop it," she says. "If you notice, in the last episode, James said how he got the audio. I didn't send it to anyone. It wasn't like I wanted it to get out. I didn't want it to get out, because I didn't want people doing to me what they're doing right now."
The former SUR server says she also had nothing to gain from releasing the audio of Jax. "It wasn't something that I wanted out," she explains. "I would never, ever, ever, do something like that. It just wouldn't have benefitted me in any kind of way for me to do that. The only way it helped me is Jax had to tell the truth, because he was lying to my face before that."
Faith is also thankful James admitted how he got the recording, because she says she was worried the DJ was going to lie about it all, especially since he and Faith are no longer close friends.
"[James] and I aren't on good terms, so he told the truth. He went into my phone, after he found out there was a recording on my phone, and he actually stole the audio out of my phone." Faith adds, "Me and him got in a big fight, like a big fight about that at SUR restaurant. I ended up storming out and leaving and then he told me he was going to delete it. Next thing you know, Lala has it and people are listening to it."
As for what Jax was telling Faith on the recording, Faith believes he opened up to her because he felt comfortable with her and trusted her. Faith says that when they had this particular conversation, they talked about "him wanting to get out, him wanting to be free, him being pressured to get married." She continues, "He didn't have to tell me any of that. He's telling me this, because he trusts me and he felt like I was in the same position with my freedom and I enjoyed my freedom."
So, since Pump Rules viewers haven't heard the audio themselves, the question is: Do you trust Faith?