Jennifer Aniston & Vince Vaughn's IRL Split Was Nothing Like 'The Break-Up'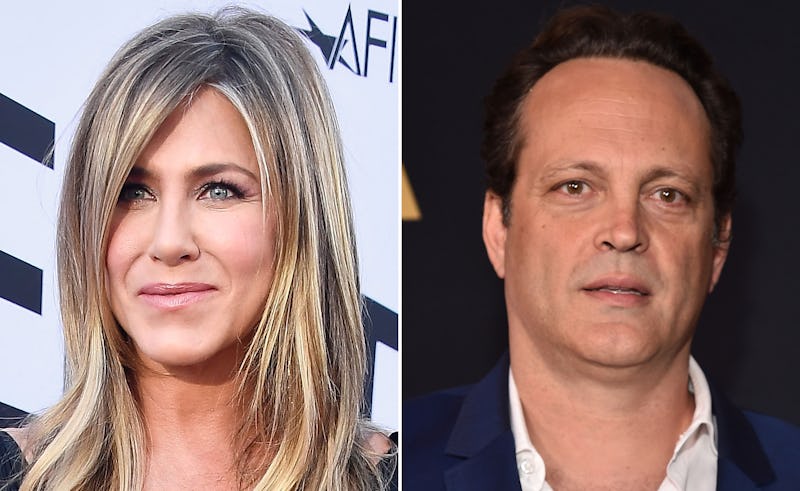 Frazer Harrison/Getty Images Entertainment/Getty Images/Alberto E. Rodriguez/Getty Images Entertainment/Getty Images
Breaking up is a nightmare, everybody knows that. But imagine having to break up in the public eye after meeting on a film called The Break Up. Yes, that sounds just about as raw as it can get. So, why did Jennifer Aniston and Vince Vaughan break up?
Hollywood super stars Aniston and Vaughn started dating back in 2005, after she had gone through the difficult dissolution of her first marriage to Brad Pitt. They met on the set of The Break-Up, and fans had high hopes that Vaughn would be "The One", as her ex moved on with actress Angelina Jolie. However, it wasn't to be.
Despite reports emerging that the pair were planning a secret wedding, both of them spoke out to insist that wasn't true. Then, a few months into their relationship, their busy work schedules meant they were spending lengthy times apart. In October 2006, Aniston jetted out to London to see Vaughn after the pair had been apart for almost a month, according to People. A few weeks later, the couple confirmed their split. Their reps Stephen Huvane and John Pisani told the magazine: "After Jennifer's trip to London several weeks ago, Jennifer and Vince mutually agreed to end their relationship but continue to be good friends today."
Although the pair never publicly revealed the exact reason why they split, it is thought that work commitments may have played a part. Vaughn was also accused of cheating on Aniston while they were dating — allegations he categorically denied.
Following their real-life break-up, Vaughn opened up about what it was like to date someone as famous as Aniston. Although he very much loved her, he admitted that the public scrutiny was difficult. He told Playboy:
"For me personally — and I think most well-known actors who are together feel this way — I never enjoyed the paparazzi side of it. You like someone and you're spending time with them; that's separate and that was all fine. But I really spent most of that time finding ways not to be drawn into the attention."
Vaughn has since gone on to marry and have two children. Meanwhile, Aniston went on to marry Justin Theroux, although the couple decided to end their marriage last year.
However, despite the fact that Vaughn and Aniston have both moved on with their lives, they are still on good terms.
Some years after their break-up, she gave an interview to Vogue and had nothing but praise for Vaughn. During the chat, she described him as her "defibrillator" and said their time together was "wonderful". Explaining why the relationship didn't work out, she said:
"He literally brought me back to life. My first gasp of air was a big laugh! It was great. I love him. He's a bull in a china shop. He was lovely and fun, and perfect for the time we had together. And I needed that. And it sort of ran its course."
While their romance might not have lasted, their on-screen union in The Break-Up has lived on. In fact, it's on the telly on Friday.
In case you haven't seen it, the movie is about a couple who decide to break up but awkwardly own a home together. With neither of them willing to move out, they decide to carry on living together, and let's just say it all gets pretty messy, but also freakin' hilarious.
The Break-Up is on ITV, Friday at 10.45pm.