This Is Why Nick Sent Taylor Home On 'Bachelor'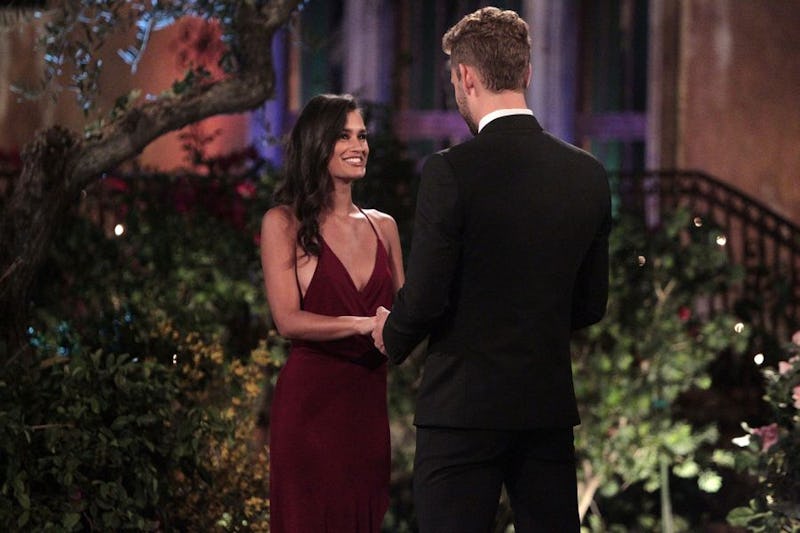 Rick Rowell/ABC
What happens when you put two feuding Bachelor contestants in a boat in the Louisiana bayou and force Nick Viall to choose between them? Um, so far, nothing good. During a two-on-one date on last week's episode, Nick decided to send Taylor home and ride off (well, float off) into the sunset with Corinne instead. But on Monday night, Taylor came back with a vengeance, making sure that our guy knew the truth about how manipulative she thinks Corinne is. But why did Nick eliminate Taylor from The Bachelor? The reason seems complicated.
When Nick and Taylor had their awkward conversation upon her return, he clarified that it wasn't that he thought she was a bully, it was mainly because he was more romantically invested in Corinne — something that's been pretty obvious all along considering all the chemistry that's between them. When he was talking about the situation with Corinne afterwards, his exact words were that his decision was "more about where my heart was," which makes sense since he doesn't seem to be into wasting anyone's time if he's not fully invested. And in his People blog from last week, he explained his decision not to give Taylor the rose even more.
In the post, Nick admitted that he felt Taylor was guilty of the emotional immaturity she was accusing Corinne of, and that she was more focused on taking down Corinne than she was on building an actual relationship with him herself. He wrote:
From my point of view, Taylor either wasn't self-aware enough to understand how she was coming across or she thought that I wouldn't notice. Either way, it just felt like at this point that Taylor was too fixated on proving to me that Corinne wasn't right for me rather than focusing on our relationship. Giving Corinne the rose had just as much to do with saying goodbye to Taylor as it was to validate my relationship with Corinne.
Sounds like a solid reason to break things off with someone, right? Maybe now that the drama between Corinne and Taylor is over, Nick can finally start figuring out who he might spend the rest of his life with. Or maybe someone else will start some drama instead? Yeah, that sounds way more likely.