This 'Bachelorette' Goodbye Makes Sense, Even Though It's So Sad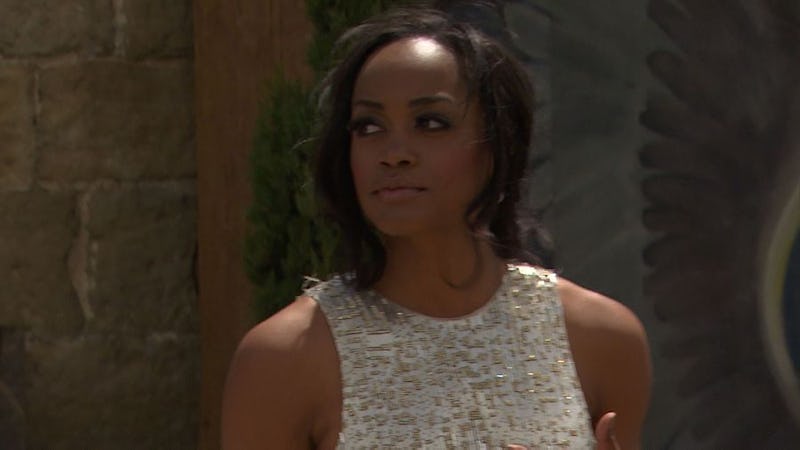 ABC
Rachel Lindsay has had to say some hard goodbyes during her season of The Bachelorette, but whittling down the final three have arguably marked her most difficult decisions yet. During Monday night's finale, Eric was the first to get the boot — a heartbreaking but not entirely surprising choice. Still, it's worth asking: Why did Rachel send Eric home on The Bachelorette?
Ahead of the rose ceremony, Rachel explained that she saw no red flags with Eric and felt confident in his love for her, but during their goodbye, she said that while she loved him, she wasn't in love with him. Still, Rachel said it was the strongest she'd felt when it came to questioning whether she'd made a mistake. Eric was visibly heartbroken, but he accepted it with the same grace and maturity that he's shown throughout the season.
This far into the show, it seemed like Rachel could see a future with all of the remaining men, which means she had to rely heavily on gut instinct. She and Eric appeared to have a loving and genuine relationship, but ultimately, her connections with Peter and Bryan were stronger. From a viewer's standpoint, it took a little time for Eric to really blossom, and though he did eventually get there, he was always lagging just a little bit behind.
Beyond that, he was open about the fact that he'd never been in love before, and while that by no means discredits how he felt about Rachel, it does mean he may not have as firm a grasp on what he wants or what it takes to be in that kind of long-term partnership — at least in comparison to the other suitors. It's the sort of thing that he and Rachel probably could have worked through in real life, but when she's dating two other men in such an accelerated environment, every potential obstacle is exacerbated.
In the end, Eric's shortcomings simply weren't enough to make the cut, but in only a few short weeks, he made some impressive strides when it comes to personal and emotional growth. So who knows, maybe his capital J Journey in Bachelor Nation is only just beginning.