Scheana From 'Vanderpump' Has Told 3 Different Stories About Why She & Rob Broke Up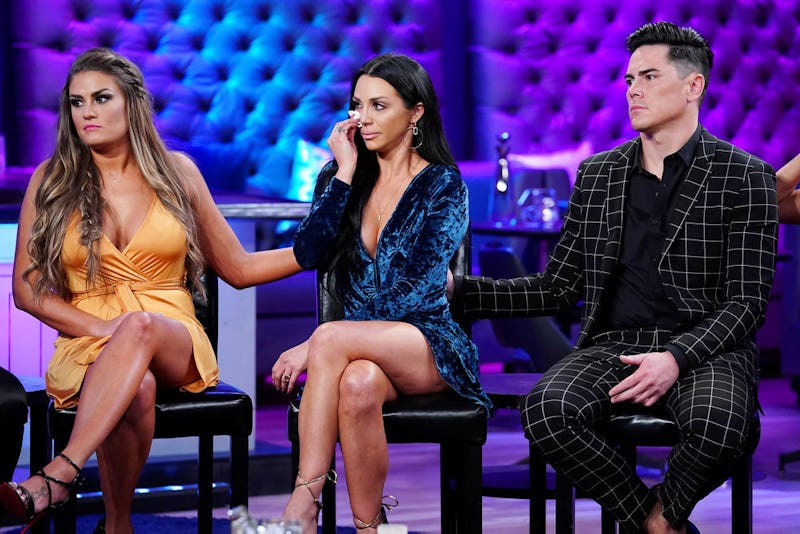 Nicole Weingart/Bravo
Scheana split with her husband, Michael Shay, during Season 5 of Vanderpump Rules, and the reunion showed the fallout of a relationship gone sour. It was sad. But in Season 6, Vanderpump Rules fans found Scheana much happier and with a new man — Rob Parks Valletta. According to Scheana's comments throughout the season, Rob can do anything and everything in seven minutes, so it was surprising to hear that these two had split up. Why did Rob and Scheana from Vanderpump Rules break up?
Having watched Scheana on television for six years now, viewers (and her friends, too) know that she tends to be impulsive and overly optimistic when she's in a new relationship. Her romance with Rob was no exception, as she talked about him non-stop to… everyone. Rob could do no wrong in Scheana's eyes. He was handy. He hung a television in seven minutes (which, having hung a television myself, I don't think is possible or structurally sound). He was great in bed. She loved his you-know-what. She loved him. She loved his lake house. You get the idea. But having watched their relationship play out on camera, it seemed very possible that Rob didn't feel exactly the same way. He even said so to Jax, mentioning that saying, "I love you," was a big deal to him and that he hadn't felt able to return Scheana's three little words yet. At this point, the writing was on the wall.
Scheana and Rob broke up in October 2017. The two released a statement explaining their split and reported by E! News. "Because of work commitments, Scheana and Rob felt it best to hit pause on their relationship for now," the statement read. "They're still very involved in each other's lives and remain optimistic about their future." Two months later, Scheana insisted in an interview with Bustle that she and Rob were on good terms.
"We will always love and respect each other and support each other," she said. "We've not spoken as much, because it just became a little too hard for me to remain such close friends with someone who at the time I was still in love with."
Scheana went on to explain that she needed to let go of her friendship with Rob in order to get over him, which makes sense. "It was just weighing too heavy on my heart being close with someone I was no longer close with in other ways," she said.
A few weeks later, though, Scheana appeared on the Make Speidi Famous Again podcast with Spencer and Heidi Pratt, and she was playing a bit of a different tune. She said she was "disappointed" that she and Rob broke up because he opted to end their relationship quickly and not fight for it. "Everything that transpired after [the accusation that Rob kissed another girl] that ultimately led to us breaking up was just really frustrating because after everything my ex-husband and I went through on the show, we didn't divorce because of the show," Scheana said on the podcast. "It was because of so many other things happening and for Rob to just kind of throw in the towel so soon because there was a rumor that he kissed someone, it was quite disappointing." Scheana also mentioned that she and Rob tried a friends-with-benefits thing, but that it didn't work, either. She said:
"We tried to stay friends for several months after we broke up. It was like a friends with benefits but then it was [just] friends. What I ended up ultimately finding out was that it was all about him all the time and what he wanted, and what made his life easier. And what was good for him. He wanted to stay friends and for me, that didn't work."
Good on Scheana for eventually realizing that what she needed wasn't what Rob could give her. While Rob hasn't publicly commented on Scheana's talk of him being "selfish" and not giving the relationship a try, he did show his support of her and their relationship in an Instagram post, writing:
"Big Bear will always be my happy place. A lot of people are watching a TV show that was shot months ago, and TV shows are shot to create drama and intrigue. No one knows what happens behind closed doors and or when the cameras are off. But what I do know is that there are things that I never expressed on camera, but did in person."
In a Vanderpump Rules Season 6 reunion preview clip, Scheana addresses the breakdown of the relationship again, and pinpoints the surfacing of the kiss rumor as "the moment he pulled away." She also says that Rob told her when they broke up that he had waited to do so until the filming for the season was over, so she felt toyed with.
Whether Scheana and Rob split because of work commitments or because they just had different ideas of what makes a relationship work, fans will never know. But for now, these two are living separate lives, still in support of the other.