Sam Smith Has Discussed His Split From Brandon Flynn & No, YOU'RE Crying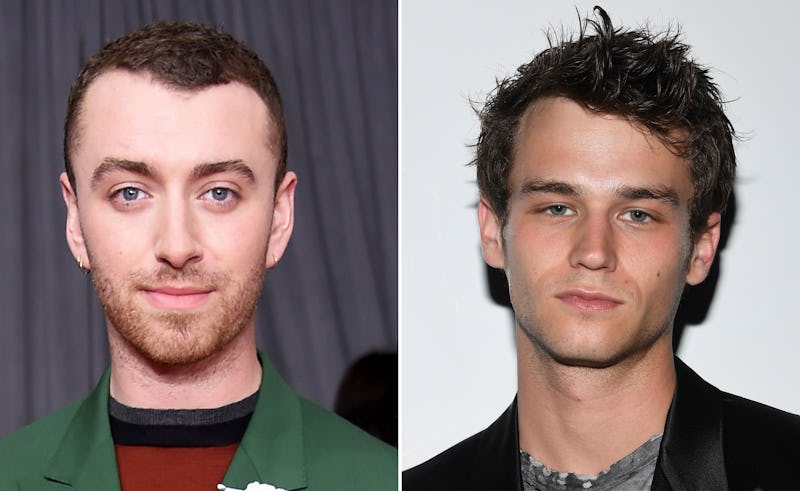 Pascal Le Segretain/Getty Images Entertainment/Getty Images/Dimitrios Kambouris/Getty Images Entertainment/Getty Images
Back in late 2017, singer Sam Smith and 13 Reasons Why actor Brandon Flynn were first romantically linked after being spotted adorably strolling through New York's West Village. Shortly after, Smith confirmed the pair were indeed in a relationship on The Ellen Degeneres Show. However in June this year, hearts were broken when it was reported that the couple had sadly parted ways — but why did Sam Smith and Brandon Flynn split?
Although neither party has commented on the exact details of their break-up, a source told Page Six that the former couple broke up because they "are both so busy with their careers and unfortunately things just haven't worked out." They added: "Sam is obviously devastated. This is the most significant relationship he has ever had."
I have reached out to reps for Smith and Flynn for comment, but have not yet received a response.
The sad news was confirmed during the U.S. leg of Smith's most recent tour in support of his album The Thrill of It All. Since the split the 'Stay With Me' singer has deleted all Instagram posts of his former boyfriend, who also mass deleted just about all Instagram posts of the couple. Flynn did however keep some of their cutest Insta shots online, including one which referenced the 2017 Oscar-winning LGBT love story, Call Me By Your Name.
Without revealing too much information regarding details of the former couple's decision to split, Smith did open up about life after Flynn in an interview with The Times. When asked about the sudden separation, Smith said: "I'm still trying to figure out what I took from that relationship and what it meant to me. It's still quite raw."
Although refusing to delve further into the nitty gritty of his past relationship, Smith did comment on the significance of having an openly gay relationship in the public eye, he said: "Seeing gay relationships is important and refreshing. You don't see it loads."
When speaking on BBC Radio 1, Smith addressed the public displays of affection between himself and Flynn that had been caught by the onlooking paparazzi back in March. He said: "We were just waiting outside the shop while my sister got cigarettes. I was just joking.
"I was literally licking his eyeballs. It's horrendous. I'm going to have to do something crazy to top it.' The 'In The Lonely Hour' singer then went on to poke fun at the kiss when he commented: "He looks like Ursula sucking the voice out of Ariel. It's so embarrassing."
Fans of both Smith and Flynn did not handle news of the break-up well, and took to social media to express their sadness.
Despite the upsetting circumstances, the Oscar-winner has had nothing but kind words with regards to his ex-boyfriend Flynn, who he described as a "wonderful person," during his interview with The Times.
Although Smith may still be dealing with the pain of his break-up, the singer hinted that he and Flynn are still friends. He said: "All my relationships have ended in a nice way, never nasty." While fans are gutted these two didn't work out romantically, at least the former couple clearly parted on good terms.