The Kardashians' Longtime Makeup Artist Finally Responded To Rumors She Was Fired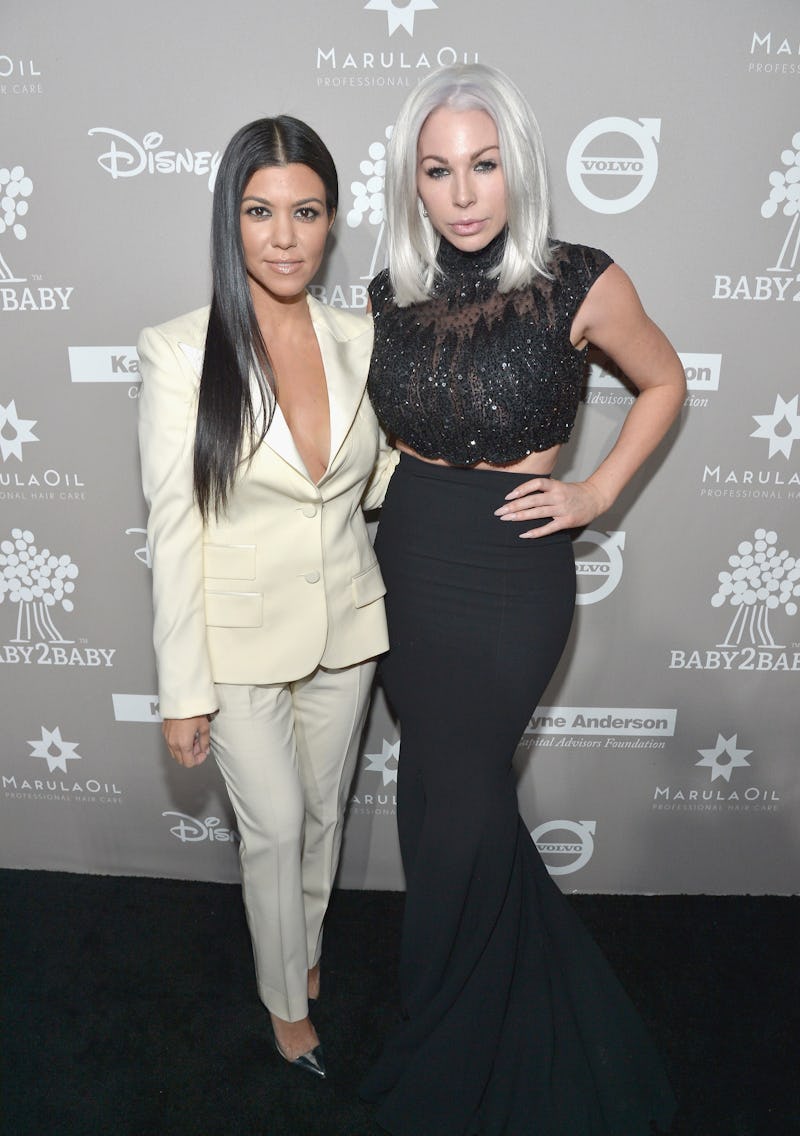 Charley Gallay/Getty Images Entertainment/Getty Images
Beauty trends come and go, and apparently so do makeup artists. According to Us Weekly, the Kardashians have reportedly stopped working with celebrity makeup artist Joyce Bonelli. The sisters have been branching out with their looks and even creating some of their own, so it only makes sense that they would eventually move on.
Bustle has reached out to the Kardashians for comment.
UPDATE: In a statement made to People on June 13, Bonelli said, "I've never been fired. When something personal happens, it's just a personal thing and I don't think it's anyone's business. But people should know, too, that I wasn't fired and I love all of them and I'm proud of them, too."
Bonelli added, "Who hasn't gotten in a fight with their girlfriends?"
EARLIER: The Kardashians don't just get their makeup done. They often have their makeup artists hanging out with them and some are even a part of different makeup collaborations. That's why separating from one of them comes as a shock to Kardashian fans. Bonelli was often shown doing the sisters' makeup and just hanging out with the group in early episodes of Keeping Up With The Kardashians.
According to Us Weekly, there's a reason why the makeup artists isn't seen on the show anymore.
"The family doesn't speak to her anymore," the unnamed source tells Us Weekly. "She hasn't worked for them for months."
None of the Kardashians have publicly commented, although they have been seen working with other artists on social media. Most recently, Kim had a KKW Beauty collab with Mario Dedivanovic. The publication reports that there are no hard feelings between the Kardashians and Bonelli though.
"They just stopped working with her because they didn't see it as a right fit anymore," the sources tells Us Weekly.
If Bonelli's Instagram feed has anything to say for it, the source is correct about there not being any harsh feelings. The makeup artists still posts throwbacks of the family on Instagram and recently wished Khloe happy birthday on the social media site as well. She even posted a selfie with Kylie Jenner with the caption, "still feeling 2014."
Bonelli even posts some paparazzi fashion and makeup centered shots of the Kardashians and their families. She recently posted a photo of North West, saying how pretty she looks. No harsh feelings here, my friends.
Let's be honest, it's natural for people to grow apart. Friends do it all the time, and apparently so do celebrities with their makeup artists. With two of the five sisters of the Kardashian-Jenner family owning their own beauty lines, it makes sense that their looks and own personal skills will change as well. Because, you know, when you create your own beauty line, you kind of learn how to do your own makeup.
Bonelli might not do the Kardashians makeup anymore, but she does have some other A-list clients. According to her Instagram, she does makeup for stars like Chrissy Teigen, Ruby Rose, and Jessica Simpson. Basically, the woman is staying busy.
The last time that Bonelli has done a Kardashians' makeup was in January 2018. She posted a photo of Khloe with the caption "Khlo Mommy" and the hastag #MakeupByJoyce. She also posted a photo in December 2017 of Kim, saying "my most gorgeous BFF" with the same hashtag. That rings in at right around six months that the Kardashians have been Bonelli-less.
Listen, there are tons of celebrity makeup artists out there. Heck, Kim even let a bunch of YouTubers do her makeup to promote her new products. Not to mention that the women have been on social media doing their own makeup as of late too. The makeup possibilities are endless, and just because Bonelli and the Kardashians aren't working together as much anymore doesn't say anything about their personal relationship.
Some things come and go, but the Kardashians are forever. Just because the family has reportedly moved on doesn't mean that anyone will forget the makeup looks that she created for them.