Here's Why Colton & Tia Finally Called It Quits In Paradise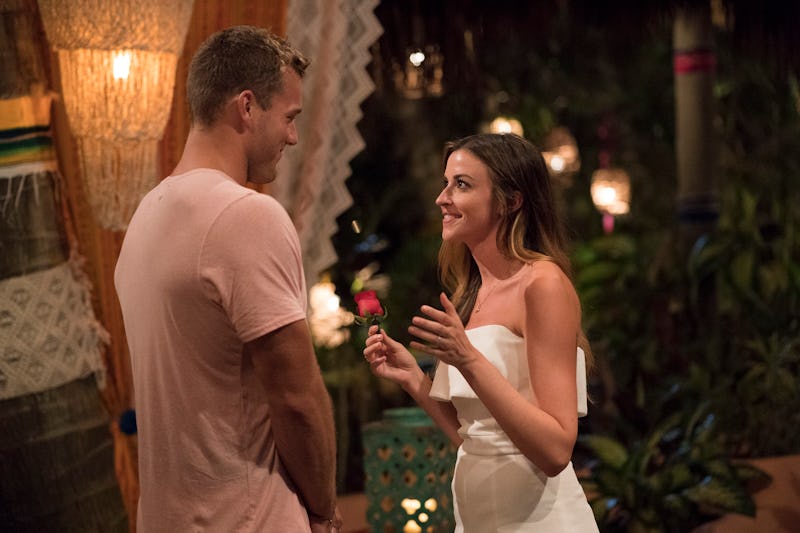 Paul Hebert/ABC
Despite the fact that we've spent much of this season of Bachelor in Paradise (and a little bit of The Bachelorette) watching and hearing about their relationship, it's official: Colton and Tia have officially called it quits, as of Monday night's episode. But being that they seemed to finally commit to each other, what went wrong? Why did Tia and Colton break up? It really did seem to come out of nowhere, and at first, all he could say was that "it" wasn't there for him where Tia was concerned.
The most heartbreaking part of their split was the fact that earlier that day, Tia was talking to the other women about how confident she felt in their relationship and how she could see herself married to Colton someday. Later, Colton pulled her aside to talk while she was hanging out on the beach, and as we all know, it was Not Good.
"I wanted us to work so bad, but it's not there," he said, later adding, "I can look at you with 100 percent certainty and say that I tried here."
Obviously, Tia was heartbroken, and even though they had a pretty amicable breakup, it was still pretty brutal to watch the whole thing play out, especially since, by the end of it, they were both in tears.
And unfortunately, Colton was never able to give a better reason for ending things with Tia than the fact that he just didn't feel the chemistry between them that he thought he should in a romantic relationship. And even more unfortunately? Their split also led to both Colton and Tia deciding to leave paradise.
After he got in the car to leave, Colton said:
Everybody's got their person out there. I wish I could have been the one to end up with her. It wasn't there. I just wasn't the person for her. I just wasn't the one she deserves. ... I never wanted something so bad as I wanted this to work. I want somebody I want to spend the rest of my life with.
And as for Tia? Of course, she was upset about it, but she mostly just wanted Colton to be able to figure out what he wanted in the future so he wouldn't end up doing the same thing to someone else down the line.
"I know Colton is a great guy. I know what I deserve," Tia said. "Someone is going to love me someday. I just wanted it so bad through this because I believe in this so much. I'm tired of always feeling not good enough for people."
The fact that Colton and Tia were both in tears over this makes it clear that this split wasn't easy — and it does seem like they both genuinely wanted things to work. Hopefully, they're both able to move on from this and Colton can figure out what he wants, once and for all. But until that can happen, this breakup seems to be for the best.