Christopher Wray Has A Wealth Of Experience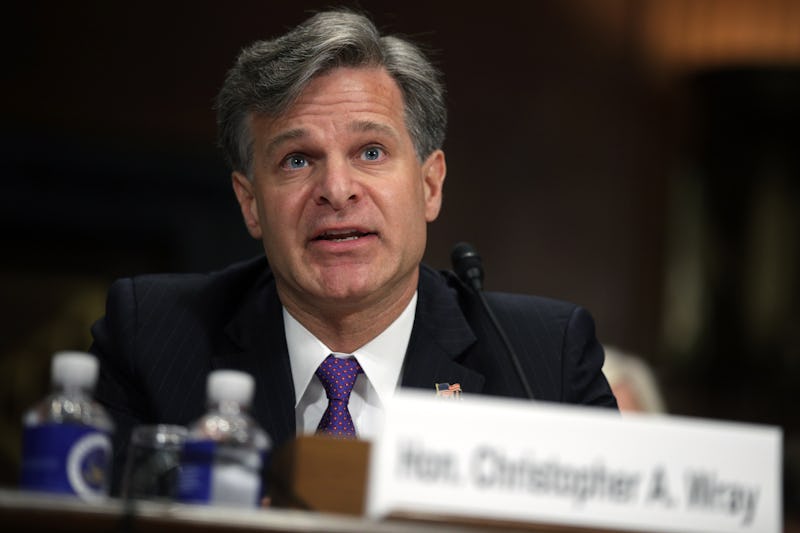 Alex Wong/Getty Images News/Getty Images
Last month, Donald Trump announced via Twitter that he had selected Christopher Wray to be the new director of the FBI. And on Wednesday, Wray began the confirmation process during a hearing before the Senate Judiciary Committee. So why did Trump choose Wray to be James Comey's replacement? Wray has a strong legal background, and has worked as both a criminal prosecutor and defense attorney.
"I am proud to announce Christopher as my choice as the director of the FBI," Trump said in a statement following his announcement on Twitter. "He is an impeccably qualified individual, and I know that he will again serve his country as a fierce guardian of the law and model of integrity once the Senate confirms him to lead the FBI."
So what are the qualifications to which Trump alluded when announcing Wray as his choice? Wray has been working in the legal field since 1993, when he entered a private practice in Atlanta. In 2001, he joined the Department of Justice, where he became the principal associate deputy attorney general during George W. Bush's presidency. In the years following 9/11, Wray became a top DOJ official — alongside Comey — and he played an active role in the Bush administration's response to the attacks.
After his tenure at the Justice Department ended in 2005, Wray went back into private practice. He went on to represent New Jersey Gov. Chris Christie in the "Bridgegate" scandal, in which two of Christie's former aides were found guilty of retribution against a Democratic mayor.
If Wray is confirmed by the Senate, he would assume FBI leadership at a tumultuous time — and consequently, he would oversee the investigation into the Trump campaign's alleged ties to Russia. But in the days leading up to his hearing, Wray's hefty donations to Republican campaigns in the past has evoked some concern, because senators to whom he has donated would have the opportunity to vote for him — and because Trump's insistence on Comey's loyalty is still fresh in everyone's minds.
However, during the Senate Judiciary Committee hearing on Wednesday, Wray said that he had never been asked for a loyalty oath, and disagreed with Trump's assessment that the Russia investigation is a "witch hunt." Wray also maintained that he could remain independent — a subject that factored significantly into the hearing.
"If I am given the honor of leading this agency, I will never allow the FBI's work to be driven by anything other than the facts, the law, and the impartial pursuit of justice. Period," Wray told the committee. "My loyalty is to the Constitution and the rule of law... To anyone who thinks I would be pulling punches... sure doesn't know me very well. I believe to my core that there's only one right way to do this job and that is with strict independence."
Despite Wray's partisan history, he has received a bit of support from across the political aisle. Although Democratic senators told Politico that they wanted more time to look into Wray's background and experience, California Sen. Dianne Feinstein, a ranking member of the Senate Judiciary Committee, has vouched for Wray's qualifications.
"My impressions are that he's qualified, certainly that he has the credentials, he has a history with the department," Feinstein said. "I don't know that he has any national security credentials, but I don't think that's as important as being a good administrator, a good manager and being able to run a department that has more than 30,000 employees."
Despite widespread concerns about Wray's partisanship, it appears that Wray is a "safe, mainstream pick" for Trump, as the New York Times put it. Wray is not a politician, which is important for a position that requires independence from the White House — and in nominating him, Trump made a choice that was the least likely to be challenged.