This 'RuPaul's Drag Race' Elimination Twist Was Surprising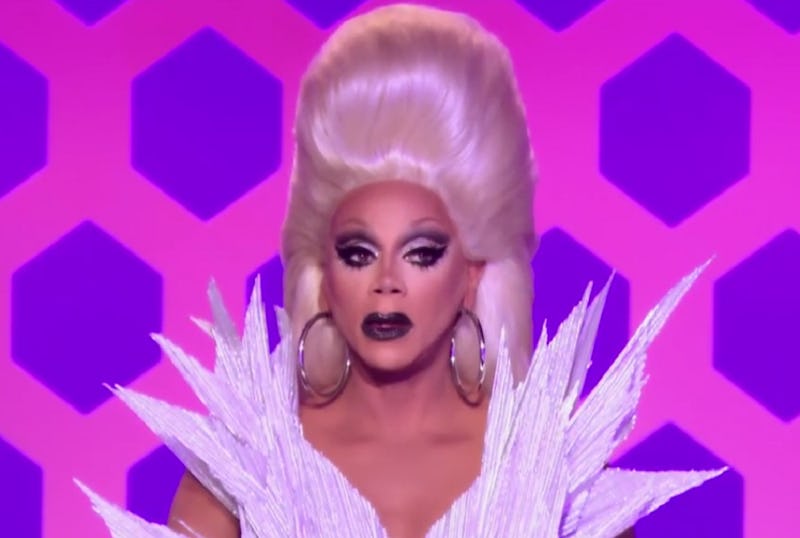 VH1 / Logo
Michelle Visage perhaps said it best during Friday night's episode when she reminded the final four contestants on RuPaul's Drag Race that "anything can happen." By the end of episode, her words became living proof of that sentiment, because Mama Ru decided not to eliminate anyone. At such a crucial and exciting stage in the competition, it feels unprecedented that no one was eliminated on RuPaul's Drag Race — but also completely understandable. The top four of Drag Race season 9 may be the strongest and most competitive final contestants in the history of the show. Can any of us really blame Ru for not being able to make a decision between them?
It isn't just that they all have exactly the kind of charisma, uniqueness, nerve, and talent necessary to become America's next drag superstar. It's also that Peppermint, Trinity Taylor, Shea Couleé, and Sasha Velour all serve up completely different types of drag, which makes it more difficult to draw constructive comparisons between each of them.
What's been even more compelling to see this season is how each of these queens has managed to surpass expectations, push out of their comfort zones, and basically reinvent the drag wheel, so to speak. Their respective runway looks have been innovative, playful, and fresh, and their personalities have all made them shine. Unlike previous seasons, in which the top three, or in some cases, the winner, felt clear cut at this stage, the Season 9 top four is difficult to pick a winner from.
Just look at the mind blowing final challenge performance involving the Season 9 "Category Is" remix, which showed the ferocity of all four of their talents. But also look at the end of the episode, when Ru asked each remaining queen why they deserve to win and received four very different, but convincing, answers.
Peppermint, who came out as transgender during Season 9 of Drag Race and whose look has been classic and gleefully creative, told the judges, "I think we have to connect with our community, and people outside what we would consider our community. As America's Next Drag Superstar it will be important for me to do that." Meanwhile Sasha, whose drag persona has proven to be strikingly avant-garde and intellectual, explained, "The new thing is going to seem a little strange and a little weird. And the new thing is definitely going to walk in with a scream. And that is me."
Trinity, the pageant queen who defied all expectations, suggested that she has "grown the most... not just as an entertainer but as a person." And Shea, who has repeatedly produced the most gag-worthy looks and performances of the season, made the point that she gave "110 percent" and succeeded more than her competitors, giving her "the making of a superstar."
It's hard to argue with any of those statements. They may have all exhibited widely differing strengths throughout Season 9, but the top four contestants are all equally as accomplished. It's definitely going to be a tough call for Ru to decide who should be crowned the ultimate queen of season 9, but, at this point, it's clear that whoever wins will completely deserve it.