Trump's Disaster Aid Bill Doesn't Include Any Funds For California's Wildfires & People Are Pissed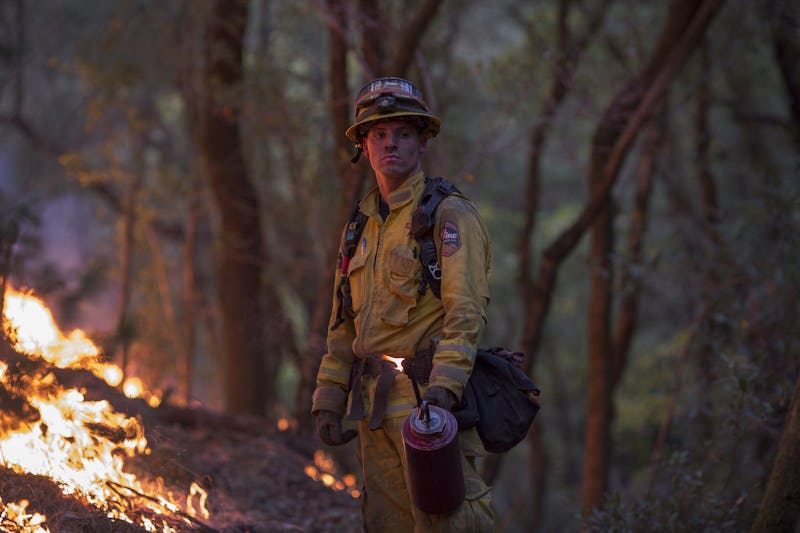 David McNew/Getty Images News/Getty Images
When wildfires burned through Northern California's wine country in October, President Donald Trump vowed the federal government would "stand with the people of California" in their time of need. Yet as residents and county officials struggle to mount recovery efforts following the deadly and devastating blazes, the White House has left California's appeal for relief funding out of its disaster aid request, meaning California may not see a dollar of federal aid.
The White House asked Congress on Friday to approve $44 billion in supplemental relief funding in response to the myriad of natural disasters that have devastated the country this year. However, according to local CBS News affiliate KPIX, California's appeal for $7.4 billion in disaster relief was not included in the White House's aid request. The move has spurred outrage and criticism from California legislators.
"It's appalling the White House is choosing to ignore the victims of California's wildfires," California Sens. Dianne Feinstein and Kamala D. Harris said in a joint statement released Friday. "The latest disaster supplemental request is a completely inadequate response to all of the recent natural disasters, but it's particularly egregious that no money was included to help Californians rebuild."
The senators went on to say that, despite having been left out of the White House's request, they would push to ensure that a suitable amount of funding for those affected by the California wine country fires was added to the disaster aid package before it passed through Congress. "The president needs to remember that he serves all Americans and has a responsibility to help the citizens of California, as well as those of Puerto Rico, the U.S. Virgin Islands, Florida and Texas," the senators said in their statement.
In a joint statement of their own, California Reps. Mike Thompson and Jared Huffman also condemned the Trump administration's decision to leave off the state's request for aid, calling it outrageous, unacceptable, and a dereliction of duty. "This is a new low for this Administration," Thompson and Huffman said in their statement. "Either they have forgotten about the thousands of American citizens who've lost everything in the California fires, or they just don't care... This is outrageous, unacceptable, and a dereliction of the Administration's duty to help the people of California."
But California legislators aren't the only ones criticizing the White House's disaster funding request. Multiple legislators from Texas also expressed disappointment with the package, characterizing it as inadequate, according to the New York Times. Moreover, Vermont Sen. Patrick Leahy called the White House's request "downright insulting." As the top Democratic senator of the Senate Appropriations Committee, Leahy said he'd received requests for federal disaster relief that totaled more than $180 billion in the wake of Hurricanes Harvey, Irma, and Maria. "This request doesn't come even close to meeting those needs," Sen. Leahy told the Times.
But the Trump administration defended its $44 billion supplemental relief request during a press briefing Friday, saying it was the result of a thorough evaluation. "I don't think $44 billion is a low amount," White House Press Secretary Sarah Huckabee Sanders told reporters at the White House. "We did a thorough assessment, and that was completed, and this was the number that we put forward."
Wildfires ripped through Northern California in October, killing 42 people and leaving thousands more displaced. More than 8,000 structures and more than 100,000 acres were reported to have been burned and destroyed, according to Mother Jones. California Insurance Commissioner Dave Jones announced last month preliminary estimates had placed the total cost of losses at more than $1 billion. In early November, California Gov. Jerry Brown expedited some $40 million in state aid to fund recovery efforts and requested an additional $7.4 billion in federal funding.