Here's What To Do If You Don't Have Superzoom On Instagram Yet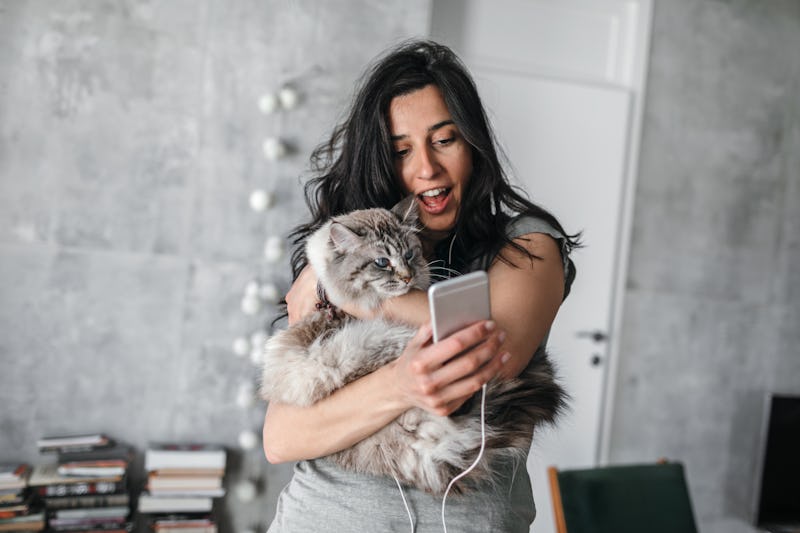 vgajic/E+/Getty Images
If you always feel like you're the last person to know about Instagram updates, I feel you — that's usually me too. It seems like the rest of the world is in on a secret, having a blast, bonding over their new experience with their new feature, and now, you're twiddling your thumbs, wondering why you don't have that latest feature and if it will ever show up in your app. If you still don't have Superzoom on Instagram, don't fret, there's a simple fix.
Similar to Boomerang, Instagram Superzoom supplies an artistic effect that makes even uneventful footage exciting to watch. If you have the update in the app, click on the camera button at the top left of your home screen, select Superzoom on the bottom, and decide whether you want to use the rear or front-facing camera. Next, you'll tap and hold to record, or you can tap once to record a three-second-long clip. There are 10 different Superzoom features to choose from: Hearts, Fire, Bummer, TV Show, Dramatic, Beats, Paparazzi, Surprise, Nope, and Bounce. The settings have varying filters and sounds, like pink hearts and a romantic score for Hearts, and quick flashes and camera clicking sounds for Paparazzi, so the features can help to inform the content if you're looking for some direction or inspiration.
You can film literally anything: your friend's face, your own face, your dog, your lunch, a summit, a fly on the wall, a pair of shoes in the store window, someone on TV — anything that you think is worth zooming in on. Because anything you zoom in on turns out to be funny or charming and worth it when you pair your Story with dramatic music. If you're a fan of the absurd, using the Superzoom featuring in your Stories is going to be your new favorite trick in the whole camera bag of special features. I would not be surprised if its popularity surpasses Boomerang — yes, it's that fun.
Here's how to troubleshoot the missing or non-functioning feature and remedy the FOMO you're currently experiencing. Try these hacks for jumpstarting the update so that you can get to work on creating the dramatic effects that everyone else has already been enjoying.
Check For Updates
First and foremost, check for updates if you don't see the Superzoom option already on your phone. Head to the App Store and make sure you're using the latest available version of Instagram, as the feature only exists in the app.
Sign In & Sign Out
If you've updated Instagram but still don't see the Superzoom feature, force quit the app, and then try signing in and out of the app to refresh it. Sometimes that helps push an update through.
You can log out by visiting your Instagram profile, clicking the three horizontal lines at the top right of the screen, and selecting Settings. From there, if you scroll all the way to the bottom, you'll notice an option to log out.
Delete The App
If you still don't see the updated feature, you can delete the app, and then re-install it. Often, if there's a bug, deleting it and re-downloading it will help to reset it. Just make sure you remember your password before you do this. To delete any app off your iPhone, press and hold down on the icon, and select "Delete App" at the bottom of the dropdown menu.
Get Help
Though Instagram tends to roll out updates slowly and over time, because this feature has been live for a long while, you should have it. If you're not seeing it as an option after the Layout and before the Hands-Free camera modes, navigate over to Settings, then click on Help, tap on Report a Problem, and finally click Something Isn't Working. There, you can type out the issue you're having and someone in the Instagram help center will assist you with resolving the issue.