A Fanfiction Site Knew This Boy Band Would Be A Big Deal WAY Before Anyone Else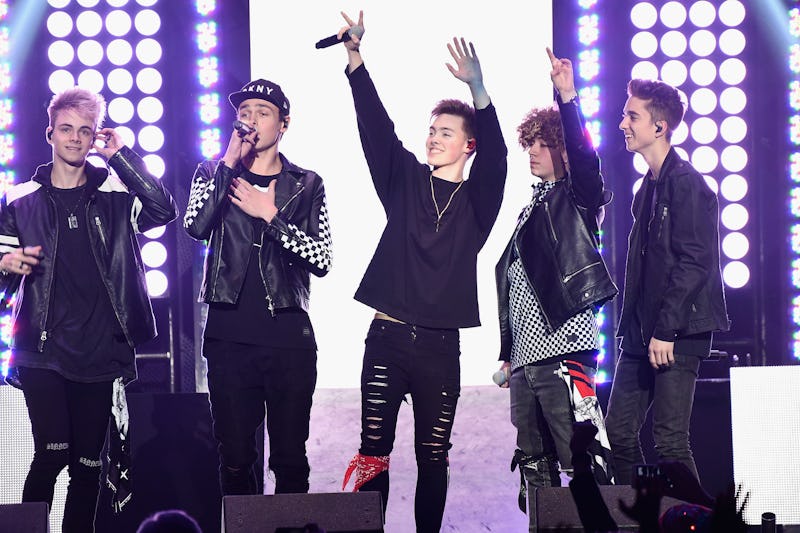 Marcus Ingram/Getty Images Entertainment/Getty Images
Fanfiction may have a bad reputation for riffing off of other people's past ideas, but did you know that its readers and writers are actually surprisingly good at predicting the Next Big Thing? According to Year in Review data provided to Bustle, Why Don't We fanfiction is having a huge moment on Wattpad right now, proving the fanfic world knew this boy band was going to blow up before anyone else did.
Wattpad, a self-publishing platform that gives fanfiction and genre-fiction readers and writers a place to connect and share content, is used by over 60 million people around the world who consume an average of 15 billion minutes worth of content every month. Founded in 2006, the Toronto-based entertainment company has built a huge global community of people who turn to the platform every day to read, write, and share original stories. As it turns out, the popular trends that those original stories follow actually reveal a lot about what is going on in the world, and more specifically, in pop culture.
This year on Wattpad, fanfiction writers and readers stuck to what they know and love best — zombies, werewolves, and a whole lot of romance — but they also leaned into some rather unexpected trends. Stories about killer clowns grew from virtually nothing to over 9,000 new uploads in a matter of two months, and cannibal stories became one of the most popular subject with as much as 3.8 million minutes about them consumed a month. Wattpad was also pleased to welcome a growth in fiction stories starring LGBTQ protagonists, and an increase of diversity in the Fantasy and Science Fiction genres.
Among the most surprising trends, however, was the uptick in content about Why Don't We, an up-and-coming American boyband and one of the biggest breakouts in music this year. Founded in September 2016, the pop group consists of five members who had previously recorded as solo artists: Jonah Marais, Corbyn Besson, Daniel Seavey, Jack Avery and Zachary "Zach" Herron. They first garnered attention for their EP, Only the Beginning, and since then, have been seen everywhere from LIVE with Kelly and Ryan to the TODAY show. And, like every great boyband that ever was, they even got their shot on MTV's TRL revival, cementing them as an official fivesome to watch. According to Emily Blake at Forbes, Why Don't We might be the next One Direction, and it appears like the fanfic world already knew that.
According to Wattpad's Year in Review, stories featuring Why Don't We had less than 40,000 reading minutes during the month of January. By August, that number skyrocketed to 20 million reading minutes a month, a trend that continued through October. Thousands of people are going to the platform to read, write, and share their favorite fictional stories about this fivesome, and more show up every day.
Currently, if you search "Why Don't We" on Wattpad, over 30,100 stories come up, many of them with thousands of votes and hundreds of thousands of reads. There are stories about what it would be like to be a band member's sibling who falls for one of his groupmates, and fantasies about a Meet & Greet leading to a romance of a lifetime. You can find naughty narratives about the boys hooking up with each other, and of course, titillating tales of the band being vampires, the sweet and dreamy kind. One thing is for certain: the Wattpad community loves Why Don't We, and knew how popular they would be way before the rest of us seemed to.
Fanfiction may be known for exploring things that have already been written, but if Wattpad's latest trend proves anything, it's that the genre knows plenty about the future, too. The real question is: what pop culture phenomenon will they predict next?