Dylan O'Brien Wouldn't Give Up Until He Could Return To 'Teen Wolf'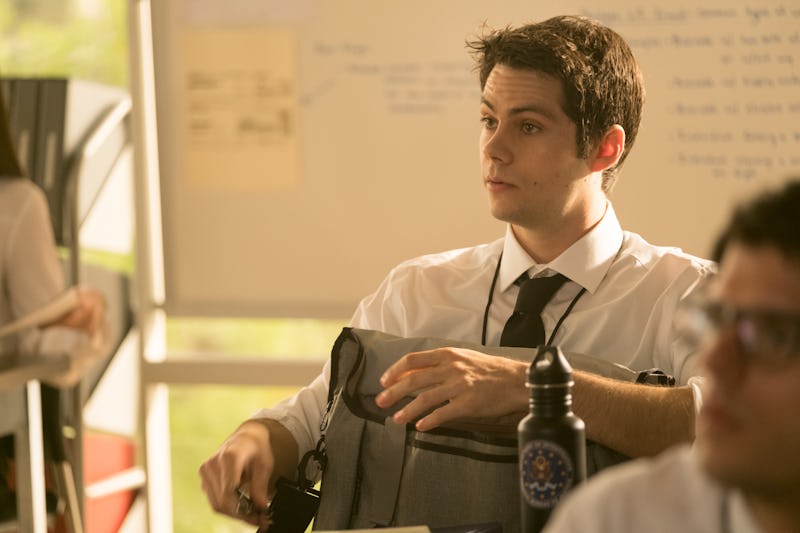 MTV
Teen Wolf fans can thank Dylan O'Brien for giving us the perfect Stiles farewell we want, need and deserve. It turns out that the actor, who got his start on MTV's supernatural drama seven years ago, wasn't contractually obligated or even slated to return to the show for the final 10 episodes, but it was O'Brien's passion for Teen Wolf that started his career that resulted in him returning for one final arc.
As was revealed in the final scene of the Season 6B premiere (airing on Sunday nights at 8:00 p.m. on MTV), Stiles has moved on from life in Beacon Hills to join the FBI (how perfect is that?!). Unfortunately, his first case is hunting none other than his former nemesis-turned-friend Derek Hale (Tyler Hoechlin, also returning to reprise his career-making role for one final arc this season). It's basically the "Sterek"-centric story fans have been waiting years for, and Tumblr is at the ready to GIF every moment of it.
When Bustle sat down with O'Brien at the Four Seasons Hotel in Beverly Hills while he was promoting his upcoming action film American Assassin – the first role he's taken on since his serious accident doing a dangerous stunt on the set of The Maze Runner: The Death Cure – he revealed that he wouldn't give up until he could find a way to return to Teen Wolf for the final season.
"I'm really glad that I was able to be a part of it at all, because that was not originally the plan," O'Brien tells me, leaning forward on the couch. "The fact that I was able to make it happen really meant a lot to me because when they announced that it would be the final 10 episodes, I really wanted to find a way to be a part of it, even if I only had a couple days or something. We were able to make it work and make it happen."
O'Brien managed to make it to set and squeeze in filming his arc over a couple weeks in between different conflicts. "I [was] running over there and quickly being a part of whatever I could, basically," he says. "I'm excited to see it."
The 25-year-old smiles as he thinks back on his seven years playing Mieczyslaw (yes, that's his real first name) Stiles, reminiscing on how it shaped him into the person and actor he is now.
"Teen Wolf was my school. I've always considered it my acting school that I went to for seven years," he says. "I never trained as an actor. I got the gist of it when I first started, enough so to land a role. But Teen Wolf, I can't give enough credit to the experience that gave me on a set and experiencing the process of filmmaking and really diving in to how it worked and the hours that you spend in front of a camera."
Playing the same character for seven years might not sound like an exciting proposition, especially to an actor like O'Brien who prefers to take on as many different projects as possible. But he praises Teen Wolf for allowing him to explore "all the layers I got to play with that character and all the things they allowed me to do over the course of seven years."
"It was like actors' boot camp," he says. "It was awesome. That's what was always so great about the show, my character, I loved every layer of him. I loved his emotional layer, I loved his tortured layer, the becoming possessed layer he went through at one point as well, and obviously I always loved his natural, heightened energy and spastic, comedic layer. I always loved how smart he was. I love that character and I love the whole time I spent on that show. I really do. It's hugely important to me too, as an actor."
He pauses to laugh, then adds, "It was where I learned to do anything."
That "becoming possessed layer" he speaks of is widely regarded by Teen Wolf fans (including myself, duh) to be the best arc of the entire series run. "Void Stiles" debuted in Season 3B, when an ancient evil Nogitsune, or fox spirit, was set loose and took over Stiles' body. It allowed O'Brien to explore a much deeper, darker character than he ever had before. And damn, did it work.
"I would absolutely love to play a villain role again," he says. "You always want to do different things, you always want to try different things. If the role is great and if the script's well-written and if the story's strong and you have a strong filmmaker that you're working with, that's the thing I look for. It's not really specific to anything. You can't always go out seeking [roles] that aren't there. But yeah, absolutely. I'd love to be evil again."
O'Brien's laugh when he finishes is so perfectly evil that it would be a real shame if his next project isn't a villain role after the American Assassin (hopeful) franchise. Give us evil O'Brien!