Why Future Being On Taylor Swift's 'Reputation' Isn't As Shocking As You Think It Is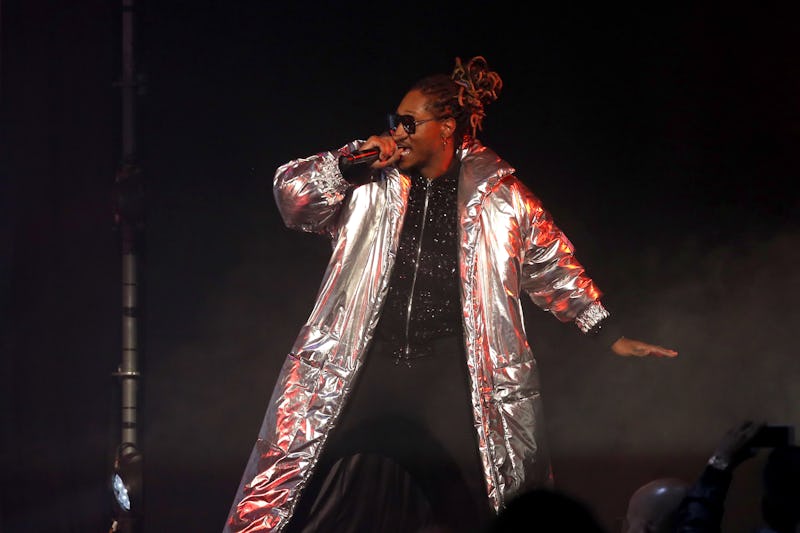 JP Yim/Getty Images Entertainment/Getty Images
One of the most surprising aspects of Taylor Swift's new album has to be the thing nobody saw coming: you may be wondering how Taylor Swift and Future know each other? Given the Atlanta-born rapper's collaborations with Swift's nemesis Kanye West, you may be wondering, are Taylor Swift and Future friends? The pair collaborates on a track called "End Game" along with Ed Sheeran. On one hand, this does make sense. Don't let the glowing Pitchfork review of his 2012 album Pluto fool you — this wouldn't be the first time Future has collaborated with more mainstream artists. He teamed up with Miley Cyrus in their 2013 Bangerz track "My Darlin'" and their collaboration with British singer Mr. Hudson on "Real and True," and he also rapped on Maroon 5's "Cold."
According to XXL, this also makes sense when you look at Swift's habit of bringing out hip-hop artists like Nelly, Wiz Khalifa, and Fetty Wap as surprise guests when on her 1989 tour and the fact that Kendrick Lamar contributed a verse on her "Bad Blood" remix. But probably the most compelling argument for the rapper was the fact that Swift performed his Drake collab "Jumpman" in an Apple Music commercial. According to Billboard, being featured in Swift's Apple commercial meant the week the video dropped "Jumpman" became "the week's top Digital Gainer, up 194 percent in download sales, from 15,000 (in the tracking week ending March 31) to 44,000 (April 7), according to Nielsen Music."
As such, it's easy to see this as the rapper exchanging one good deed for another — potentially it felt like a fair trade-off. But it's still a little surprising, given Swift's long-running beef with Kanye West. After the rapper released his single "Famous" in 2016 which included the line "I feel like me and Taylor might still have sex / Why? I made that b*tch famous," Swift's publicist claimed to BuzzFeed News that the singer had cautioned West not to release "Famous" due to its "misogynistic message" (though according to E! News West claimed that Swift had given him her "blessings" and found it funny).
When West's wife Kim Kardashian published a Snapchat video of Swift seemingly approving the lyric in the phone call West had mentioned, the star seemed ruffled enough to vanish from the public eye for months, with E! News asking in March 2017 "Where In The World Is Taylor Swift?" In a nutshell, it's been a long, complicated, seemingly never-ending feud. Which makes it odd that Future would work with her. After all, West and Future have worked together on a couple of occasions. He contributes a line on "Father Stretch My Hands Pt. 1" from The Life of Pablo, while West returns the favor, making a guest appearance on the Future track "I Won."
Ironically enough, West appears to have the same taste in Future tracks as Swift. On Dec. 31, 2015, West released a new track a few hours before the close of the year called "Facts." The track includes the line "Yeezy Yeezy Yeezy just jumped over 'Jumpman,'" which he raps in a style which The Daily Beast argues echoes "Drake's flow" on the track of the same name. Given the imitation, it feels like the song is more of a tribute to Future's "Jumpman" than a critique of it — and having West potentially close his year by listening to one of your tracks enough to mirror it has to be a good feeling.
Still, potentially Future isn't close enough to West for teaming up with someone who has crossed him to be a big deal. After all, in July 2016 the rapper released "I Got the Keys" along with DJ Khaled and JAY-Z. According to People, 2016 wasn't a great year for JAY-Z and West's friendship, with Kardashian's husband opening up on stage in October 2016 about topics like playdates ("Our kids ain't never even played together") and his mentor and Beyonce never reaching out to him after his wife got robbed in Paris. As such, if the artist also known as Nayvadius DeMun Wilburn was making music with JAY-Z then, why shouldn't he make music with Swift now?
Sure, it wasn't a collaboration anyone saw coming, but if West shrugged off Future's song with JAY-Z, presumably his collaboration with Swift will be equally drama-free. And in an era of seemingly endless drama, that's got to be a good thing.