Hayley Kiyoko Tells Herself She's Gorgeous Every Morning & Thinks You Should Too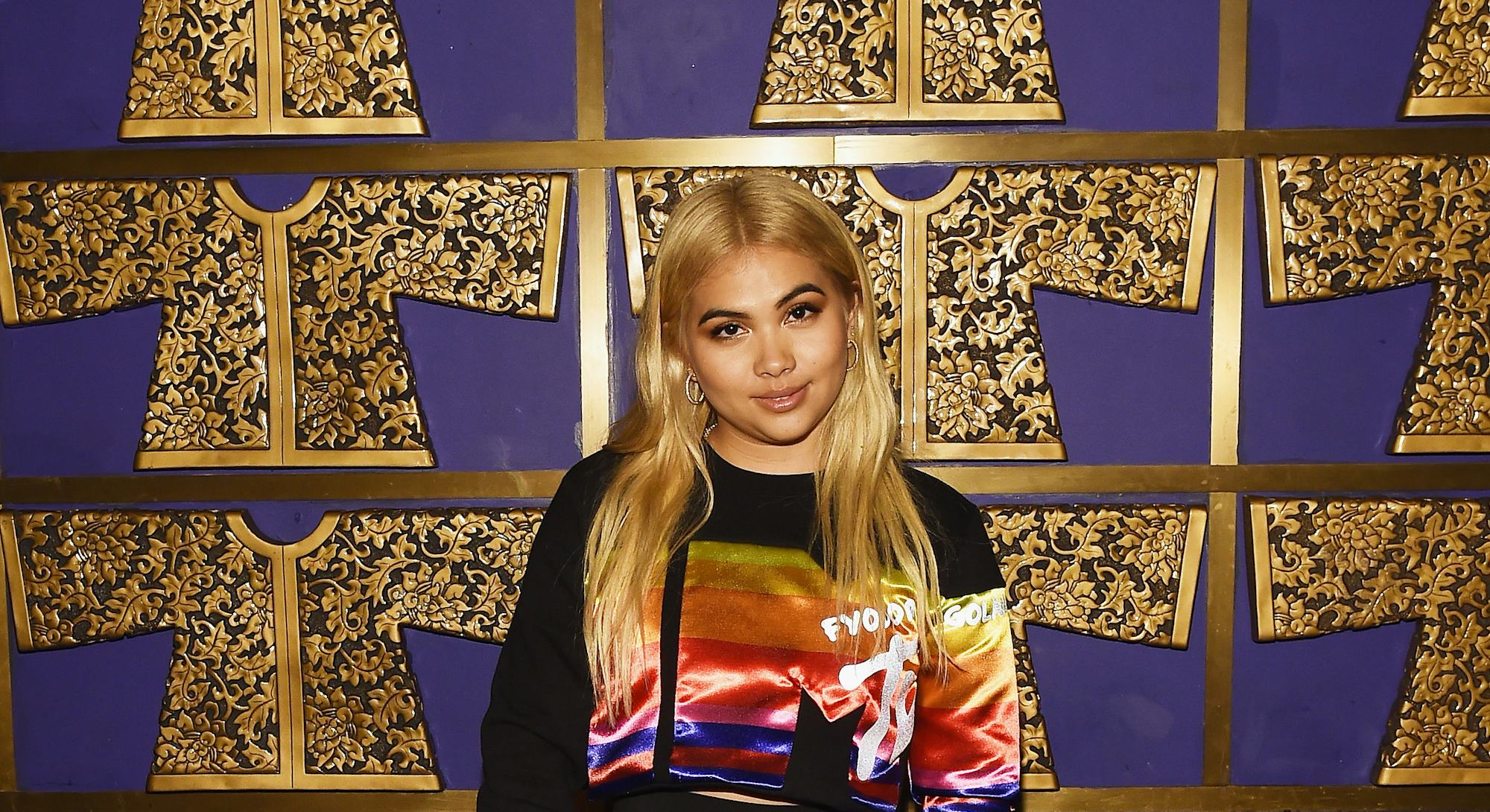 Ilya S. Savenok/Getty Images Entertainment/Getty Images
Hayley Kiyoko is known for a lot of things: Her sultry, soulful voice. Her successful career as a teen actress. Her unofficial fan-designated title of "Lesbian Jesus." But there's something you may have overlooked about the 27-year-old pop star (and 100 percent should be paying attention to) — Hayley Kiyoko's brows. OK, fine, it's not as important as everything else mentioned, but beauty lovers can agree that the woman is #blessed in that department. She knows it, too. "I was just saying to Marla, my makeup artist, earlier ... 'People always compliment my brows!" Kiyoko tells me during a recent interview in Los Angeles. But Kiyoko's brows are more than just a feature on her face — in a way, they played a part in her journey to fully loving herself.
"I never thought that it would be a blessing to have strong brows 'cause I've always been a hairy person, so I've always had large eyebrows. Everyone at school would pluck 'em down, but I really embraced them," Kiyoko says, smiling in her fluffy white robe as she leans back in her director's chair. We're at Milk Studios for a secret photo shoot she's having with Benefit Cosmetics. And while it's all glitz and glam on set (there's even a live DJ spinning tunes to set the mood), when it comes to who Kiyoko really is, it's all about loving her natural self — full brows, all body hair, and no makeup.
"I've always wanted to become comfortable with what I looked like when I woke up. And I've always really tried to practice this routine of waking up, and maybe not looking great and looking in the mirror and saying, 'Wow, I'm gorgeous!'" she says. "I always tell my fans to do that."
That's not to say she doesn't love wearing a little lipstick and (of course) some Gimme Brow every now and then: She tells me that she feels most like herself in sweatpants, a sweatshirt, and "a little makeup." But the truth is, Kiyoko finds herself in full glam way more than she used to. After all, when she's not on stage performing, she's likely walking some red carpet or sitting front row at fashion week. But Kiyoko's not mad about it. She thinks makeup can be a great tool to instill more confidence in yourself.
"You can still go natural and only use, like, one or two beauty products that just kind of give you that pop ... that confidence that you want within. I think that's what beauty is — it helps you within. And then you're stronger for it," she explains.
Kiyoko isn't just saying those inspirational words to encourage her fans either — it seems like she really lives by them. When she poses in front of the camera, there are no hesitations on her part; her confidence seems effortless. It's arguably why she's become such an icon in the LGBQT community, why she was able to segue from tween actress to MTV Music award-winning artist. She tells me that while it didn't come easy, she learned at a young age that self-love was the key to surviving.
"I think that that's something that I learned right after high school — I really had to love myself and not rely on other people's validation," Kiyoko explains. "I was getting turned down, or I wasn't getting the girls I wanted to date, and you know, it's hard. It took me a while to love myself ... and be happy with how I look. I think we all go through struggles of like, 'Oh, I don't like this about myself, I don't like that.'"
Beyond high school, Kiyoko had to deal with the pressures of the industry and fitting a certain image and looking a certain way.
"I think it's just the world that we live in and the stereotypes of who and what women are. I definitely struggled with, like, that fine line of femininity and masculinity." She gives me a very recent example. Last September, at New York Fashion Week, Kiyoko decided to wear a suit, but she hadn't ever worn one before and it made her more uncomfortable than she thought it would.
"I remember being like, 'I'll never wear a blazer, I'll never wear a suit, it's too masculine, I'm gonna look like a lesbian.' [But] it's like, why not change that mentality? Like, I am a lesbian, and this is what I look like. I can still wear a suit and be feminine and sexy to everyone and also have that masculinity and that power," Kiyoko says.
Kiyoko says that was a big moment for her. "I was like, 'Wow, I'm really owning who I am and I'm really learning to be comfortable with who I am.' There's different shades and layers to who I am. We're not just, you know, in a box."
It seems the journey to loving yourself is a never-ending one, even for Kiyoko. But she wants to remind her fans that it's way easier to get through life when you're kinder to yourself. "I've learned to embrace who I am and what I look like, 'cause what's the point of putting in that negative energy and exhausting yourself when you could [just feel] confident and beautiful?"