This Is Not A Drill: A 'Roseanne' Revival Is Happening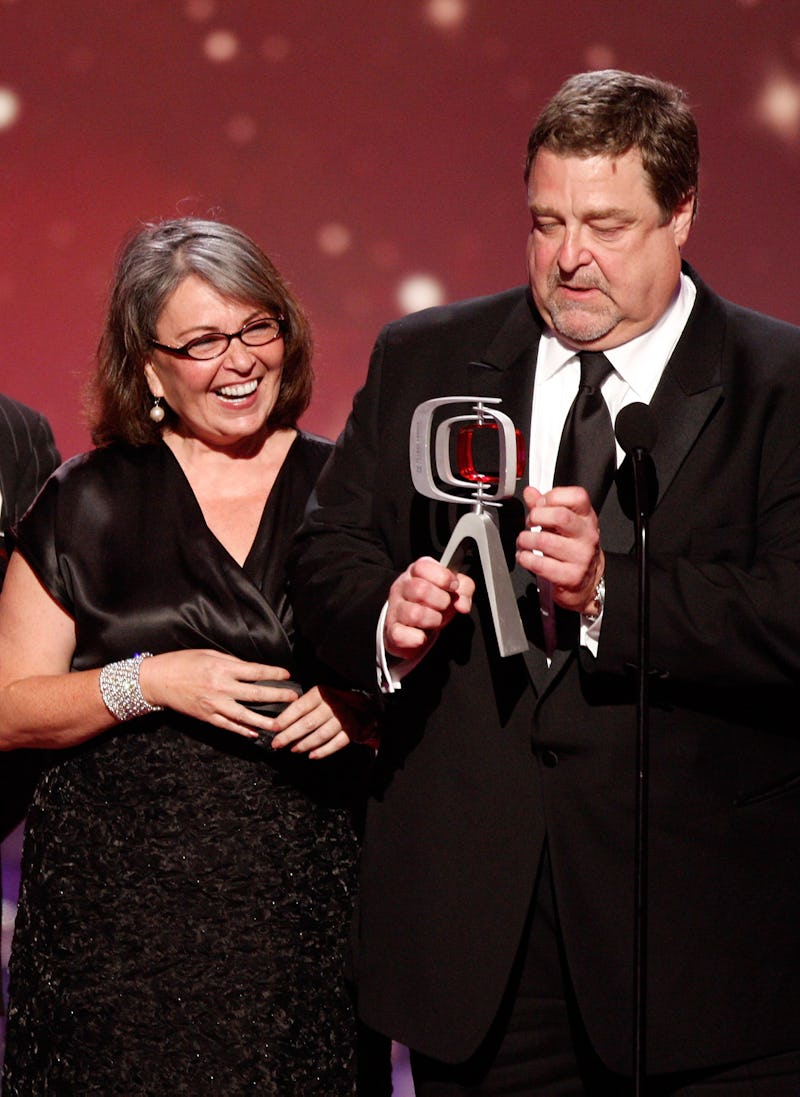 Kevin Winter/Getty Images Entertainment/Getty Images
One of TV's landmark shows is looking to join the revival trend, and it may be the most shocking return yet. According to Deadline, Roseanne is getting a limited revival with Roseanne Barr, John Goodman, and Sara Gilbert reportedly on board, with the other principle castmembers in talks. Right now, the revival is set to be eight episodes long, and is being shopped to both Netflix and ABC. However, fans who remember the finale may be asking themselves, why is a Roseanne revival even happening?
Roseanne had one of TV's most memorable series finales. After nine seasons, the series ended with the show's lead, Roseanne Conner, revealing the entire series was a story she had been writing. Her husband Dan died of a heart attack at the end of Season 8, her blue collar family never won the lottery, and many of the most distinctive traits about her family and friends had been changed for dramatic effect. It was a divisive ending, to say the least, but one with a true sense of finality. Still, with the original cast seemingly happy to return, all signs point to the revival having a solid idea behind it, even if it hasn't been revealed to the public just yet.
Before the show's unusual ending, and the Conners' financial windfall in Season 9, Roseanne was known for its honest, sometimes difficult portrayal of being poor in America. The Conners lived paycheck to paycheck, they lost their jobs, and they struggled with what monetary things they could and could not afford to give their children. Few shows have been brave enough to tackle the territory Roseanne did. Its one true apparent heir is ABC's The Middle, but another exploration of what it means to be a lower middle class American today would be a welcome addition to the TV landscape.
In order to return to the world of the Conners, the Season 9 finale is going to have to be ignored, but so will the majority of Season 9 — unless the family burned through their lottery money. Otherwise, the aspects of Roseanne that made the series so unlike everything else on TV would be gone, and the revival would have nothing to distinguish it from other shows, aside from nostalgia.
Goodman's involvement also raises major story questions. Will his death be ignored? Having the show without Dan would be impossible, and Barr seemed to agree as far back as 2009. On her blog, the actor wrote her ideas for a reunion show, including Dan faking his death. I suspect that's not the route the revival will take, but her idea proves she's been pondering a Dan resurrection for quite a while.
There's no denying the idea of revisiting the Conners in a modern setting is appealing, especially with the original cast reportedly ready and willing to sign on. In a recent interview with The Talk, where Goodman reunited with his former onscreen daughter Gilbert, the actor was excited by the idea of a revival. "Oh, hell yes… if we could get everyone together. The big 'R' (Roseanne Barr) and I did a pilot about five years ago that didn't go anywhere…but we were very happy to work together," Goodman told host Julie Chen.
The truth is, while the show did wrap up its characters' stories, the finale left a lot to be desired. With Barr reportedly attached to the reboot, it would appear the show's lead and guiding hand has more to say about the Conners. And while a revival isn't necessary, is anyone going to say no to more episodes of a show as brilliant as Roseanne in its prime?
Barr was a pioneer of feminist television, and if she believes the Conners have another story in them, I am not going to argue.