Why Is America So Obsessed With Abortion?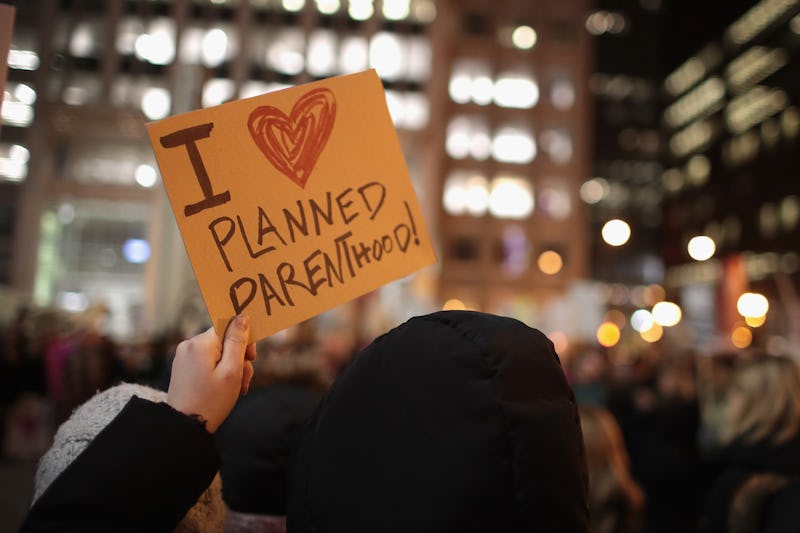 Scott Olson/Getty Images News/Getty Images
You have probably already heard a lot about the new Senate health care bill which, in addition to proposing massive cuts to Medicaid, promises to defund Planned Parenthood for one year due to the fact that they provide abortion services. You have probably read some of the endless media coverage of the proposed defunding: the New York Times declared that the issue is "bringing a decades-old debate over abortion to something of a climax, pitting powerful abortion rights groups, women's organizations and medical associations against the wealthy religious organizations and anti-abortion groups that most Republicans lean on." You may have called your senator about the bill. Perhaps you took to social media to post about why we need to support Planned Parenthood and abortion rights (and got in an argument with someone you went to high school with in the comments).
But, for a brief moment, let's zoom out. Though constant (and sometimes violent) conflict over abortion rights is the norm in the US, it's actually completely different from how the conversation around reproductive rights plays out in most other countries in North America and Europe. The "abortion wars" are a unique American cultural institution. Which begs the question: why?
Across North America and Europe, abortion is not just widely legally available — it also often attracts substantially less public comment of any kind. This isn't to say that abortion law in these countries is always more liberal than the US: Northern Ireland continues to ban abortion except under threats to the mother's life or permanent risk to her health, as per a 1861 law; Poland's proposed abortion bans drew massive protests last year, and women can be prosecuted for having abortions under many circumstances in Mexico.
But by and large, the abortion debate plays out differently in these countries. No European countries have made major moves to defund abortion providers. British doctors have just asked for abortion to be totally decriminalized, and France's National Assembly recently voted to penalize anti-abortion websites that pose as neutral sources but actually "exert psychological or moral pressure" on women to keep the pregnancy. Denmark is so pro-choice that information about how to get an abortion is found on the official website of the city of Copenhagen, and even hyper-conservative Italy — where abortion is legal in the first trimester but up to 70 percent of doctors refuse to perform one — is gradually legalizing medication abortion (aka "the abortion pill") to give women more options.
And despite the fact that some Western countries have more restrictive abortion laws than the US, violence against abortion providers and attacks at abortion clinics is almost unheard of in other places.
So why is abortion such a hot-button issue in the US? The answer seems to be embedded in America's unique cultural and historic baggage.